About 4 years ago, my family and I had an amazing experience which began with exceptional customer service, grew into a viral sensation and concluded (so we thought) with a young boy finally being reunited with his beloved stuffed giraffe. Today, I'm somewhat circumspect to report that the tale of "Joshie" the giraffe has a sequel, as the most famous stuffed animal ever left behind at a hotel was, once again, accidentally left at a hotel. And the Ritz-Carlton blew us away a second time.
Best to start at the beginning. In the summer 2012, my son mistakenly left his stuffed giraffe Joshie at the Ritz-Carlton in Amelia Island, Fla. He was panicked and heartbroken, but when we called the resort after returning home, the staff found Joshie in the laundry and promised his safe return. A few days later, a package arrived which not only included the giraffe but a variety of hotel goodies and a binder filled with photos of Joshie having an extended vacation at the resort. I published an account in the Huffington Post, detailing the exceptional customer service along with the photos: one of Joshie by the pool, another of him having a spa treatment, one where he's driving a golf cart and yet another of him socializing with other stuffed critters. See some of the photos below: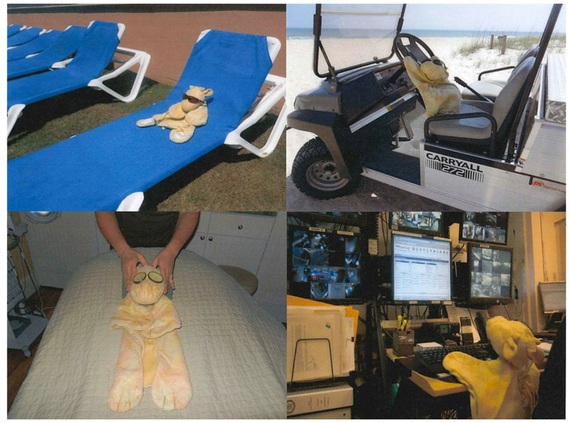 Joshie's story resonated with fans of great customer service around the world, and the article earned more than 12,000 Facebook likes, 4,600 plus tweets and more than 3,500 Facebook shares among other social media attention. I have heard from people, who have wanted to share this loving story, from Australia, Germany, Japan, Canada and even a BBC travel show in the United Kingdom. Joshie's tale also has been memorialized in at least three books and recounted by many others in keynote speeches.
Given his worldwide fame, you would think Joshie's safety and wellbeing would remain paramount during any future family trips. But, amazingly it happened again. My son recently took Joshie to a soccer tournament in Jacksonville and, sadly, left him in another hotel room.
As with any good sequel, it's not the exact same story but it leaves you with the same warm feeling.
For part two, my wife Shannon went above and beyond to try to find the re-lost Joshie. She called the hotel repeatedly, and the staff at the Residence Inn did their best to search the room for the giraffe but had no luck. Shannon visited the hotel on two separate occasions and pleaded with the staff and management to turn the place upside down if possible.
Meanwhile, my son remained distraught that his stuffed pal was again missing, and getting my son to sleep has been a major challenge. Any parent whose child has a special toy or blanket understands this struggle. Is there anything worse than watching your child cry himself to sleep?
Why not just replace Joshie with another giraffe, you might think? Or try to pull-off the old "new goldfish" trick? Well, we thought about that. However, they don't make giraffe's like Joshie anymore, so we settled on picking up a similar giraffe which we named "Tucker." Our son would just have to live with this result and learn from a valuable life lesson.
We recently returned to Amelia Island and the same Ritz Carlton where Joshie had his first misadventure. Aside from attending a conference and enjoying the beach, we wanted to thank the security guard who had been so kind in finding and returning Joshie. One morning during our stay, my daughter struck up a conversation with a hotel staff member in the spa, describing how nicely the hotel had treated our family following the loss of her brother's stuffed giraffe. To our surprise, the staff at the spa knew Joshie by name -- in fact it seemed like everyone at the resort and throughout the Ritz-Carlton chain now knows the Joshie story. And they were very saddened to hear the unfortunate news of his recent disappearance.
Later that afternoon someone knocked on the door of our room and handed my son a bag with his name on it. In it was another stuffed giraffe with a small note around his neck introducing him as "Jeffie," a long-lost cousin of Joshie's. The note said that while Joshie is off on his worldwide adventures, Jeffie would be honored to be his new companion. It also said he likes warm hugs.
Needless to say, but I will say it anyway, we were floored. As a business owner who prides himself on giving great customer service, I can't help but be amazed by the Ritz-Carlton. Yes, the company is famous for its treatment of its guests, but in no one's job description does it say "replace lost toys in a pleasant and delightful manner." Any business can learn valuable lessons from this story: 1) Listen to your customers, 2) Never shy away from an opportunity to go above and beyond and 3) Customer service never ends, it is just retold in new chapters.
We returned home and I'm pleased to report that my son now falls asleep quite nicely with Tucker and Jeffie by his side. And Joshie continues to teach us lessons, even though he's presumably on a round-the-world, multi-year trip.
Related
Popular in the Community