A filthy suspected puppy mill that one officer called the worst he had ever seen was raided in New Hampshire and 84 Great Danes were rescued, said law enforcement officials.
Owner Christina Fay, 60, was charged with two misdemeanor counts of animal neglect after police, animal control officers and personnel from the Humane Society of the United States on Friday freed dogs in cages and rounded up scores of others roaming sections of Fay's dilapidated eight-bedroom mansion in Wolfeboro. Nine puppies were collected at another property.
The home was smeared everywhere with dog waste, said officials.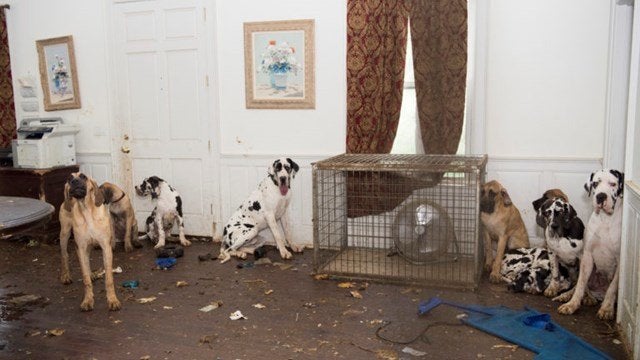 Some dogs were starving, with the outline of their bones poking from their fur, others were suffering from serious eye and skin infections. Many were frightened. There appeared to be no access to food and water for most of the dogs. A police department statement called the situation "abhorrent behavior toward animals for profit."
"I've never seen conditions this bad in more than 21 years of law enforcement," Chief Dean Rondeau of the Wolfeboro Police Department said in a statement. "Words cannot describe the absolute abhorrent conditions these animals were living in."
A staff member of the Conway Humane Society, also on the scene of the rescue, called the conditions "disturbing," adding: "My heart is broken for these dogs."
Concerned citizens alerted investigators to the situation. "We applaud them for coming forward," said the police statement.
The dogs ranged in age from puppies to older adults. Many of the mature animals are believed to be pregnant.
Police said Fay was selling puppies for $2,500 each at "De La Sang Monde" kennel. Her website featured photos of dogs posed outside what appeared to be an elegant mansion.
Police said two other adults resided in the house, but they did not name them.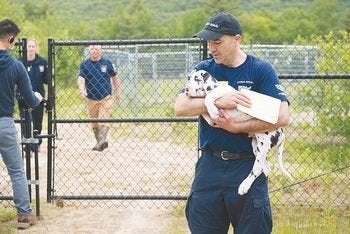 All of the dogs will be thoroughly examined by veterinarians and receive necessary medical treatment before they're put up for adoption. They're being held at a temporary emergency shelter. Nine dogs will likely soon be available for adoption, the police department said on its Facebook page.
An investigation is continuing and may result in other arrests, police said.
CORRECTION: This article initially misidentified Christina Fay as "Christina Ray."
Popular in the Community