South African filmmaker Dave Meinert wasn't sure how long Pegasus the Great Dane would have when he took her home.
She had some bad prospects, due to her breed, compounded by her specific provenance -- people Meinert describes as irresponsible breeders, who'd produced pups especially prone to health problems, including deafness and blindness.
"Most of her siblings died," he told The Huffington Post.
Being a filmmaker, Meinert documented his and Pegasus' early time together in this time-lapse video showing her shoot up with an astonishing rapidity during those first five months of life.
It's gorgeous and melancholic, and without knowing Pegasus was still alive -- put away the tissues; she is -- you'd be a blubbering mess at the end.
What you can't see is what happened once the camera stopped rolling. Which is even more powerful.
Pegasus got an even bigger love, with a new best friend who's a fellow Great Dane. She got a new home, with a person who adores her, while being too aware that their time together may be brief and hard. A person who wants to show the world how heartbreaking careless dog breeding can be.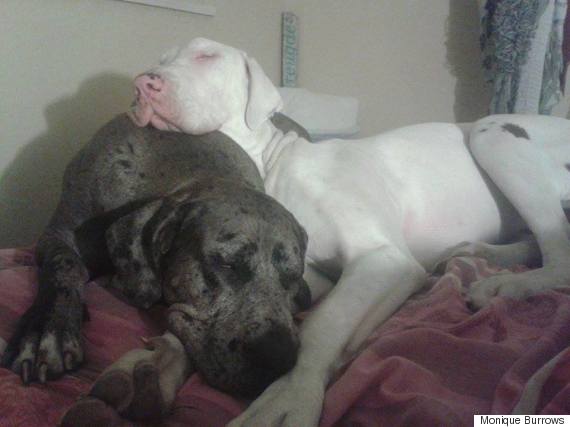 Pegasus and her best friend Luna. Photo: Monique Burrows
Meinert took Pegasus home about a year and a half ago. Pegasus was sick at the time, with diarrhea and skin allergies, among other conditions. Meinert bought her anyway.
It was "a way for me to be sure she'd be looked after," he said to Fast Company, one of dozens of news outlets to report on the time-lapse video in the last week. "For me, she had already been born -- nothing was going to change that. By rescuing her, at least I could be certain that she wouldn't be discarded."
He made that incredibly moving film -- called The Pegasus Project -- to document their time together. For it, Meinert took the same photo of Pegasus nearly every day for five months. They're tied together in the video as a way of "recording and celebrating all her healthy days left," he says.
But Pegasus wasn't totally healthy, even after surviving the puppyhood you've seen.
Meinert worried his erratic work schedule was making her digestive problems, in particular, worse. So he let it be known in the Great Dane rescue community that he needed someone to care for Pegasus while he got into a more stable situation.
Monique Burrows, a teacher who's active with dog rescue, offered to take her in, first as a foster, and soon after that on a permanent basis.
Having fostered many dogs with medical issues, Burrows felt comfortable handling whatever might arise.

"The very first moment she arrived she was comfortable and happy," says Burrows.
She was especially thrilled to see Pegasus and her other Dane, Luna, quickly become inseparable.
"It's like their souls had met in a previous life and they were merely catching up," she says.
Pegasus is a big, charming dog with a big, charming personality. But there's still the issue of her health. Burrows says Pegasus is now partially blind, and her vision may get worse. She's also lost some of her hearing, and has low-functioning kidneys. Her back legs have been collapsing when she runs. The vet is looking into all of it.
"She really is such a sweet dog, though. Her new trick is to attempt to sit on my lap when I am on the loo," says Burrows.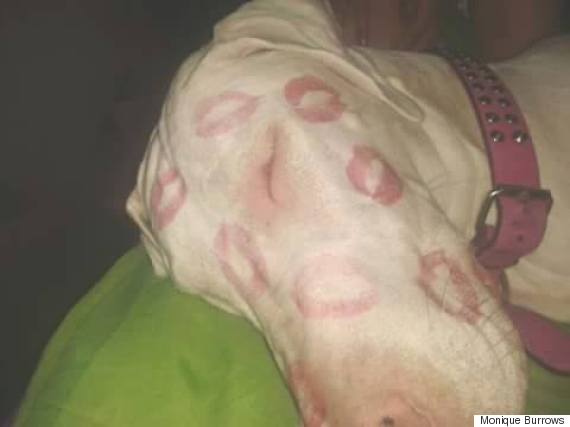 Pegasus doesn't mind waking up to a face full of kisses. Photo: Monique Burrows
Meinert misses Pegasus, but thinks he did right by the dog.

"It's hard when you can't look after a dog anymore. At the same time, she suffered no stress," Meinert says. "She's happy. She carries on."
He's also happy, that Pegasus has found a home where she is stable, and taken care of -- and that he has this video of their time together.
"I didn't know how long it was going to last. I still don't," he says. "Rather than dwell on the negatives about her life, I decided to make a record of the healthy days, as a way to celebrate them."
But she also worries that despite what seems a clear message about the dangers of irresponsible breeding, folks might, paradoxically, be spurred to go buy more Danes from people who aren't doing their best to give these dogs the longest, best lives possible.
"I just want her to live for however long she has, and to do whatever I can to make sure she receives only the best of the best to improve her chances," Burrows says, "If love alone could save her, she would live forever."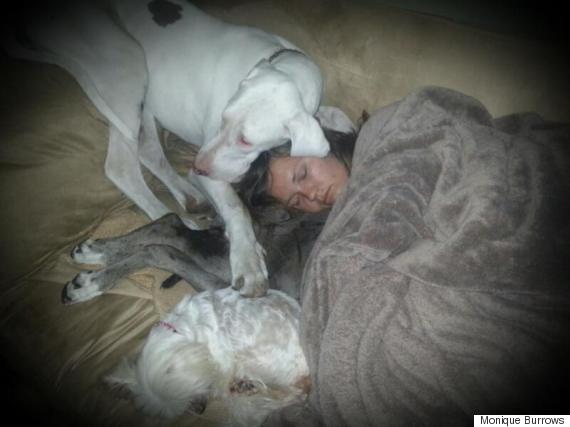 Burrows in a pile of her dogs: Pegasus, Luna and Cloe
Get in touch at arin.greenwood@huffingtonpost.com if you have an animal story to share!