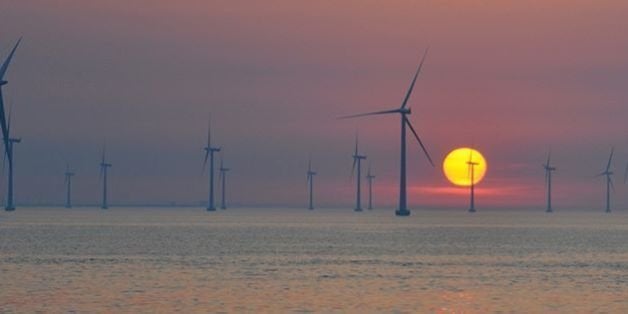 Addressing the World's growing demand for energy will be one of the major challenges in the coming decades. Already today, the global demand for affordable, reliable and sustainable energy is not met -- and the International Energy Agency predicts global-energy demand will increase by more than one third before 2035.
This is actually good news, because energy to a large extent is used to fuel a positive trend in developing countries where economies are growing, production is increasing and millions of people are pulled out of poverty and join the -- energy consuming -- middle class.
However, there is also some bad news. Outdated production facilities are not able to deliver reliable and affordable energy. Too many people are cut off from access to modern energy altogether. This hurts economies in the developing world. The outdated production of energy has a negative impact on our environment and contributes to man-made climate change. If we don't act, these problems will not only stay unsolved -- they will increase as demand rises.
Businesses and citizens need affordable, reliable and modern energy. That is self-evident. What to some seems less self-evident is that there is no automatic contradiction between growth and sustainability.
This is what the Sustainable Development Goal 7 is about. Securing positive economic development will almost inevitably increase energy demand and affordable, reliable and modern energy is a catalyst for growth. We need to provide this energy in a sustainable way to reduce our impact on the environment and the climate. More importantly, we need to stop thinking of sustainability as an appendix to increased energy supply. We need to integrate sustainable energy into our overall strategy to solve the energy problems, both in the industrialized nations and in the developing economies.
I am confident we can do it. This is not to say that the task at hand is easy; it will be a massive undertaking to reform energy systems. It is an undertaking too large for anyone to succeed alone. Governments cannot alone secure the necessary supply; they cannot alone invest enough in research and develop even better sustainable-energy sources and energy-efficient solutions. The private sector has to play a major role.
The solution lies in using and increasing the vast knowledge already possessed in countries that have transformed their energy systems, by private energy suppliers, innovative energy-technology companies and researchers. It lies in increased political will to create the right framework for innovative people and businesses to make energy greener and to make energy use more efficient. And it will require political will to liberalize energy trade to use resources more efficiently across borders.
Transitioning the energy sector is not easy for any country and we must ensure that developing countries get on the right track toward low-carbon economies instead of repeating the development pattern of the industrialized countries.
Denmark's green transformation can be used as inspiration. Denmark has decades of experience with building sustainable and reliable energy systems based on renewable energy and energy efficiency.
We are already working with several countries to share our experiences. In China, we have facilitated introduction of efficient district-heating solutions that both satisfy development objectives as well as commercial cooperation. Danish companies are active world-wide, supplying solutions to increase energy efficiency and renewable-energy production.
We have established the Danish Climate Investment Fund: A partnership between Danish Pension Funds and the Danish Government. The Fund has already made investments in Africa and other parts of the world in renewable energy and energy efficiency. The Fund will provide a commercial return; it helps combat climate change, transfer technology and helps spur economic growth and job creation in developing countries. From an initial public investment of less than 100 million USD, the total expected investments are more than 1.5 billion USD. We need more of this. And we stand ready to do more in partnership.
International cooperation to make affordable, reliable and sustainable modern energy accessible for citizens and businesses is a Danish priority. I will open a conference on this issue at the UN General Assembly in September, where the UN Secretary General's Sustainable Energy for All initiative will be discussed. This initiative can serve as an anchor for our concerted effort to handle the energy challenges ahead and it is important to keep this issue high on the international political agenda.
I am not a naïve optimist. I am aware of the scope of the task at hand: to supply stable and sufficient energy for all and at the same time create growth and jobs. But the good news is that we already have the necessary technology and it is economically sustainable, too. We need to work together to open the markets for new technologies and to provide the funds for the transition. Denmark has shown the way. It is now time for others to follow suit.
This post is part of a series produced by The Huffington Post, "What's Working: Sustainable Development Goals," in conjunction with the United Nations' Sustainable Development Goals (SDGs). The proposed set of milestones will be the subject of discussion at the UN General Assembly meeting on Sept. 25-27, 2015 in New York. The goals, which will replace the UN's Millennium Development Goals (2000-2015), cover 17 key areas of development -- including poverty, hunger, health, education, and gender equality, among many others. As part of The Huffington Post's commitment to solutions-oriented journalism, this What's Working SDG blog series will focus on one goal every weekday in September. This post addresses Goal 7.
Calling all HuffPost superfans!
Sign up for membership to become a founding member and help shape HuffPost's next chapter