On our recent visit to Amsterdam, Jackie and I had one depressing dining experience -- generally poor cooking and infuriating service. Tellingly, this was in a long-established restaurant that had built a decent reputation on traditional local dishes but that seemed to be reaching for culinary novelty that was beyond its grasp.
On the other three nights we ate wonderfully, happily well. Tellingly too, these meals were in small to medium-sized places serving seasonal, mostly local products cooked with lively imagination and high skill. In all of them, we felt like regular customers after just a few minutes: a grand and uncommon thing when you're on vacation.
A loose movement called Nouveau Rough (the opposite of nouveau riche) is afoot in The Netherlands: younger chefs with rigorous training and solid experience who eschew the frills of fancy-restaurant protocol and décor and who, for the most part, offer little or no choice beyond their fixed menus, which change all the time (yes, provision is made for people with allergies or aversions). Sounds a little Brooklyny, doesn't it?
I hesitate to stick the Nouveau Rough label on the three restaurants we enjoyed, because I don't have a firm grip on its nuances. And of course if you ask chefs whether they belong to this movement or that, they'll almost always demur. In any event, there was nothing rough about any of them -- though, sure enough, none had cloths on the tables.
A friend had made it clear that we were to go to Restaurant As; he even introduced us to the chef-owner, Sander Overeinder, by e-mail. His enthusiasm was not misplaced. This was certainly the best and most interesting meal we had in Holland: honest, wholesome cooking from start to finish. The restaurant lies a taxi ride away from the historic center on the fringe of a good-sized park and is housed in the circular former chapel of an already deconsecrated modern (1960s-era) monastery (upstairs is an art exhibition space). Study alcoves for the monks now contain long plain tables made of massive planks; other similar tables radiate from a central core. Walls are painted with loose, vaguely botanical designs in gold. The effect is lighthearted, simple and airy in daylight and warm and inviting when the sun goes down, especially in those alcoves. Here, you may choose how many courses to eat, but the nature of those courses is fixed by the market basket and the chef's inclination.
When asked what we wanted to drink before dinner, we said, "Something Dutch," which I think was not the expected response (the right answer might have been Champagne, which would have been in keeping with the restaurant's serious and interesting wine list). But Mr. Overeinder met the challenge with a light summer spritzer composed of young genever (Holland gin), elderflower syrup, seltzer and lots of ice. As I've said elsewhere on Huffington Post, this is something we'll have at home the minute the weather warms up, or perhaps sooner.
We'll also have an approximation of the butter that is on the table: It is blended with buttermilk and a very little salt, and it is soft and fresh and slightly tangy when spread on the excellent home-made bread. Hors-d'oeuvre soon arrived, more substantial than the amuse-bouche you'd get in a white-tablecloth restaurant of this caliber and more satisfying than most: a whole sprat, home-smoked (everything here is made and sometimes even raised in-house, so I'll stop mentioning that); cauliflower and carrot, lightly pickled so you could still taste the vegetables, with cauliflower purée; a cylinder of perfectly seasoned beef tartare with mustard; and, the inevitable favorite, tiny, tiny shrimp, fried, shells, heads and all, until crisp and served with mayonnaise. I wish we got these sweet, juicy little crustacea in New York. Every element of the platter had its own identity; every element was a well-considered little treat.
Each of the succeeding dishes had something eyebrow-raising and delightful about it. A crisp-skinned nugget of pork belly was paired with smoked eel and the most wonderful, juicy, meltingly tender leeks, which had been wood-oven cooked in their own outer leaves. What this did was heighten the savor of the vegetable: It was as though the leeks had been cooked in a meat broth. Venison carpaccio was topped with shavings not of the expected parmesan but of a long-aged Dutch goat cheese and -- I loved this -- similar slivers of raw Jerusalem artichoke, mild in flavor but with a great water-chestnut crunch. Points of bright acidity came from some sort of dogwood berries from the nearby park, pickled, and (less interestingly) from immature elderberries cured like capers.
The tenderest strips of fried cuttlefish came with crisped blood-sausage and bundles of chicory greens slow cooked in the wood oven, then wrapped in translucent lardo. Then came pike-perch, that excellent freshwater fish, on a little bed of fine-cut cooked sauerkraut, shavings of new-season hazelnuts (not toasted, but gently crisp and rich with their own oil), raw chanterelle mushrooms (hooray for chanterelle season!), and a celery root puree with a haunting back-flavor that I could not identify. It turned out that toasted acanthus seeds had been infused in the milk in which the celery root had been cooked. Of course.
There some talk of veal. There was even some talk of dessert. But we had cleaned all our previous plates and now had to throw in the towel and waddle out to the taxi they called for us.
As my friend did for me, I urge you to visit Restaurant As if you're in or near Amsterdam.
The previous night we had walked half an hour northish of our hotel (the Pulitzer) to Marius, a beacon of warm light on a dark street partly (and temporarily) dug up for repair. The small, tightly packed two-room restaurant is low on décor but full of charm, thanks in part to the welcoming, attentive staff (it almost goes without saying that English is spoken in all these establishments). Yes, there is a four-course table d'hôte/prix-fixe, but you can order any of the courses à la carte, as we did, or choose from a short list of dishes they offer all the time. (And next door is a sausage-centric wine bar owned by the same chef, Kees Elfring, who worked for a time at California's Chez Panisse, as did Mr. Overeinder of Restaurant As.)
We had gurnard with the most spinachy garlic-kissed spinach, Chioggia beets, and a marvelous taggiasca olive mayonnaise that had the loose consistency of a beurre blanc -- a lovely way to make an oil emulsion like this. Still on fish, we ate plaice with chanterelles, leeks and an actual butter emulsion.
We also ate juicy rare-cooked breast and spiced confit leg of wild duck with green beans, winter squash and cooked radicchio, a sweet-bitter contrast that worked well. The tasty little duck leg had not attained the ideal state of tenderness, but everything else about the dish was wonderfully balanced and flavorful. We finished with cheeses: All French, oddly, apart from one Dutch and one Belgian, and all in ideal condition. We drank their recommended white wine of the day, which was new to me (a Val de Montferrand from the Languedoc).
On our final night, we stayed in the neighborhood of the hotel and went to the spanking new Café de Klepel, just a few blocks away. The décor of this small wine-bar/restaurant is simple and tasteful -- charming, in fact, as were the owner, Michael Valk (who is a wine guy, as we found out), and the two other members of the team, one in the kitchen and one in the dining room. Each day they offer a single three-course prix-fixe (at €25, or a few euros more if you want cheese as well as dessert). That day's was a creamy but bright avocado-apple salad topped with a pile of tiny, lightly spiced Dutch shrimp (peeled and headless this time); veal from up near the shoulder cooked tender then crisped, with a mild sauce gribiche and perfectly cooked, sweet cabbage and crushed potatoes; and roasted fig (itself bland) with a good wine-poached pear and crème fraîche.
The wine list, just a few weeks in, is a work in progress, but a conversation with the owner led us to something of which he had only a bottle or two and which he thought we might like to take a chance on: It was a 1998 white from the French part of Catalunya, which after 15 years was going to be either delicious or destroyed. None of us would know till it was opened; if it had oxidized and turned nasty, we wouldn't be expected to drink it or pay for it. Well, it was bright, fresh and aromatic and even got better as the evening progressed -- not a hint of deterioration. That was a little adventure in itself.
Café Klepel, with its one-man kitchen (before meals, the others help with tasks like peeling those hundreds of infinitesimal shrimp), offers a simpler sort of cooking than the others, but it is no less honest. And, returning to an earlier theme, to sit at a table here, talk wine with the owner and eat what the chef has prepared is to feel at home -- or at least like a regular customer.
Restaurant As. Prinses Irenestraat 19, Amsterdam 1077 WT; +31 (0)20 644 01 00; http://www.restaurantas.nl. Dinner for two, €158 ($215), including a bottle of probably the best Sancerre I've ever tasted.
Café de Klepel. Prinsenstraat 22, Amsterdam 1015 DD; +31 (0)20 623 82 44; http://www.cafedeklepel.nl (not yet live last time I checked); info@cafedeklepel.nl. Dinner for two about €85 ($115), including interesting wine.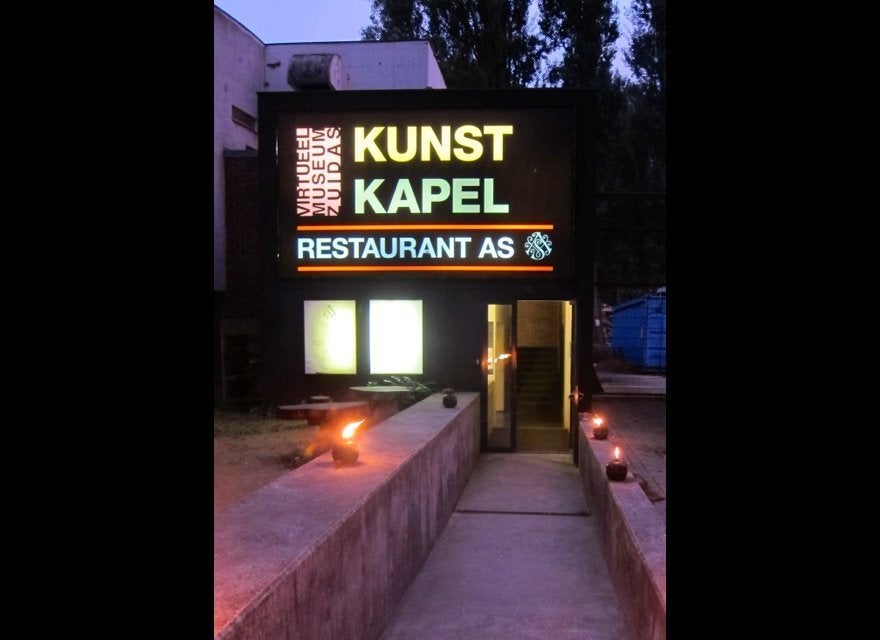 Great Modern Dining In Amsterdam
Related