Fathers come in varying degrees of size, height, weight, sophistication, and affluence, as do their sons and daughters. So here are some convenient, utilitarian, delicious and over-the-top gift suggestions for Father's Day. (I trust my sons are reading this?)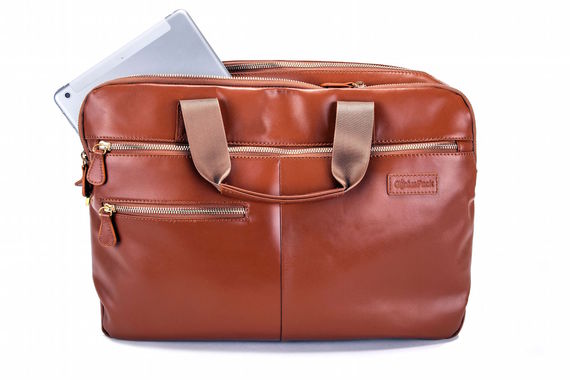 LUXE LEATHER ENTREPRENEUR BY GENIUS PACK ($278)--Men can never have enough pockets, especially when it comes to briefcases, and I found that this Luxe Leather Entrepreneur had so many pockets that I had to go over the case again and again before I found and got used to them all. A padded compartment fits 13-inch to 17-inch laptops; there's a water-resistant umbrella pocket; pockets for newspaper, pens, business cards, and a Genius Charger & Device to power up your iPhone (though the iPhone 5 and 6 requires use of their battery cord). The zippers are hefty, the teeth have real grip, and the carrying handles (with strap) easily fit over trolley handles and stay put. Of real importance, it only weighs 1.2 pounds. The case is not the most beautiful piece of luggage, but it does everything you need a case for.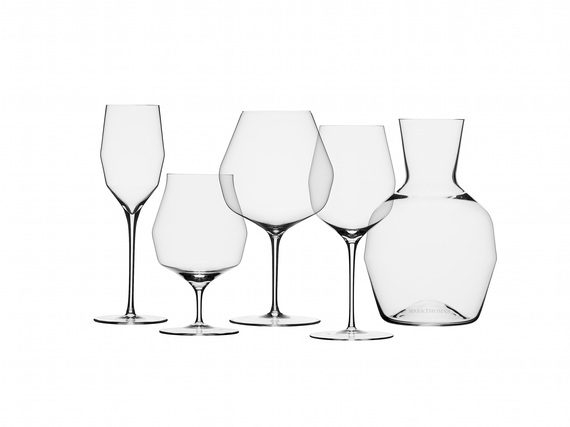 MARK THOMAS DOUBLE BEND SERIES GLASSWARE ($65-$125)--These days the remarkable low prices for wine and other glasses has made it irrational not to buy good quality for everyday use. But I cannot imagine anyone's father not feeling giddy if given these Mark Thomas hand-blown, lead-free crystal glasses made in Vienna of such beauty and lightness. Indeed, they are so light I at first thought they were made of very, very thin plastic. But they are also quite sturdy, even to being put into a home dishwasher. They are designed so that wine, Champagne, or beer appeals to the nose, eye, touch, and feel, while maximizing aroma and taste. The unique double-bend design outlines the measurement for a perfect pour: the first bend indicates the ideal amount for a wine tasting, the second bend ideal for the average pour size for restaurants and wine connoisseurs. I loved the wine glasses but, even more, I found the beer glass so convincing, so elegant and such a perfect fit to my hand that I doubt I shall ever drink a brew from anything else in the future. The glasses are not inexpensive--they rank with some of the top-of-the-line Riedel--but the Mark Thomas series offers more in terms of design and utility.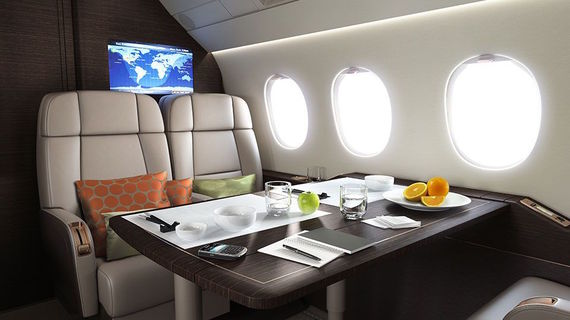 MAGELLAN JETS' 10 HOUR GETAWAY CARD--Anyone who has ever flown on a private jet is unlikely to forget the experience and forever regret that he can't always fly at that level of service. Now, just for Father's Day, Magellan Jets is offering Dad (and the family if he'll take them) access to a private jet anywhere in the U.S. with as little as 10 hours' notice, with a pool of nine different jets to choose from. The company has 24/7 concierge service to advise on the appropriate size jet (prices vary), plan or change itineraries, order catering and arrange ground transportation. Purchases can be made through Father's Day 2015 and the card is valid for travel through Father's Day, 2016. Call Magellan Jets at 877-550-JETS or by visiting www.magellanjets.com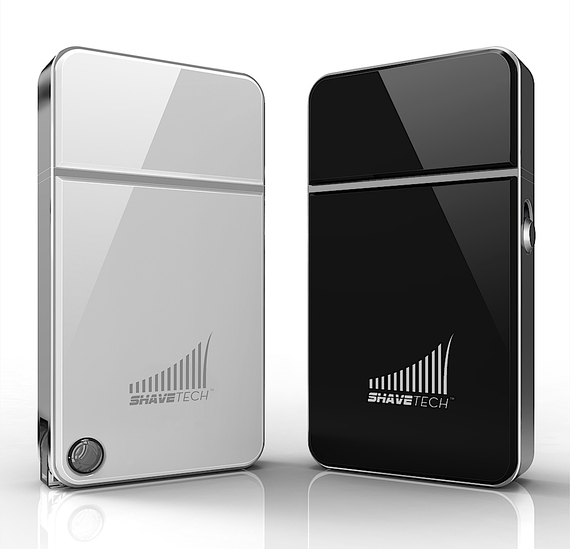 SHAVETECH USB RECHARGEABLE TRAVEL SHAVER ($29.99)--Outside of jet lag, the drained, off-putting icky feeling getting off a plane might be considerably helped if a man could quickly shave without lathering up back in the bumpy lavatory or depressing airport men's room. If you can get to your electric shaver, which I doubt many men carry, it's a noisy business and probably needs an electric outlet to work. Shavetech has come up with an electric shaver that is not only easily rechargeable but looks as sleek as an iPhone but smaller. It's not quite as powerful as some electric shavers but it's a lot less bulky, lighter, and really pretty cool. The outer foil and inner blades are replaceable.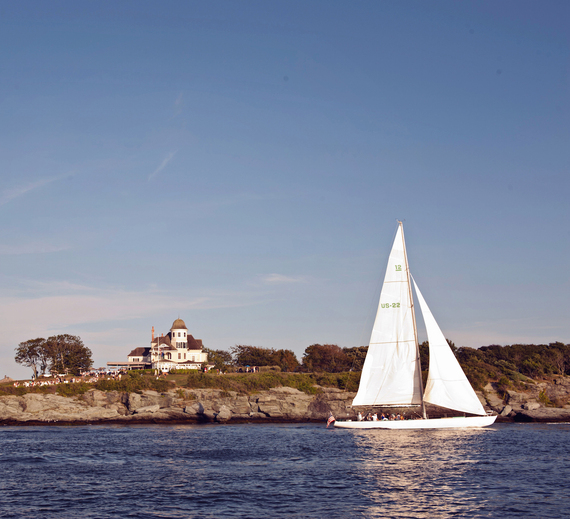 SAILING ESCAPE FROM CASTLE HILL INN--Along with a two-night stay at Newport, RI's historic Castle Hill Inn, fathers, sons and daughters can enjoy a private three-hour sailing lesson and a Castle Hill tote bag packed with gourmet chef snacks. Guests can also gear up for the afternoon in top-of-the-line sailing gear with a $100 gift card from Helly Hansen. Then follow with sunset cruise through Newport Harbor on The Madeleine, then finish off the night with dinner at resort's first-class restaurant, The Mooring. Total cost depends on room, season, weekend bookings, etc. Call 888-466-1355.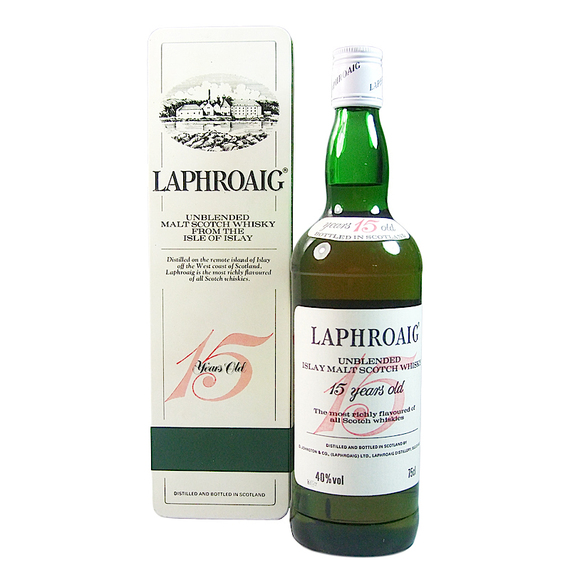 HIGH SPIRITS--There are always new spirits coming on the market, sometimes reprises of older lines that Dads cherished. Those who are fans of peaty, smoky Scotch (though less so than the label's 10 Year Old) should cheer at the return of Laphroaig 15 Year Old ($79.99), just re-released after 30 years for a limited time, in honor of Laphroaig's 200th Anniversary. This Single Malt Scotch is bottled for export at a higher 43 percent alcohol...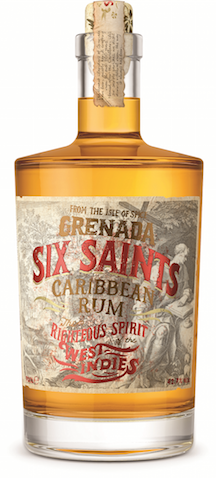 Heretofore unavailable in the U.S., Six Saints Rum ($37) takes its name from six of Grenada's parishes, where rum has been produced since 1785; the distillery, one of two on the island, is the last of the West Indies to actively export their spirits. Made in small artisanal batches, Six Saints has medium body, 41.7 percent alcohol, and if you close your eyes, you may sense a hint of the Spice Islands. . . .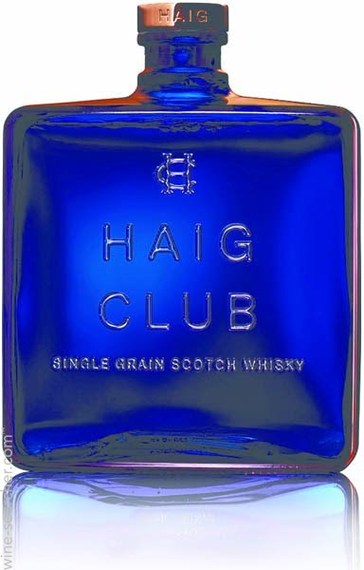 Haig Whiskey, which dates to 1824, known for its Gold Label and Pinch, is now selling Haig Club ($25-$45), in a beautiful sea-blue square blue bottle, made from a blend of three grain whiskeys, each matured in different types of casks and unfiltered. Soccer star David Beckham is the public face of this, the first new offering from Haig in more than 30 years, and, bottled at 40 percent alcohol, it's designed for easy drinking and intended to woo younger drinkers
Related