Daniel: My French Cuisine by Daniel Boulud (Grand Central, $60)
Master chef has written several fine cookbooks and one memoir, but this is easily his best and most revealing, with an essay by Bill Buford. The home cook may not want to attempt many of the dishes without the help of a brigade of staff, but the recipes are more fascinating for their rigor, and how they are distinguished from so much that passes for sleight-of-hand cookery these days. Most fascinating of all are those ancienne recipes that Boulud attempts to recreate, only to find that his predecessors were extraordinarily adept at turning out dishes like coulibiac, canard à la presse and turbot soufflé for which Boulud had to puzzle out the secrets of success with such dishes. And he did have the help of an entire brigade.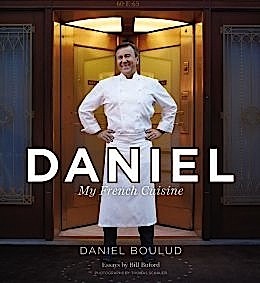 The New California Wine by Jon Bonné (Tenspeed, $35)
The unsmiling face of author Jon Bonné on the cover of this splendidly researched "guide to the producers and wines behind a revolution in taste," lets you know this is not just another paean to the mutual admiration society that so often causes marketing to trump the truth. It's hard work out there in the vineyards, if only to keep all the players straight. Bonné's enormous respect for pioneering figures in California is not without pointed criticisms, and he is very good at separating fact from myth and hype from a good story. He differentiates between the old timers and new money, the effects of the global market on decisions made in the winery, rather than the vineyard. Bonné knows his terroir and the people who work within it. His remarks on styles of wines are critical to understanding what is happening in California at a transitional time.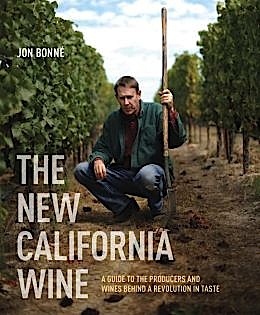 My Favorite Burgundies by Clive Coates (U. of California, $60)
Clive Coates, a Master of Wine, does not turn out breezy memoirs; neither does he treat his subjects in the base vernacular that passes for wine commentary these days. His acumen is unchallenged -- not least on the subject of Burgundy -- his thoughtfulness, provocative, and his opinions on individual wines, as close to definitive as subjectivity can ever be. You can skip the reams of wine notes -- the usual piling on of adjectives like "concentrated," "profound," "clumsy," "closed" -- and read, with far more pleasure, his in-depth essays on regions and the commentaries of vintners he has known for many, many years. Coates treads those vineyards, sniffs the air, tastes the grapes, and does much more than just blow through barrel samples at the wineries. If you want to understand the issues whirling through Burgundy right now, Coates is the man to alert you first and foremost.
Whiskey Women by Fred Minnick (Potomac Books, $26.95)
Ask even the most committed spirits aficionado about the contributions of women to the bourbon, scotch and Irish whiskey industry, and you'll probably draw a blank. Minnick, an elegant writer and fastidious scholar, not only fills in those blanks, but shows how women at Bushmills, Maker's Mark and Johnnie Walker owe much of their success, even salvation, to women like Bessie Williamson, who became the head of Laphroiag Distillery and the spokeswoman for the troubled scotch industry. Minnick takes the reader back to the earliest days of distilling history to show women's involvement, which continued in a pretty rough-and-tumble way straight through Prohibition -- like Cleo Lythgoe, known as the Queen of the Bootleggers, who retired a millionaire. The battle among women on opposite sides of the temperance movement is duly covered as both a sociological and theological struggle for a national identity, and brings everything up to the present when many women sit at the head of spirits companies and direct their policies.
The Sardinian Cookbook by Viktorija Todorovska (Agate, $22.95)
Sardinia is a large Mediterranean island, largely forgotten in the discussion of Italy's food culture, so this cookbook is long overdue. To a great extent, Sardinian food is of peasant origins, without as many cross-cultural influences as had Italy's mainland, and, being an island, Sardinia maintained an independent streak that has maintained the traditions of its food -- not least in the dialectical names for it, like pane carasau, malloreddus, seadas and lampazu, with lavish use of bottarga. The island's use of couscous is widespread, and its breads emblematic. The recipes here, with excellent headnotes, are easy to work with. The author runs a cooking school and has followed up her widely praised The Puglian Cookbook with this well-illustrated volume.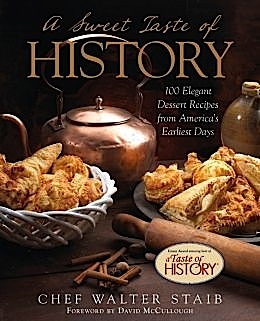 A Sweet Taste of History by Walter Staib (Lyons, $29.95)
The irrepressible, hard-working Walter Staib, host of the PBS series A Taste of History, here gives us a companion volume that demonstrates the amazing array of desserts that originated in the old colony days of America, when even a newly arrived settler could enjoy sweets unavailable back in Europe. Staib doesn't keep strictly to the time period -- macadamia nuts and ricotta were not to be found in Thomas Jefferson's larder -- but the spirit is all here in recipes like: Johnny Appleseed's pie, Indian pudding, charlotte russe, spritz cookies, plum fool and sweet potato biscuits. The photos are evocative, and the historical anecdotes are fun throughout.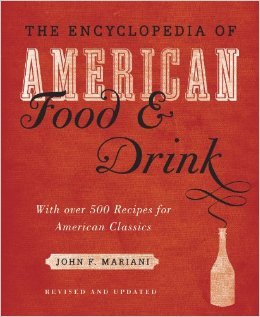 The Encyclopedia of American Food and Drink by John F. Mariani (Bloomsbury USA, $35)
Modesty forbids me to praise my own new book, but let me proudly say that it is an extensive revision of the 4th edition that appeared more than a decade ago, before locavores, molecular cuisine, modernist cuisine, the Food Network and so much more, now included. Word origins have been completely updated, as have per capita consumption and production stats. Most important, for the first time since publication in the 1980s, the book includes more than 100 biographies of Americans who have changed the way we cook, eat and drink -- from Fannie Farmer and Julia Child to Robert Mondavi and Thomas Keller.
Popular in the Community