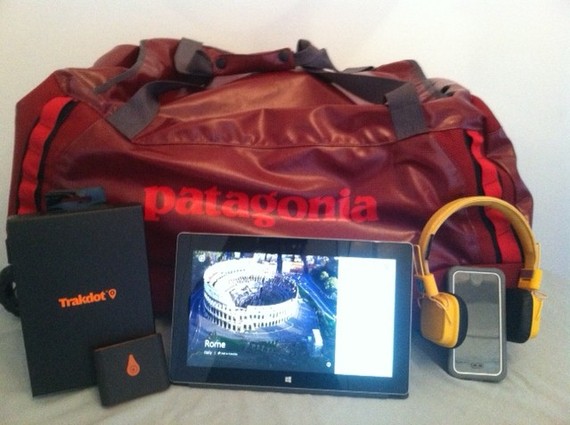 Many of us will be traveling this holiday season and some of the best gifts will make those airport- cringing moments a whole lot more bearable. First, of course, you need a terrific suitcase. My favorite new entrant in the suitcase category is Patagonia's sleek Black Hole Wheeled Duffel. The bag is incredibly durable and is made out of waterproof fabric and is equipped with water-resistant zippers. It also looks super stylish, especially if you are going for that adventure vibe. (Patagonia.com $349).
Checking luggage is always a nightmare, but if you have to do it, get yourself the Trakdot tracking device. This palm-sized device keeps you informed on your luggage's whereabouts via text message or email. The Trakdot uses advanced ground-based technology and is even smart enough to turn itself off upon take-off and back on upon landing. (trakdot.com, $59.99, plus $12.99 annual service fee).
Once you have made it on board, it is time for the entertainment to begin. Try Microsoft's new Surface 2, which can keep anyone busy for hours. Yes, it can do everything that you expect of a tablet, but it has several travel-friendly features that make it a particularly welcome travel companion. It weighs less than a pound and a half and comes pre-loaded with Bing's travel app, which include amazing panoramic photos of hundreds of locations, as well as what are essentially mini-guide books. The dual-positioned kickstand means you can find a perfect viewing angle, regardless of how squished you are and the ten hours of battery life allows you to watch multiple movies even through a long flight. (bestbuy.com, $449).
Of course you also need an advanced set of head-phones. Why not try Outdoor Tech's wireless head-phones? These work great with phones, tablets, and iPods. What makes these head-phones unique is that they have a touch interactive interface that allow you to control the volume by swiping up or down on an earpad or to change tracks by swiping left or right. (outdoortechnology.com, $99.99). And if you plan on doing anything on the water during your travels, or even if you will just be lounging by the pool, protect your iPhone with Ballistic's Hydra case. This case is not only waterproof, it is also impact resistant and protects against dirt, dust and sand. The best part -- it is surprisingly thin and takes up the same amount of space as many standard iPhone covers. (goballisticcase.com, $80).