This year, our families are celebrating three graduations in all. Yet, we were stumped for ideas of gifts and reached out to our band of experienced moms for some wonderful suggestions. We have included gifts for both high school and college and have covered a broad array of price points. Here you will find both the practical and the frivolous.
The number one gift for graduates is money. It is what they ask for most often and what is proffered. As a nation we will give about $5 billion in graduation gifts and 58 percent of this will be in cash. But if money is not on your list, or you are looking for a more creative way to offer it, here are 38 suggestions that might be just the thing.
1. Tuck a Check Inside Do Your Laundry or You'll Die Alone: Advice Your Mom Would Give if She Thought You Were Listening, and you'll be giving your grad what she wants but doesn't know she needs: her mother's loving counsel. The beautifully illustrated book covers topics from laundry to forgiveness to creative living. The best part: pages to personalize with bits of your own advice.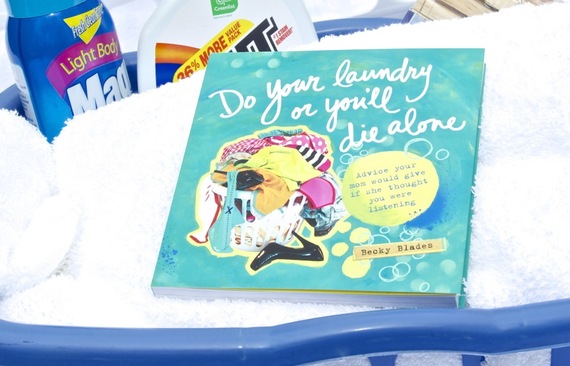 2. And for Help with that Laundry. We love this personalized laundry bag with instructions and the meaning of those tricky laundry symbols printed right outside. Any mother who has received a frantic phone call from a laundromat knows the value of this great idea.
3. Monogrammed Towels or Towel Wraps. Now that they are setting their own laundry schedule, kids can never have too many towels. Monogrammed towels will not get nabbed in the dorm laundry or city laundromat.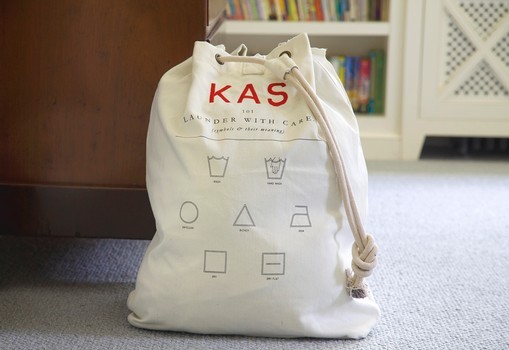 4. Who Are We Kidding (a few moms asked)? Tuition, room and board for four years...that was the gift.
5. Dorm Essentials. At some point many grads seem to find themselves in The Container Store, Bed, Bath and Beyond, or Target searching out XL sheets and an array of storage items. Gift certificates from these national retailers will get them on their way. Items can be ordered at your local store to be picked up later in the store closest to your child's college campus.
6. Wheels. College grads moving to cities with limited public transportation will rejoice over any help with car insurance, payments, or money towards a car lease. For some, those days of walking are over.
7. Two Wheels. College kids on bicycles is an idyllic image, but not if your kid's bicycle was the small one they got for the holidays in sixth grade. If they are going to attend a university that is suited to a bike, and most are, this may be the single most useful gift you can give.
8. $50 in Quarters. Think of it as a year's worth of laundry without wandering the dorm every week or two looking to see who can change a couple of dollars. But we did hear something about a quarter drinking game...
9. It's Always Coffee Time. College kids pushing though late night studying or graduates who are now waking early will appreciate their own single serving coffee maker. This is a gift that saves time and money. If your graduate is a tea drinker a small electric kettle is just the thing.
10. Money Disguised. If handing over a fist full of dollars is not what you had in mind, turn that cash into silver coins or a mint set from the year your graduate was born. The coins are commemorative, can be save and cherished, or turned right back into needed cash.
11. Overnight bag. It might be time to stop using grocery bags as luggage. A small canvas duffel or tote will come in handy on visits home, away for weekends or traveling to, hopefully, job interviews.
12. Help with Student Loans. A full 70 percent of college students graduate with debt and the average loan burden approaches $30,000. Any and all help with those payments is truly a graduation gift.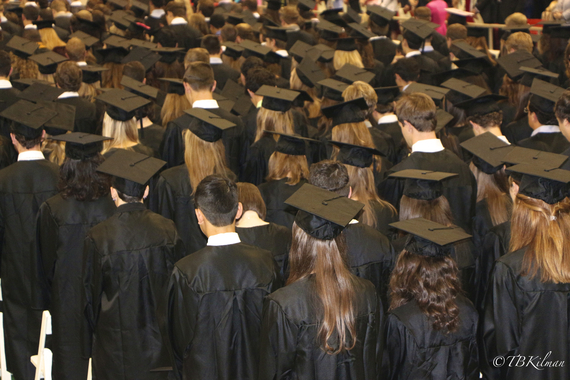 13. The Party. Graduations are a time for families to gather and celebrate. They are milestones of great meaning and joy, but that doesn't mean the festivities are free. As parents, the party can be a gift to our kids they will never forget.
14. A Journal. A beautiful blank book, given in advance of a graduation party, can be passed among the guests. The real gifts are the thoughts and bits of advice that family and friends can record, making this a gift both deeply personal and meaningful.
15. A Beautiful Piece of Jewelry. Graduations are one of life's big milestones and, as such, perhaps a moment for a first piece of real jewelry. A set of pearl earrings or subtle gold necklace can be worn for that first college formal or taken out for job interviews.
16. Let the Tailgating Begin. A small portable grill works either outside the football stadium or on an apartment rooftop. Grill tools need to be part of this package.
17. Unbreakable Cups. Tervis makes 329 unbreakable mugs, with school logos. College kids are not the most careful with their possessions, so heavy emphasis on the unbreakable.
18. Gift Cards for Local Eateries. For many kids graduation means a new city, either for college or a job. Gift cards from local restaurants will be a great treat in the new neighborhood.
19. Logo Gifts. A number of the luxury retailers (Smathers & Branson, Vineyard Vines) as well as Bed, Bath and Beyond sell an array of items like wallets, key fobs, hats, suitcase, blankets and ties all adorned with Collegiate or Greek Logos.
20. Get Rid of the Backpack. For kids facing their first real job, a brief case, good handbag or okay, an upmarket backpack, might be the thing to send them on their way. Quality leather goods do not come cheap, but the last for years to come.
21. Fleece blankets, with Monograms or Photos. One of my friends gave fleece throws in college colors with embroidered monograms to our kids and all their friends. With drafty dorm rooms or extra friends spending the night, this is a gift that will get used. Shutterfly will put your favorite photos on a machine-washable blanket.
22. Gym Membership. For those leaving the college campus the days of free exercise facilities might be over. Give the gift of health and fitness, or at least a place to de-stress after a long day at the office.
23. Wallet or Business Card Case. Something everyone needs and it can be upped with a gift card inside.
24. Campus Gifts. For high school or college grads, sweatshirts or other item from their to-be alma mater or for high school grads perhaps a gift certificate to the college bookstore are classics.
25. Manners Never go out of Style. Personalized stationery may not make them jump for joy but they will never again have the excuse, "I had nothing to write a thank you note on, so I sent an email (or worse, a text!)"
26. Clothing Gift Cards. We are pretty sure that it is not possible to have too many clothing gift cards. College grads need clothes for the world of work and high school grads may need warm weather gear now that they will be doing much more walking.
27. Experiences, Not Things. Tickets to concerts or shows, or if your budget stretches to accommodate it, a trip. Many parents mentioned the lasting joy of a post-graduation trip if it fits into the family finances.
28. Money Lei. Feeling Crafty? Take those dollar bills and make a traditional lei. One part origami, one part Hawaiian necklace. a quick search on Pinterest will show you a 100 different styles with instructions.
29. Tools of the Trade. Unassembled furniture? A hinge that is coming loose? A small but well equipped tool box might just be what your grad needs.
30. The Classics. You can never go wrong with these tried and trues. Watches and pearls might go to the office the first week of the new job, or be tucked away for the first special occasion, but this is the gift that lasts a lifetime.
31. Family Photos. They may have snapshots of the family in their phones, but that is not the same as a beautiful professional photo for their wall or desk. Consider a family photo shoot, complete with family dog, before the kids leave home.
32. Lean in for Graduates. Sheryl Sandberg has rewritten her manifesto for women's empowerment for the 20-something set. For any young women just starting out, here is a road map.
33. A Picture is Worth... iPhoto, Shutterfly and WeMontage all offer parents an easy way to create a book of memories. Our computers are jam-packed with photos waiting to be liberated. We can pull them off our kids' Facebook pages and upload them into a perfect keepsake.
34. Time to Make a Home. Think about vouchers from Ikea, West Elm, Crate and Barrel, Design WIthin Reach or Sleepy's. Credit at any of these stores, or many others, will be appreciated by anyone with an empty new apartment.
35. Their Life on the Page. What are you going to do with all those old report cards and iffy school photos? Here is a chance to put their lives on paper and make a scrapbook with mementos you have saved for years. This is not a last-minute job, but more like a suggestion for parents of juniors.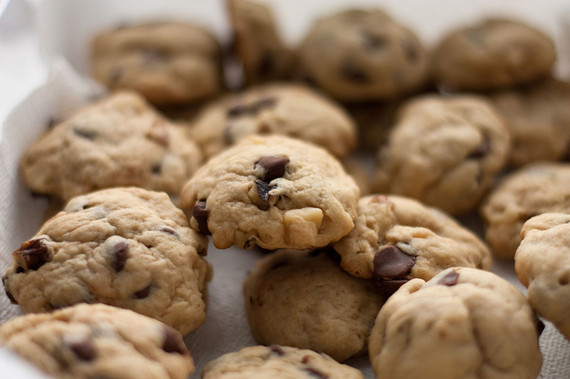 36. Cookies. Who wouldn't love a voucher from mom for baked goods that will be sent the following year?
37. Family Memento. Grandparents looking for gifts might consider some of the family mementos or jewelry that their grandchildren can treasure forever. Passing on family heirlooms (and we use this term broadly) is a moment with meaning for both generations.
38. Steal a Little Time. Finally, one of our wonderful group of moms suggested something that tugged at my heart. For kids graduating college with jobs, the days and weeks after graduation will be one of the last extended periods of time they will have free. A one-on-one parent and child trip, even just an overnight, is an opportunity that will not soon arise again. There really is nothing like the gift of memories.
Related