A great deal has changed at 435 East 52nd Street since the River Club lost its yacht basin in the late 1930's. Or, for that matter, since the Times sensationally reported on May 6, 1939,
"Customs Raid on Ayer Penthouse Brings Seizure of $25,000 in Attire; Clothing and Gems, Allegedly Smuggled by Widow of Surgeon, Taken by Federal Agents on Tip From 'Mary Doe'. "
Sounding surprisingly like their tabloid rivals, the ordinarily staid Times and Henry Luce's Time Magazine, among other journals, (Henry Luce leased from Mrs. Bondero Macy, for $7,300 yearly, a River House duplex with 15 rooms, 5 baths and a lavatory.), outlined to scores of readers suffering through the persistent Great Depression how still another 'poor' widow was making unaccustomed economies as well. Only, hers were unorthodox and quite illegal.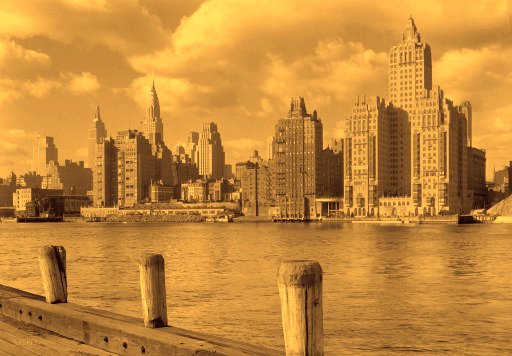 "A squad of customs agents, trained to spot a gown by Molyneaux without seeing the label, rummaged...through the penthouse of Mrs. James C. Ayer of New York and Nassau, widow of the surgeon and painter, it was disclosed yesterday. They seized jewelry, gowns and lingerie suspected of having been smuggled...agents waited one evening last week outside of River House, swank apartment building on Manhattan's east side, until a limousine drove up and deposited a stately, well-dressed dowager... Colonial Dame and D. A. R.[officer], widow of a distinguished doctor who inherited millions of the American Woolen Co. fortune. The customs men followed her up to the... penthouse...Mrs. Ayer lay prostrate on a couch. An informer whom they would call only "Mary Doe" had told the Federal men where they would find Paris finery worth some $26,000... If Mrs. Ayer is proved guilty, "Mary Doe" stands to make some $15,000--one-quarter the duties & penalties assessed by the U. S. The U. S. Attorney's office refused to identify Mary, but said she was not the accused's maid..."
As the economy rebounded in the aftermath of the Second World War, the paper of record could announce more happily, on Wednesday, August 11, 1948,
"The tenants of River House, one of Manhattan's outstanding apartment buildings, have purchased the building on a cooperative ownership basis to save themselves from eviction and to prevent the structure from being remodeled into small suites, it became known last night..."
One unambiguous indication that things were not idyllic for everyone at River House, however, was a suicide on January 31, 1954. Pictured on the beach with his bride on their honeymoon in 1923,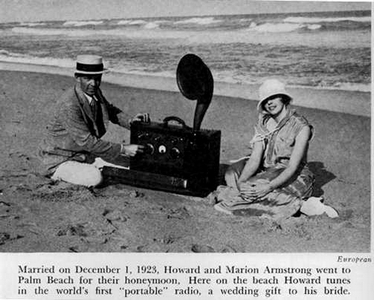 Edwin Howard Armstrong seems to personify contentment and happy days. A court decision in favor of RCA, challenging his authorship of FM radio, had a devastating impact. Stress and unrelenting work helped undermine his once happy marriage. Diving from his 13th floor window, striking the street below, Armstrong died. His widow appealed the court decision and eventually, by 1967, won a substantial award, establishing once and for all her husband as the true inventor of FM radio and other vital innovations.


Adele Astaire with a necklace she aquired that once belonged to Linda Lee Porter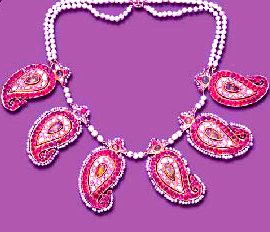 Adele Astaire, the dancer who became Lady Charles Cavendish,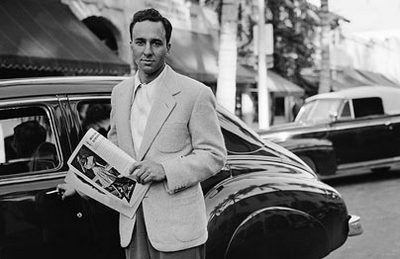 Huntington Hartford, the grocery store fortune heir, turned eccentric collector, the violinist Fritz Kritzler, producer Joshua Logan,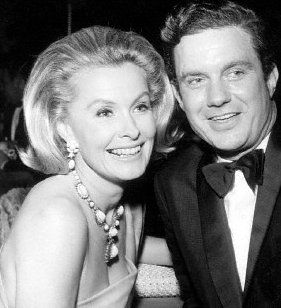 Dina Merril, the actress, who, in the movie Butterfield Eight, exemplified all that the indictment "New York socialite" once inferred: all the 'best people' continued to move to River House and yet it continued to have finical difficulties.
At least one factor that helped put posh River House on sounder financial footing decades after it opened, is the wildly inflated value of cooperative shares. Now the average price of a Manhattan apartment unit is $1,500,000 and this average figure is for a rather pedestrian apartment at that. Yet, as late as 1970 no apartment sale in New York had ever exceeded $1,000,000. At today's River House, indeed, there is none for less. More importantly, there is a growing insistence on economic exclusivity, roughly proportionate to relaxed barriers favorable to non-Protestant residents, who perhaps have a modest pedigree, but who boast the most opulent resources imaginable.
With a long history of welcoming the socially eminent, River House's co-op board is now extremely selective, using quite different criteria. Once, a few millions and a place in the Social Register were adequate credentials for most who aspired to live here and join 'the club'. But today, maintains Corcoran Group broker Ellen Kourtides, "one needs strong financials for this sort of building," explaining, in upper-class code, that its residents place a high premium on 'privacy'. "We're talking about liquid assets. It can be as much as four to six times the price of the apartment. If financing is allowed, it's not because you need to finance your apartment to move in, it's for tax purposes."
Nibbling smoked almonds with my refreshing goblet of Clamato juice, during my second visit with Marta Raymond at River House, I explained how my anticipated drink with Philip Johnson's younger sister, Theodate, and her husband, Dr. Scott Severns at the Dakota, had been abruptly called off. My special friend, Jeanette Johnson Dempsey, the architect's elder sister, had explained how her sibling was sorry but she had had to move since we talked of my coming! "When the maintenance exceeded $1,000, Theo thought that outrageous," said Mrs. Dempsey. We were sitting in the white carpeted living room of Mrs. Dempsey's lake-front condo in Cleveland, where such a figure seemed even madder.
"I must say I found it outrageous also when our maintenance here reached that amount and now it's much more!" Mrs. Raymond answered. What chic she had, wearing deep gray flannel trousers, a tailored shirt, like a man's boiled-shirt for evening wear and her husband's lusciously large pearl shirt studs and cufflinks.
A host of current real estate web sites illuminate how dramatically values have advanced at River House, even accounting for 'cost correction' following the 'down-turn'. According to the New York Observer, one River House apartment has fluctuated in price over the last 10 years, between an initial $17,500,000, to 11,500,000, to $29,000,000, following a renovation. Then it dropped to $22,700,000, was lowered further to $18,900,000 and is now, since October, available for $13,900,000.
Alternately, one can purchase an apartment with 3 bedrooms for from $4,900,000 to $10,900,000 (updated 08/01/2009), and 5 Bedrooms for $12,300,000 (updated 09/25/2009).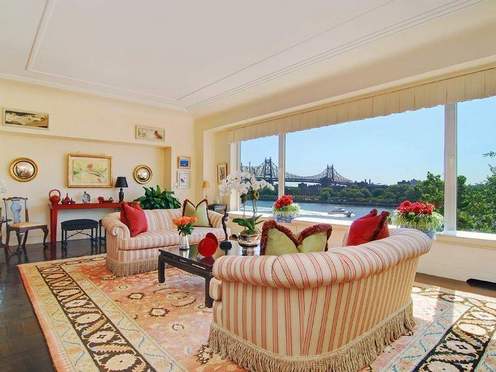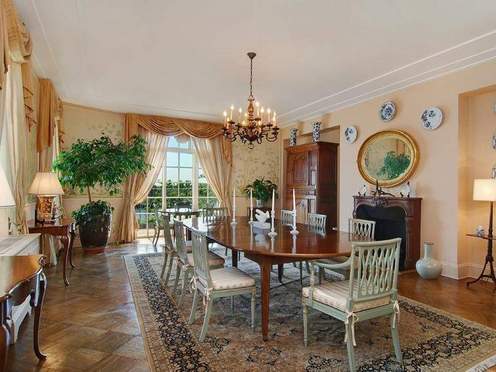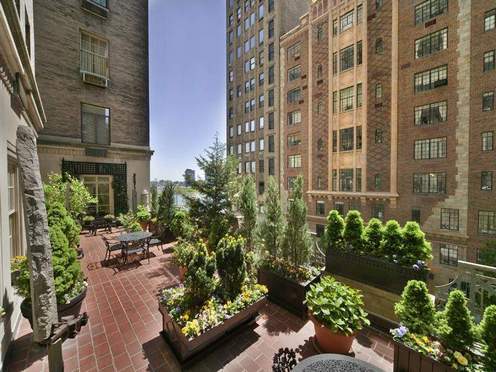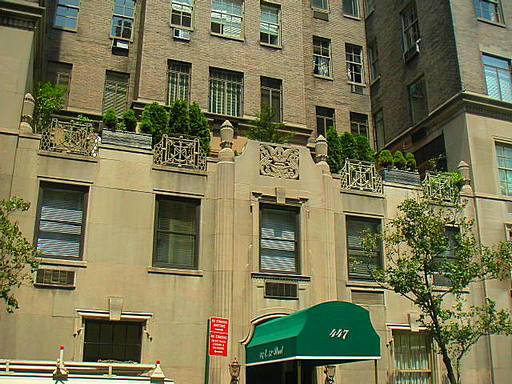 In yet another spacious domain, there are 14 rooms including 5 bedrooms, 4 full bathrooms, a formal dining room, and a library. The listing states glowingly, "The apartment's upper level has an entry from a private elevator landing for convenient access. There is a large bay window looking onto the river and two bedrooms with private balconies that face the river. Additionally, there are staff rooms that can accommodate six individuals. The building features a private driveway, a circular drop-off for cars to come and go, and a garage. This space can be had for $13,500,000."
Three years ago a 16 room apartment, owned by Francesco Galesi, the former WorldCom director, was confidently offered for $50,000,000, It has since come down, now listed for $35,000,000. Replete with a 1,242-square-foot drawing room with 11-foot ceilings, it is described as "A home with sweeping river views, this residence with 4,806 square feet of interior space offers an oversized set-back terrace (735 square feet) off of three [rooms]." Measuring 11 by 11feet, the master dressing room is larger than either of the duplex's maids' rooms. There are 8 additional bedrooms, 7 baths, and a powder room. What's the maintenance here? It's only $12,600 each month.
How quaint such figures make Gloria Vanderbilt's May 1980 law suit, alleging that River House had refused to sell her an apartment for $1,100,000. She suspected that her rejection was due to racial bias, because of her close friendship with debonair singer Bobby Short, who was African American. The building's board said it wanted to avoid "unwanted publicity."And it's still debated as to whether or not the board genuinely disapproved Ms. Vanderbilt's seemingly serial alliances, mercantile success or her black boyfriend. It's not gay Bobby Short to whom people are referring, of course, but to photographer Gordon Parks, who had a history of romantic intrigue at least equal to Vanderbilt's own.
At any rate, a month later, Mrs. Cooper, now best known as the news-anchor's mother, dropped her suit, as Bobby Short reported to the Times, "I'm old enough to be sophisticated about these things."
Why had Gloria Vanderbilt-DeCicco-Stokowski-Lumet-Cooper further risked the opprobrium of her peers in pursuit of a flat? Ultimately the answer seems to be sentiment. Inasmuch as several of her near relations lived here and many more belonged to the River Club, she had been in and out of its revolving door from the time the building opened. Indeed, for several extended periods before her first marriage, and even afterward, she lived here in the tower suite of her cousin, Cornelius Vanderbilt Whitney.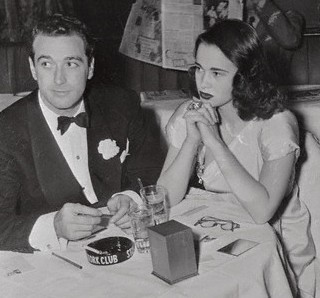 Writer William Saroyan got to know this particular apartment well through dating the highly precocious Miss Vanderbilt. A 'naive', 29-year-old Saroyan reminisced about his first date with 16-year-old Gloria Vanderbilt, ensconced in these River House digs, with considerable fondness.
"Gloria...poor little rich girl. Fabulous God-damned apartment. River House is a pretty hintcy place. High ceilings, not like a New York place...She had a two-storey apartment, and in part of it they'd gone right through the ceiling to make what they call a cathedral ceiling. In New York, that's unheard-of." Anyway, so we're making out a little bit on the couch, like kids do [sic, she's 16, he's 29!], and at a certain point, I heard some noise. I said, "What's that? Is somebody here?" She said, "That's Nanny." I said, "What?" Her childhood nurse was living with her. God..."
Later instead of Vanderbilt, he married Carol Marcus, the debutante turned actress with whom Gloria in those days haunted the Stork Club. Saroyan professed to 'abhor the limited artificiality of their class.' This didn't, however, prevent him from accepting generous gifts from Marcus' family, nor from leaving his wife, upon discovering that looks notwithstanding, she was Jewish! With memories of such men and of her unusual family imbued in every room, is it surprising that Gloria Vanderbilt so desired a place of her own in the River House tower?
Henry and Nancy Kissinger live here, so do Sir Evelyn de Rothschild and his wife, the blonde American financier, in an apartment designed by the decorator chosen by the Obamas, Michael Smith.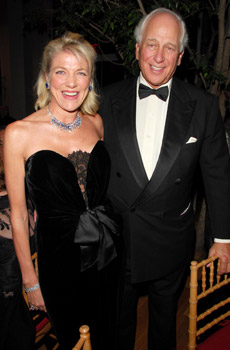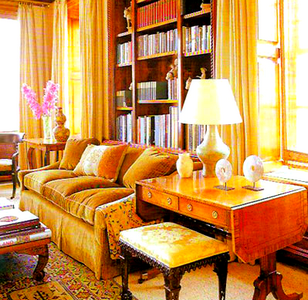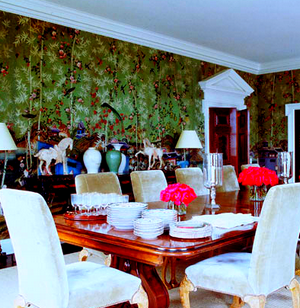 Best-selling novelist Barbara Taylor Bradford and her producer husband Robert Bradford,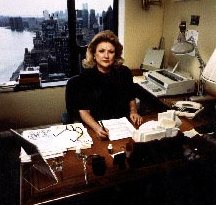 have their rooms with a salubrious view, as do a select group of carefully vetted bankers, brokers, lawyers and European aristocrats. Once Salomon Brothers' chair, John Gutfreund moved here, into the same apartment that Gloria Vanderbilt so coveted, the River House board might well have wished that they had accepted the outré socialite instead.
The notoriety and disharmony the Gutfreunds brought with them to River House, where they acquired the lower two floors of Marshall Field's old triplex, were often blamed on the aspirations of the glamorous second Mrs. Gutfreund, Susan, a former beauty queen and airline stewardess. Some contend that what they term as Mrs. Gutfreund's 'unbecoming flamboyance' was derived from a desire to compensate for humble origins, driving her to 'try too hard'. "Despite their having $35,000,000 or $40,000,000, that was only a tenth of what some of the people they socialized with were worth," stressed an acquaintance. "That's not so," said a prominent architect, who is a friend of both women. "Her appreciation of lavishness is merely an expression of her passion for beauty; moreover, the Gutfreunds, they're far, far richer than only having $40,000,000, I can tell you!"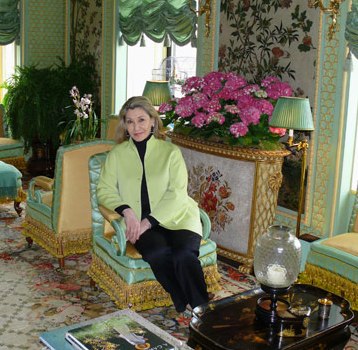 courtesy DPC New York Social Diary
Despite her friend's gallant defense, this acquaintance, and others, relished telling of Mrs. Gutfreund's supposed 'pettinesses'. Their criticism was meant to buttress arguments that she and her disgraced husband were somehow déclassé arriviste on the Manhattan social scene.

The lawsuit over the Gutfreunds' insistence on installing a winch on their upstairs neighbors' roof, to hoist a 22-foot Christmas tree up the side of the building and into their apartment, is the stuff of legend concerning 'bad manners' in 'good buildings'. A more mundane financer, Robert Postel and his wife, were the increasingly antagonized couple who dwelled above them. In her diverting book, THE IMPORTANCE OF BEING FAMOUS: Behind the Scenes of the Celebrity-Industrial Complex, Maureen Orth explains a hostility that arose from slights and poor form, mostly on the part of Susan Gutfreund, including,
" her practice of turning out the light above a door that led to the neighbors' penthouse, apparently because she wanted visitors to think she lived on the top floor -- combined with her habit of telling guests to ''come to the penthouse'' -- led her alienated neighbors, more than once, to encounter strangers, including the designer Hubert de Givenchy, stepping off the elevator into their living room.

"We had a procession of masseurs, masseuses, piano tuners, someone delivering two thousand orchids for her ceiling," Robert Postel complained. But nothing quite compared with the 2 a.m. visitation by a group of formally dressed guests, one of them carrying a harp. Postel, clad only in his Jockey shorts, told them, ''Sorry, it's not my time to go."
As originally conceived 80 years ago, a collaboration among architects William Lawrence Bottomley and Sidney Wagner, decorator Ernesta Beaux, South African muralist Jan Juta, (who also worked on the Queen Mary and the Queen Elizabeth and whose wife was a sister of the first Mrs. Marshall Field and of Brooke Astor's second husband), plasterer Dan Hopkins, blacksmith George H. Bergmann, and innumerable others, River House was a vision of supreme elegance. That not everyone is an admirer of this elegance, or of the elitism it represents, is indisputable. Even some residents, feeling wealth and ownership trump every other consideration; seem sometimes not to value what they have. Despite ample means, enough to make sensitive alterations, instead, sometimes occupants have marred this landmark's gracious loveliness with inappropriate single-light 'picture windows' or unsightly openings for air conditioners.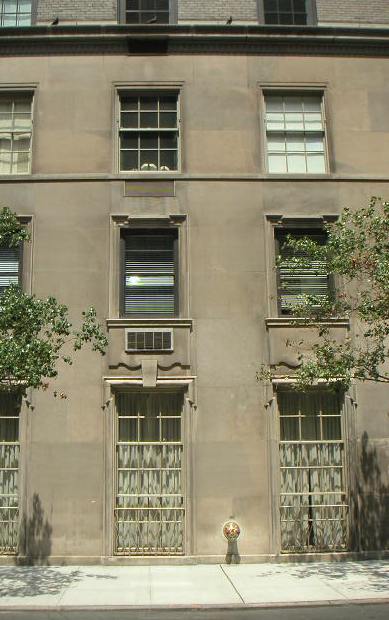 As for Ms. Laura Pels, profiled in the New Yorker, complimented on her apartment's East River view, all she can think to mention is,"... a shock she had a few years ago when she looked out a window and saw a corpse floating by."
Not I. If, like most people, I will never live there. I will at least retain a cherished memory coming unexpectedly upon a world that I had read about but never experienced previously. Saying she would like to buy one of my drawings,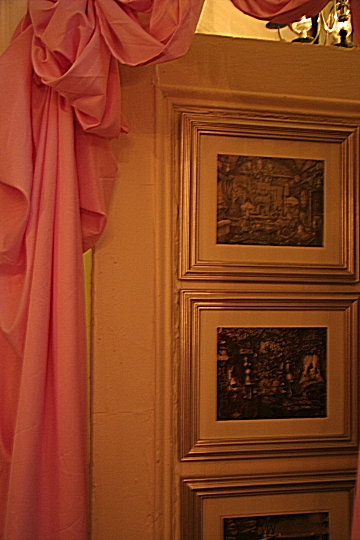 Mrs. Raymond asked me to come for dinner the night following our second meeting. "It will be informal", she said to my relief, meaning that I needn't wear evening clothes. Mr. Raymond, wheeled in from his room, did wear a dinner jacket and black tie, as I imagined he must have most nights for a lifetime. His stately mate, however, wore a variation on her daytime attire, only her shirt and trousers were silk, instead of wool and organdy. She also wore enormous earrings with marquise diamonds and rubies.
The only other guest was a Swedish lady, somehow connected to the Museum of Modern Art Library. Mrs. Raymond's French cook made some wonderful chicken dish accompanied by a white sauce and an apple Charlotte with stiffly whipped cream. My kind hostess insisted that I have a second helping of everything! There were also several wines and I tried them all.
The windows were opened to the summer night, and as the Raymonds lived on a lower floor, above the highway's hum, one could hear the garden fountain. My moment of utter triumph was just prior to desert. Not before or since have I encountered a finger bowl dining out, but taking the vessel and its doily off the desert plate, I'd known exactly what to do. Unfortunately, this was just about when I began to feel that I might slip beneath the table.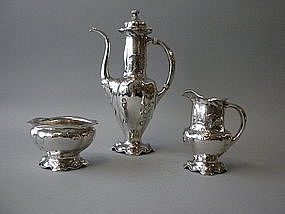 Disdaining coffee heretofore, on this enchanted evening, of gin and tonic, vintage wines and green Chartreuse, how welcomed was the tiny cup of steaming black liquid, stirred with a golden spoon.
I have seen grander apartments. There have been more festive nights since, and even meals with more elaborate menus. But, much as with a first kiss, however awkward, with some early object of one's desire, I will always recall my dinner with the Raymonds, as magic, and think of River House, as Ali Baba's cave!

Related
Popular in the Community