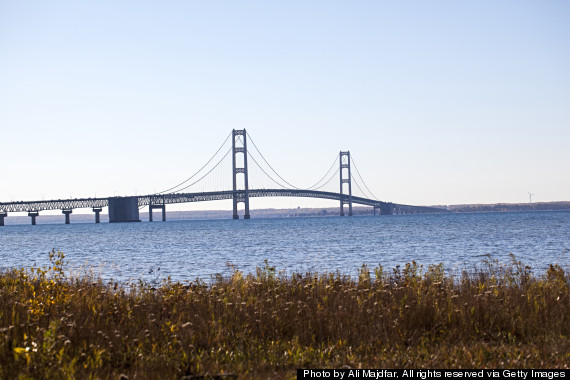 Canadian oil transport company Enbridge Energy Partners LP's sprawling pipeline network stretches across the United States. Line 5 in the Lakehead System runs beneath the Straits of Mackinac, a 5-mile-wide passage where Lakes Huron and Michigan meet to separate Michigan's two peninsulas. Nearly 23 million gallons of crude oil flow through the two 20-inch underwater pipes daily, traveling through northern Wisconsin and Michigan before reaching Sarnia, Ontario.
If the 61-year-old pipeline were to rupture, oil could reach the nearby tourist destination of Mackinac Island in 12 hours, according to research from hydrodynamics expert David Schwab, who conducted the computer-simulation study released this week by the University of Michigan's Water Center and commissioned by the National Wildlife Federation. In 20 days, oil could contaminate shorelines much farther away, potentially spreading 35 miles into Lake Michigan and 50 miles across Lake Huron.
The Straits' oscillating currents are part of what makes it such a harmful place for a pipeline breach. As the current changes direction every few days, contaminants could be carried back and forth across the straits several times. According to the Water Center, the Straits can transport water 10 times faster than the flow over Niagara Falls.
"If you were to pick the worst possible place for an oil spill in the Great Lakes, this would be it," Schwab said in a statement. "The currents are powerful and change direction frequently. In the event of an oil spill, these factors would lead to a big mess that would be very difficult to contain."
According to the Associated Press, Enbridge has said Line 5 is in good shape and is not in danger of rupturing.
Computer animations using data from a previous study show several possibilities for how oil would spread, with models showing breaks at the center, northern and south side of the Straits at two different time periods. Here's how the model shows the spread of oil over 20 days if it were released in the center of the strait, using conditions from August 1990:
Environmentalists concerned about the aging pipeline have said a spill would have devastating consequences for the economy as well as aquatic life and the coastal habitats. They've pressed for replacing the pipeline and more oversight of Enbridge and disclosure from the company. In a letter sent earlier this month, 17 groups urged Michigan Gov. Rick Snyder (R) to make protection of the Great Lakes a top priority and force Enbridge to comply with certain regulations. State officials have formed a Great Lakes Petroleum Pipeline Task Force, which will start by reviewing Enbridge's responses to a formal inquiry made about the pipeline.

In addition, U.S. Senators Debbie Stabenow (D-Mich.), Carl Levin (D-Mich.) and Dick Durbin (D-Ill.) called on the Department of Transportation to verify the pipeline's safety in December after Enbridge increased the amount of oil passing through it. Officials said Enbridge had made significant safety improvements.
Some in Michigan are particularly wary about a possible oil spill and its ecological consequences after an earlier oil spill in the state. In 2010, an Enbridge pipeline (a different line from the Straits') ruptured on the west side of the Lower Peninsula, releasing approximately 840,000 gallons into Talmadge Creek and the Kalamazoo River. Cleanup is still ongoing.