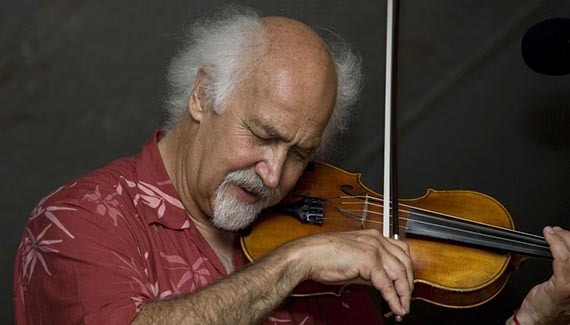 Grammy-winning musician Michael Doucet performs during the Dewey Balfa Cajun and Creole Heritage Week at Chicot State Park April 22, 2008.
Photo by Cajunzydecophotos, cropped by Stephen Winick.
As a singer of traditional songs whose day job is in a folklore archive, I get a double kick out of music projects that present new arrangements of material learned from archival recordings. Two Louisiana examples have crossed my doorstep lately, which started with recordings in the archive where I work, the American Folklife Center at the Library of Congress (AFC). Both present various artists and bands, mostly from Louisiana, performing their versions of songs collected by John and Alan Lomax there in 1934.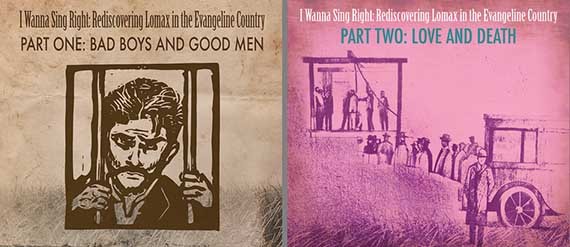 Cover Images from Valcour Records; used by permission.

The first, entitled I Wanna Sing Right: Rediscovering Lomax in the Evangeline Country, was produced by folklorist/ musician Josh Caffery and musician/ engineer Joel Savoy. It has been released as a boxed set of four EPs of six songs each by Valcour Records. As an initiative to return archival recordings to circulation as popular songs, this new project fits in well with Alan Lomax's own aims for the collection all those years ago, as well as the desires of the folks at the AFC and the Association for Cultural Equity, the two archives that jointly administer the Lomaxes' recordings. Caffery has already published a book looking at this field trip in great depth, and has placed all the original field recordings online at this website.
Claire Caffery's "Batson"
Although the field trip was best known as the first extensive trip in which folklorists recorded Cajun and French Creole music, there were also a lot of English-language ballads, songs, and spirituals collected, in some cases performed by bilingual singers who also recorded in French. So while I Wanna Sing Right does feature a lot of good Cajun music, Caffery and Savoy didn't feel it was necessary to confine themselves to one musical style, and the set ranges quite widely, from 19th century parlor music to rock, and from mournful country to uptempo jump blues.
"L'amour Qui M'a Seduit le Coeur," byKelli Jones-Savoy & Megan Brown
On disc one, Bad Boys and Good Men, Michael Doucet's piece is the only one you'd peg as Cajun...like most of his music, it sounds effortless, but it's a masterful performance full of humor, with the slightest hint of pathos in the high notes. For the opening track, Megan Brown and Joel Savoy appropriately give a French folksong a French-sounding arrangement which would be at home on a Malicorne album. Brown's unaccompanied ballad is a crystal-clear faithful interpretation of the original by the Hoffpauir sisters; the bawdy song "Inch Above Your Knee" (by Kelli Jones-Savoy and Joel Savoy) sounds like grungy classic rock; and the classic murder ballad "The Waco Girl" (by Dirk Powell) sounds like mournful country with a hard beat. All are beautifully done, but the gem is Claire Caffery's rendition of "Batson," an infectious and toe-tapping song based on a true tale of mass murder and police legwork. Caffery's upbeat take on the song would sound at home in an Old West saloon, and is made all the more charming by the fact that Claire's great-great grandfather arrested the historical Batson, and is mentioned in the song! Disc two, Love and Death, features a similar mix of styles: bluegrass on "I'm Alone," Carter Family twang on "L'amour Qui M'a Seduit le Coeur," paint-peeling blues on the spiritual "When I Die" and the gallows dirge "Viens Donc T'assis sur la Croix de ma Tombe," and French folk on "Les Amours et les Beaux Jours." There's even a light opera arrangement of "L'Amour et Fanatisme," a nineteenth-century song on the surprising topic of militant Islam.
"Rory O'Moore" by Aurora Nealand, Wilson Savoy, Joel Savoy, and Joshua Caffery
Dancing and Seduction, the third disc, features some of the heavy hitters of Cajun music, including Ann Savoy singing a touching version of "Aux Illinois" with the perfect, tasteful guitar accompaniment she's famous for; Michael Doucet's mournful "Je M'ai Fait une Maitresse" (a song I've heard mostly from French artists); fiddler David Greely playing a set of tunes recorded by the Lomaxes from Wayne Perry; and Zachary Richard on "Tout un Beau Soir," an unaccompanied ballad. The other tracks, by the younger crowd, are also impressive; "La Fête Printenière" is another theater song given a suitably springy arrangement, and "Rory O'Moore" a surprising, accomplished contradance confection by Caffery and friends. Finally, Good Women and Bad Girls swings easily from sparse pop production on "The Orphan Girl" to rollicking barrelhouse old-time on "Liza Jane," with a few more nice Cajun arrangements in between--including a version of the song I know from Quebec as "Galant, tu Perds ton Temps," which Megan Brown's voice and Josh Caffery's banjo make at once poignant and catchy. In all, Caffery and Savoy's box set is a wide-ranging and rewarding journey through the byways and bayous of Louisiana music, arranged with imagination and wit and, most of all, an instinctive feel for the culture.
"The Orphan Girl" by Tiffany Lamson
Although Caffery's box set is the first systematic attempt to record new versions of a lot of the Lomax material, the top bands in Cajun and Creole music have been doing this for a long time, especially after Professor Barry Jean Ancelet arranged to have the original discs transferred to tape and deposited at the University of Louisiana at Lafayette in the 1980s. This made them much more accessible to local musicians, and resulted in a boom in bands revisiting this material. Over the years, a healthy cross-section ended up being arranged and performed by contemporary bands at the Festivals Acadiens et Creoles (which Ancelet helped start), and recorded by the festival for posterity. This gave Ancelet and several co-producers the ability to create Brand New Old Songs: Recycling the Lomax Recordings, a CD compilation of 12 festival performances side-by-side with the 12 Lomax originals.
Canray Fontenot was among the second generation of Cajun artists recorded by Alan Lomax. His version "Barres de la Prison" is on Brand New Old Songs.
In some senses this is a more academic listening experience than I Wanna Sing Right, since you're listening to the raw field recording followed by the modern arrangement. On the other hand, with the arrangements themselves the musicians were trying to please a local audience rather than contribute to a concept album, so they're somewhat less academically informed than Caffery and Savoy's offerings. The modern interpreters range from fiddler Canray Fontenot (1922-1995), who was recorded performing the French blues "Barres de la Prison" in 1981, through the young trio Les Bassettes, who performed the ballad "Trois Jolis Tambours" in 2013. Greats of Cajun music are here, including Beausoleil, Steve Riley and the Mamou Playboys, Wayne Toups, and Magnolia Sisters, and the current generation is well represented by such acts as Feufollet and Cedric Watson. With all these great performers involved, it's a real feast for anyone who likes Cajun and Creole music, and shows how rich an archive this vibrant cultural festival has built up over the years. If you aren't the archival type, just enjoy the great live festival recordings, and the original field recordings can count as a lagniappe of academic interest.
A live version of Feufollet's "Ouvre La Porte" is on Brand New Old Songs.
Related
Popular in the Community