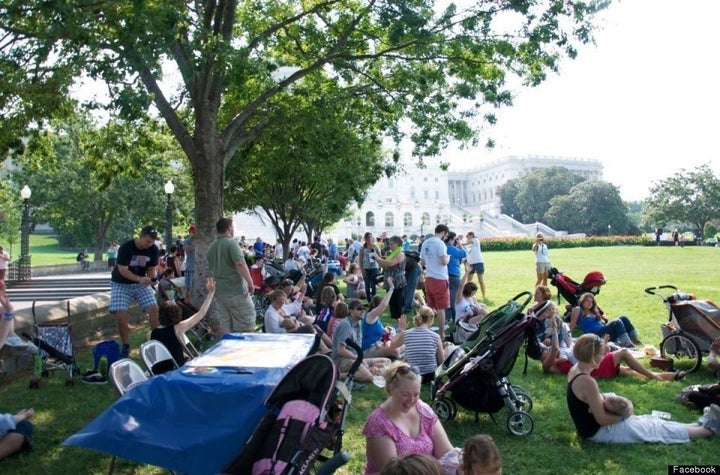 On Saturday, more than 600 moms and babies gathered on the West Lawn in Washington D.C. to participate in the "Great Nurse-In," an event planned to "demystify breastfeeding and make it as commonplace as bottle-feeding to [a] passersby."
On Saturday, Papantonakis wrote on Facebook, "After months of planning, the big day is finally here!" And as she nursed her 9-month-old, she addressed the crowd, Mommyish reports:
"I started the event because I kept reading stories about moms who were harassed for breastfeeding in public. And oftentimes it wasn't even malicious, it was just misinformation. It turns out in most places the law protects us to some degree, but because there's no public acceptance and understanding, women face these challenges every day. And when you feel like can't nurse in public, it can ruin your nursing relationship."
Because the Great-Nurse In was planned during National Breastfeeding Week, it wasn't the only widely attended nursing demonstration taking place at the same time. The Big Latch On attempted to raise awareness about the importance of breastfeeding on Friday and Saturday as mothers fed their infants in 590 locations spread across 23 countries.
Both efforts, as well as numerous other nurse-ins that have taken place around the world are attempts to normalize breastfeeding in public as it is promoted by healthcare providers as the best option for baby. The AAP recommends that mothers should exclusively breastfeed their babies for six months and public initiatives have been created to encourage women to nurse. The most recent is New York City Mayor Bloomberg's "Latch On NYC" program that has been criticized as well as lauded for taking a particularly aggressive approach to promoting breastfeeding.
And yet, even though there is seemingly much medical and political support for breastfeeding, nursing moms continue to be reprimanded when breastfeeding in public. The good news, though, is that despite these obstacles, a new Breastfeeding Report Card released by the CDC concludes that breastfeeding rates have dramatically increased in the last decade.
In January, Papantonakis explained to Janice D'Arcy who writes the Washington Post's "On Parenting," column, that the focus of the Great Nurse-In was meant to be on choice. She was not trying to preach that breastfeeding was the only way. "It certainly is option #1 for me and for my children, but it doesn't work for every woman/child/family for a variety of reasons," Papantonakis said.
Before You Go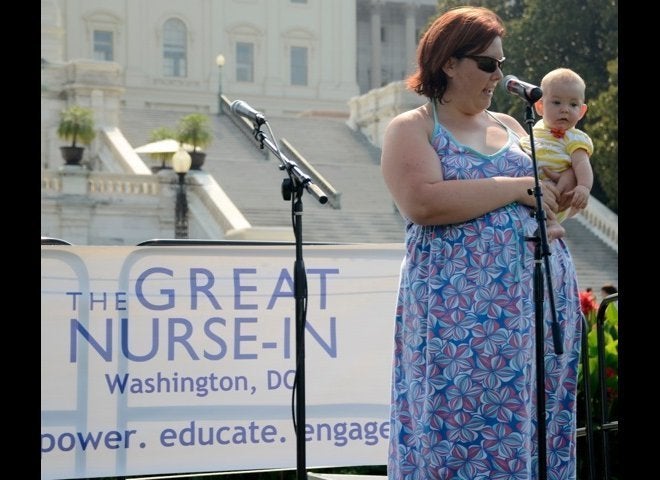 Photos From The Great Nurse-In
Popular in the Community