Sometimes, it is the thing that is right in front of you that remains hidden in plain sight.
Since inception in 1979, Great Performances has drawn its service staff from the arts -- in fact, they are what sparked the creation of the company -- to provide flexible employment opportunities for women (and later men) in the arts -- hence the name. And the range of talented individuals over the past three decades has included actors, dancers, painters, writers, singers, composers, musicians, sculptors, photographers and more.
It took 30 years, and one spontaneous conversation to give life to the obvious: A production that drew on the deep range of talents, passion and commitment in each participant who was also part of the GP service staff. They chose Into The Woods -- a true ensemble piece, and to perform it as a fundraiser for The Sylvia Center. And though the two evenings were an event of 'giant' proportions in our lives, who would have expected this home spun production, to have caught the eye of the mainstream NYC media... but like a true fairy tale, it did. Both the Wall Street Journal and the New York Times shared the story of this magical evening. In this cold and mighty city, it is the stories of perseverance, camaraderie and creativity coupled with an ingrained love affair with the arts, which captures the hearts of its citizens.
In the course of two evenings on a stage at the Clemente Soto Velez Cultural Center, to packed audiences of peers, family members, co-workers and strangers, the cast gave a Broadway quality 'great performance.' The acting was superb, the singing captivating and humor/drama -- powerful. Into The Woods is a story that speaks to all of us -- about dreams and wishes; struggles and searches; loss and redemption.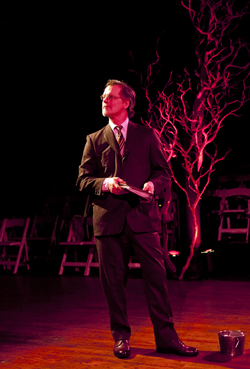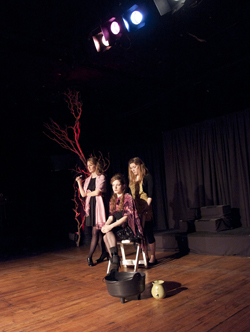 The fables that Stephen Sondheim wove together parallel the story lines the merged and brought the musical to life. A core value from an idea dreamed long ago inspired talented co-workers, their practiced teamwork from catering, translated to a new format. The philanthropic component (donating to The Sylvia Center) conveyed a message of sharing and compassion echoing the sentiment of the lyrics. New technology, Kickstarter, was the angel investor for this ancient art form -- story telling. Hours of rehearsal were dedicated to a play that would come to life just briefly but whose impact would be felt long after the applause ended. And who could have captured the array of life's emotions better than Sondheim?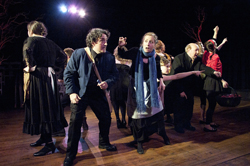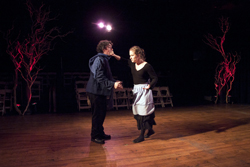 "Baker, Jack, Cinderella, LRRH: The light is getting dimmer..
Baker: I think I see a glimmer--
All: Into the woods--you have to grope,
But that's the way you learn to cope.
Into the woods to find there's hope
Of getting through the journey.
Into the woods, each time you go,
There's more to learn of what you know."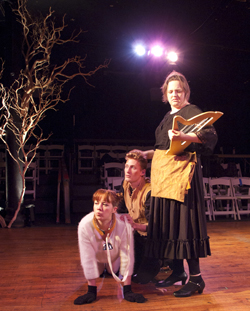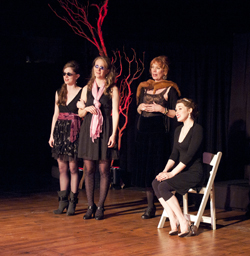 I have worked for years, sometimes decades, with many members of the cast, aware of the their other lives but never connected to their actor personae's. It was transformative to see them transformed and moving to a rhythm unlike anything I had previously witnessed in our years of work. Kevin Horne, who spearheaded and directed the production, has been with GP since 1999 yet he looked like someone I was meeting for the first time. He shared with me some 'behind the scenes' insight:
How did you determine who would be in the final production? Was there a casting process?
I used a technique I call the Star Wars casting method. If you were going to cast Star Wars just from a particular group of people, whoever is totally evil is obviously Darth Vader; whoever is the group's playboy is going to be Han Solo, etc. Some people just screamed out to be cast in certain roles -- I think the first person I cast in my mind was Steve as Cinderella's Prince -- it just seemed too perfect. And once I did that I was inspired and most of the rest of the cast fell into place right away. There was no audition process per se -- just sidling up to people asking if they might want to do this thing. I knew just from the shows that people had been cast in what their skill sets were likely to be -- even though I hadn't really seen anyone perform.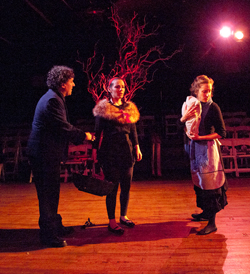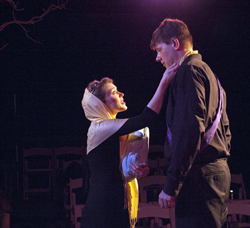 About how many other GP'ers were involved in assisting but did not perform on stage?
There were a lot -- Lisa Marie Palmieri was our Stage Manager, Tiara Yong was our brilliant costume coordinator, Mack, Dan, Jordan, and Michael helped with load-in, we had an 8-person breakdown crew, LaTrice worked the door, Michael Davitt, Snowden Duverglas, Arianna Tatner, Alice Walton were ushers, Jill Cole helped coordinate with Party Rental, Jen McMahon was key in helping with the TPA, and inevitably I'm forgetting somebody. So all-in-all about 25. And that's not including the production help that the cast gave.
What was the biggest hurdle?
In the second week on December all our plans fell through -- it looked like the production wasn't going to happen at all. We had only a month to exercise our performance rights, and we had no funding, no theatre space, and what seemed like no way forward. I had already been fronting the money for rehearsal space, and everyone had dedicated a lot of time and energy and were doing such amazing work I couldn't just let the thing slip away. I ran into Dean Martinus on the street (literally) and he mentioned the CSV Center. It was perfect for our needs, so I saw a way out. We set up the Kickstarter funding campaign -- and doubled what I thought would be a likely amount to raise. So we were set to raise $10,000 in three weeks over the holidays. But since there were 23 people in the cast, if each person got 20 people to donate $25, we would make it. So perhaps the holidays worked to our advantage, because everyone was in touch with family and friends they might not otherwise have been talking to. There were many hurdles, but this was the biggest one.
Where did you rehearse?
"We rehearsed at the GP conference room, Ripley-Grier Studios, Pearl Studios, and the last week of rehearsals was in Studio B at the Foxwoods Theatre where Spider-Man is playing. That last was a lot of fun -- it made us feel legit, going to a Broadway house to rehearse."
What surprised you the most about doing this?
Opening night was my first day as just an actor -- all the other jobs I was doing had been completed. I was listening backstage, thinking to myself (mad-scientist-like), "IT'S WORKING!!" because everything I was seeing, from the performance to how the set looked, to how the audience was involved in the stories, was exactly like I had dreamt. Nothing is ever exactly the way you planned, but this was darn close.
Have you directed before?
Yes, but this was the largest cast I have ever directed, and my first musical.
How long have you been pursuing your dream of acting?
Since I was a senior in high school. Before that I was going to be an engineer of some kind -- I skipped 8th grade, was taking calculus and physics in high school -- but I needed a Fine Arts credit to graduate. A lot of my friends were having fun in drama classes, so I took one and the bug struck. I went to college for theatre (I have a BFA) and right after graduation moved to New York -- I didn't know anyone, have a job, or a place to stay -- I just showed up. But I did have $900 and a duffel bag and I guess that was enough.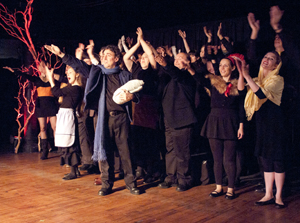 Bravo to the cast! And our hope is not to wait another 30 years for them to decide to perform together again.
PHOTO GALLERY
Into the Woods
The Cast by role, name and start date with GP:
Director - Kevin Horne - 1999
Narrator - James Robinson - 2000
Cinderella - McClain Kitchens - 2008
Jack - Josh Bishop -2 005
Jack's Mother - Rita Wozniak - 2007
Baker - Nick Locilento - 1998
Baker's Wife - Marnie Nicolella - 2007
Cinderella's Stepmother - Alison Edwards - 1997
Florinda - Ashlynn Alexander - 2010
Lucinda - Claire Kennedy - 2010
Cinderella's Father - Mitch Bonta - 1999
Little Red Riding Hood - Aubrey Elson - 2009
Witch - Molly Walsh - 2008
Cinderella's Mother - Ellen Christi - 2002
Mysterious Man - David DuPont - 2005
Wolf - Kevin Horne - 1999
Granny - Mary Ellen Toomey - 2011
Rapunzel - Jonelle Margallo - 2009
Cinderella's Prince - Steve Asciola - 1991
Rapunzel's Prince - Tony Romero - 1998
Steward - Perryn Pomatto - 2004
Giant - Jess Adam - 2010
Snow White - Sarah Kemmeter - 2006
Milky-White - Tekla Vassie - 2002
REAL LIFE. REAL NEWS. REAL VOICES.
Help us tell more of the stories that matter from voices that too often remain unheard.