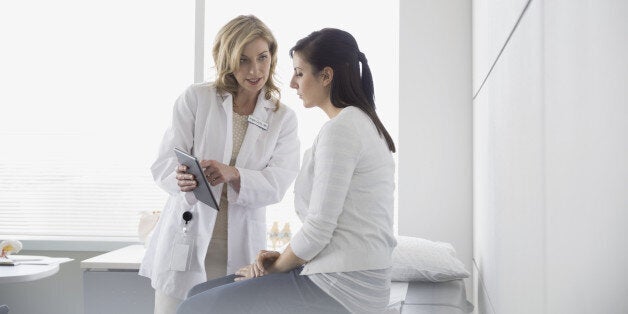 President Obama has said repeatedly that "when women succeed, America succeeds." And over the past year, millions of women have gained the security of knowing that their professional, academic, financial, and personal dreams will not be put in jeopardy if they face a health challenge. Today, the Department of Health and Human Services ("HHS") released a report detailing the important strides we have made in women's health as a result of the implementation of the Affordable Care Act ("ACA").
Up until last year, insurance companies could -- and often did -- charge women different premiums than men for the same coverage. As of January 1, 2014, the ACA prohibits this gender discrimination. In part because of improved options and affordability, today's report outlines a significant 5.5 percentage point decline in the uninsured rate among women between the ages of 18 and 64 since 2013. And as more and more women take advantage of the Open Enrollment period that ends February 15, 2015, and sign up for affordable private health insurance, that number will continue to drop.
These statistics are reflected in the individual stories and experiences of our neighbors, friends, colleagues, and loved ones. I recently spoke with Ann C., a mother of three from Connecticut, who described to me her new appreciation for the importance of preventative care. Last year, Ann was relieved to find a health insurance plan that she could afford by enrolling through the Marketplace. She quickly put her new coverage to good use, and scheduled a mammogram. The test revealed an irregularity which lead to an immediate biopsy and minor surgery. She was diagnosed with cancer, but fortunately she had the coverage she needed in order to catch it early on and she had a method to pay for treatment. Imagine learning such news without the ability to receive or pay for treatments. Because she caught it early, Ann is now facing a brighter, cancer-free future.
And Ann is far from alone. One in eight women are diagnosed with breast cancer during their lifetime, and that is just one of many illnesses which both disproportionately affect women, and which can often be treated more effectively if caught early. The ACA has increased coverage for millions of women and helped millions more remain healthy with improved access to preventive services such as mammograms, Pap smears, contraception, domestic violence screening, and other vital health services for no out-of-pocket cost. As revealed in today's HHS report, over 48 million women have benefitted from this expanded access to preventive care. And because these services are available without a co-pay, women no longer need to choose between the health care they need and their other essential expenses.
Today's report also found that the ACA has been instrumental in providing maternity benefits. 8.7 million women who purchased coverage on the individual market have gained these crucial benefits. The ACA also requires plans to cover maternity-related preventive services, which help increase the likelihood of a healthy and safe delivery. With even an uncomplicated delivery costing tens of thousands of dollars, these new protections are helping curb the large expenses many women and families incur for hospital stays during pregnancy.
Today marks the last day of the Women's Week of Action, celebrating the ACA's accomplishments, and gearing up for the work we still have left ahead of us. The Affordable Care Act has given millions of women peace of mind for themselves and their families. And although many women have gained coverage since last year's Open Enrollment, there are still millions of women who have yet to sign up and gain access to these crucial services.
Calling all HuffPost superfans!
Sign up for membership to become a founding member and help shape HuffPost's next chapter