Florida always has attracted a broad spectrum of foreign critters, from spring breakers to pythons, to coyotes and Africanized bees. But in recent months a toothy tourist has appeared off the state's waters: the fierce and feared great white shark.
Since January, there have been five reports off Florida of Carcharodon carcharias, the ruthless predator made famous by Steven Spielberg's 1975 film "Jaws." The most recent was Tuesday, about a mile off Fort Lauderdale Beach, when after a two-hour battle fishermen hooked a 13-footer weighing nearly a half-ton.
"Wowsers. I've never heard of a great white shark here. Fort Lauderdale? That's pretty crazy," said Codi Monroy, an 18-year-old surfer from Boca Raton
"No one knew what it was until we got it to the boat," said Taco Perez, captain of the charter boat Hooked Up that caught the beast. "It's so darn uncommon. We're pretty excited about it."
The anglers released the big fish, which is protected under federal and state law. But it isn't the only great white shark, called simply a white shark in scientific circles, to pop fins off the Sunshine State's coast.
In January, two tagged sharks named Mary Lee and Genie took a jaunt to Jacksonville Beach, and were followed in March by Lydia. Mary Lee, 16 feet and 3,500 pounds, and Lydia, 14 feet and 2,000 pounds, came close enough to the shoreline to startle authorities, who warned beachgoers away.
In March, another white shark of indeterminate length and weight was caught and released about 30 miles west of Treasure Island in Pinellas County.
Marine scientists aren't surprised at the appearance of white sharks which, along with bull sharks and tiger sharks, account for the greatest number of unprovoked attacks on humans. The white sharks prefer cold water, but like landbound snowbirds, are known to travel south in the winter. This year, experts say, Florida waters are a bit cooler, so white shark sightings have increased.
"We definitely already knew that whites were off Florida in the wintertime," said Bob Hueter, director of the Shark Research Center at Mote Marine Laboratory in Sarasota. "But the waters are still somewhat cool, so it's not surprising that the guys got that one off Fort Lauderdale."
Once here, the sharks can hang around to take advantage of spawning amberjack.
"This time of year, white sharks are known to move up and down the waters around here," said Neil Hammerschlag, assistant research professor of marine ecology at the University of Miami's Rosenstiel School of Marine & Atmospheric Science.
"Seasonally, this time of year fishermen catch a couple of them," he said. "I don't think they're spending a lot of time here; they're moving in and out."
Capt. Randy Towe, of Islamorada, backs that up.
"There are a few sightings every year [in the Keys]," he said. Perez, too, saw a white shark three years ago.
Hueter, who helped tag the sharks that unwittingly terrorized Jacksonville Beach, said white shark sightings may become more common. The reason: The sharks' prey, the northeast gray seal and northern Atlantic right whale, are beginning to thrive after decades as protected species. As the prey population grows, so too does the population of its predators -- along with its visibility.
"We may be seeing an uptick in the total numbers of those animals," Hueter said of the white sharks. "We're not talking about big schools of hundreds of them. We're just going to get perhaps more of these kinds of sightings."
That doesn't mean a corresponding increase in shark bites. According to the International Shark Attack File at the Florida Museum of Natural History, bees, wasps and snakes cause far more fatalities each year than sharks.
A white shark attack would be "extremely remote," said Professor Mahmood Shivji, director of Nova Southeastern University's Guy Harvey Research Institute and Save Our Seas Shark Center. Humans are just not high on a shark's menu.
"If sharks wanted to eat people, you'd never be able to go in the ocean," Shivji said. "People would be killed every single day, and it doesn't happen."
Surfer Monroy said sharks won't stop her from getting gnarly at the beach.
"No shark will ever change my mind about surfing because it's a passion for me," she said.
rnolin@tribune.com or 954-356-4525 ___
(c)2013 the Sun Sentinel (Fort Lauderdale, Fla.)
Distributed by MCT Information Services
Related
Before You Go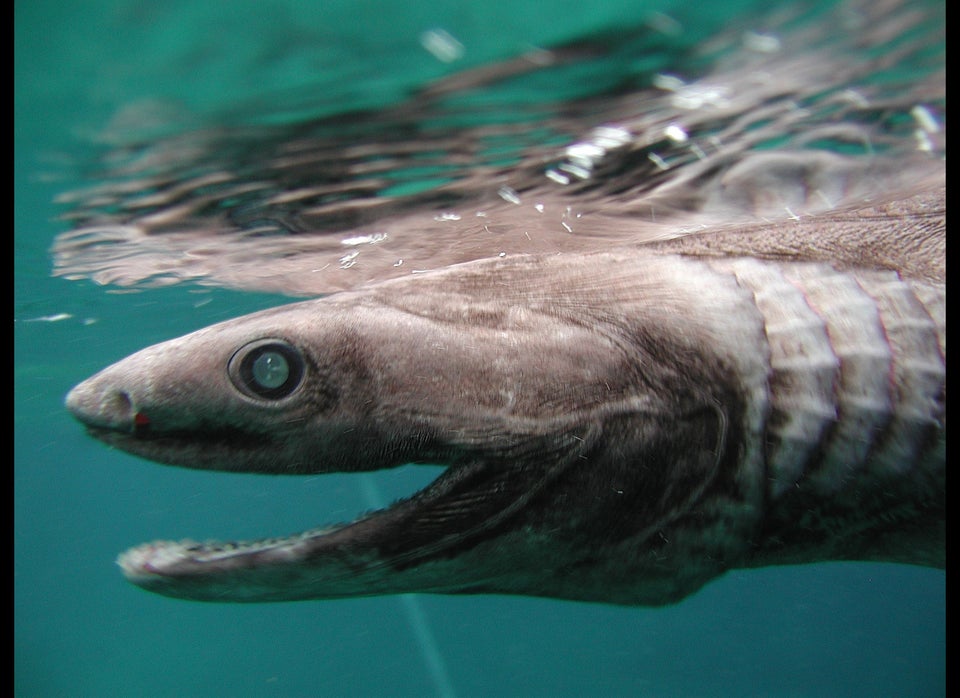 Sharks!
Popular in the Community