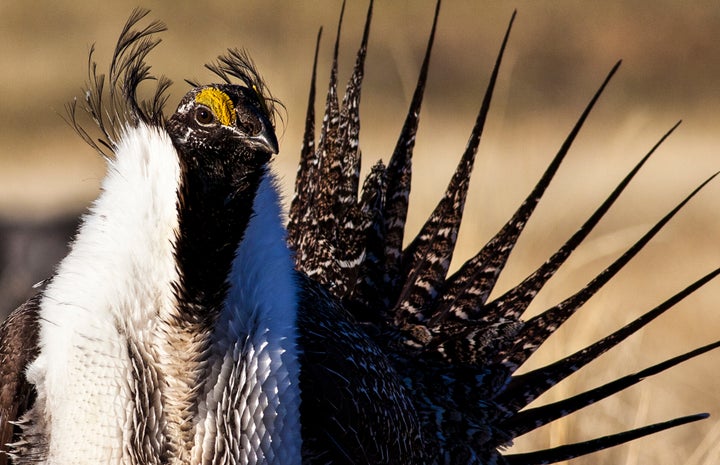 WASHINGTON -- The U.S. Fish and Wildlife Service announced Tuesday that it will not be adding the greater sage grouse to the federal endangered species list, a final decision on a topic that has been controversial for some time.
Secretary of the Interior Sally Jewell announced the decision in a video Tuesday morning, calling it a "milestone for conservation in America."
"Because of an unprecedented effort by dozens of partners across 11 Western states, the U.S. Fish and Wildlife Service has determined that the greater sage grouse does not require protection under the Endangered Species Act," Jewell said.
The Fish and Wildlife decision means the birds will not gain additional federal protections, though landscape conservation work will continue to be handled through federal, state and regional partnerships. The Bureau of Land Management also announced that it is finalizing resource management plans for the West that it says will help protect the greater sage grouse habitat. 
It might seem like a decision that would please oil, gas and mining interests, which have opposed federal protections for the birds, and members of Congress who have tried to thwart listing the species through the language of budget bills. But many are still not pleased, arguing the federal conservation plans to preserve the birds' habitat is just as detrimental to development as listing it would be. The Western Energy Alliance issued a statement saying it applauds the decision that a listing is not warranted, but that the BLM plans "persist with top-down, centralized management of sage-grouse on public lands that discourages more effective western efforts."
House Natural Resources Committee Chairman Rob Bishop (R-Utah) called it a "a cynical ploy" in a comment to The Hill, arguing that the Obama administration's "oppressive land management plan is the same as a listing."
The congressional opposition to federal protections has also included Senate Minority Leader Harry Reid (D-Nev.), who was looking to protect mining interests in his state. Reid praised the decision in a statement, saying it would ensure "that the sage grouse can thrive alongside our western economies."
But the decision does not please most conservation groups, who argue the Western plans are inadequate and will lead to continued population decline. While commending what she described as an "unprecedented and epic land use planning process," Defenders of Wildlife CEO Jamie Rappaport Clark said in a statement that the final plans "fall short of what is necessary to eliminate known threats to the greater sage-grouse."
"The sage grouse faces huge problems from industrial development and livestock grazing across the West, and now the Interior Department seems to be squandering a major opportunity to put science before politics and solve these problems," Erik Molvar, wildlife biologist with WildEarth Guardians, said in a statement. "The government's proposed plans fall far short of ensuring this iconic, imperiled bird is protected from the serious threats posed by fossil fuel extraction, grazing and other types of development."
PHOTO GALLERY
World's Most Extreme Animals
Calling all HuffPost superfans!
Sign up for membership to become a founding member and help shape HuffPost's next chapter