The greatest player to every lace up a pair of spikes, don a baseball cap, and eye-black is now a member of the Baseball Hall of Fame. Ken Griffey, Jr. was inducted into Cooperstown last weekend and rightfully received the highest percentage (99.3 percent) of votes for any first ballot hall-of-famer. Part of what makes sports great is that is spurs conversations and controversy. Everyone will have their opinion, and I like all other baseball fans have mine. Ken Griffey, Jr. is the greatest baseball player of all time. Not of his generation, but of all time.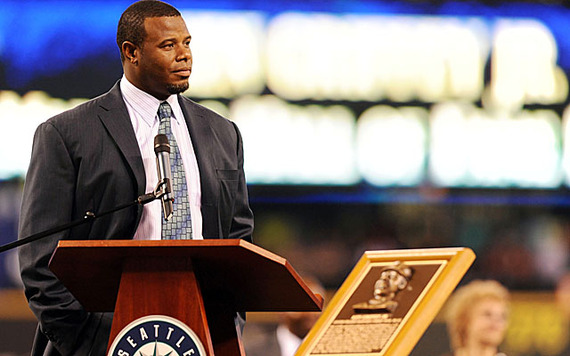 Yes, better than Babe Ruth, Willie Mays, Barry Bonds, Hank Aaron, and Ty Cobb. For the first decade of his career, Ken Griffey Jr. was better than anyone to play the game.
From 2000 to 2010 Griffey missed 392 games due to injury. A fractured wrist, torn labrum, dislocated patella, pulled muscles and torn hamstrings likely prevented Griffey from setting records the baseball world would likely never see broken. In an era when baseball was surrounded by performance enhancing scandals to their most marquee players, Griffey was never seriously suspected of using PEDs. He didn't need them.
His career numbers speak for themselves. A career .287 hitter with 617 home runs, 1,787 runs driven in, 2,710 hits, and 1,628 runs scored. Consider he missed the equivalent of three seasons due to injury and it is easy to see Griffey hitting over 700 home runs, possibly being the all-time home run king. Jayson Stark of ESPN took the time to estimate Griffey's home run total had he stayed healthy. His calculations, based on historical performance, Griffey would have finished with 777 home runs or more importantly fifteen more than Barry Bonds. A more modest estimation of Griffey's possible home run total by Cliff Corcoran of Sports Illustrated has the slugger finishing with 722 home runs, ahead of Babe Ruth.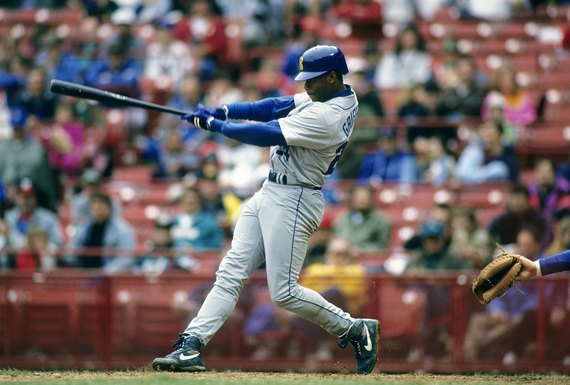 For the first decade of his career, Griffey won the Silver Slugger award seven times, was elected to the All-Star game and won a Gold Glove every year. Both awards, while not worth the price of gold or silver is the gold standard for baseball players at each position. There is only one other member of the 600 home run, 10 Gold Glove club, Willie Mays. Griffey was elected to start thirteen all-star games as an outfielder. No other outfielder in the history of the game has started that many all-star games. In 1993, Griffey became only the third player in baseball history to hit a home run in eight consecutive games.
During the 1995 ALDS against the New York Yankees, Griffey put on one of the best offensive performances in postseason history by hitting .391 with five home runs in 23 at bats. The Mariners won the series and played in the ALCS against the Indians. In the six-game series, Griffey hit another home run and batted .333.
Baseball is a game of statistics, and while Griffey is comparable in most categories to the likes of Ruth, Mays, Aaron, and Cobb, if based on statistics alone he would not be considered the greatest of all-time. However, the baseball player that Ken Griffey, Jr. was cannot be measured simply by numbers. There is a reason why Griffey received the highest percentage (99.3 percent) of votes of any hall of fame player in the history of baseball. Higher than Ruth, higher than Mays, Aaron, Cobb and anyone else who has ever played the game of baseball.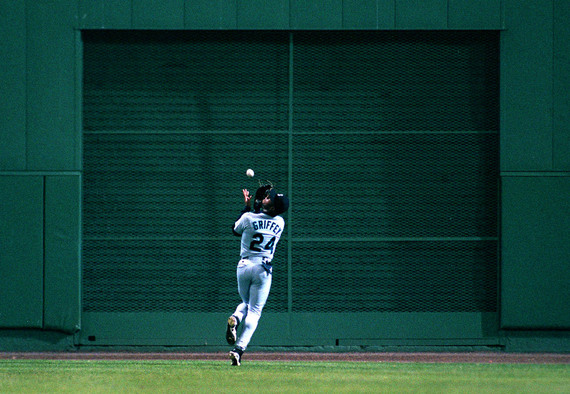 Griffey was more than awe-inspiring catches in centerfield or the real-life incarnation of The Natural. He was the No. 1 draft pick of the 1987 draft and the No. 1 baseball card for a new trading card company, Upper Deck. The 1989 Upper Deck Ken Griffey Jr. rookie card was the 1952 Topps Mickey Mantle for a new generation and launched the sports cards industry into a new collectible era. He was as popular as any baseball player in recent memory and rivaled the popularity of Babe Ruth.
Gone were the days of opening a pack of baseball cards, finding a stick of gum, and looking at fifteen cheap pieces of cardboard with pictures of baseball players. The Upper Deck packs cost more than other brands of cards like Topps, Fleer, and Donruss and came in a sleek, foil wrapper. Everything about the Upper Deck cards was special including the No. 1 Ken Griffey, Jr. card. There was simply nothing cooler in the baseball card world than Upper Deck, and there was no cooler player in all of baseball than Griffey.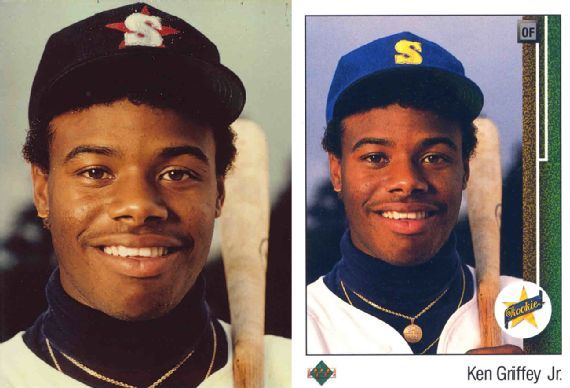 Hall of Fame outfielder, Reggie Jackson once said about Griffey, "We love Ken Griffey, Jr. because he is everything we would like to be. He's young, he's good-looking, he's got the best smile in the world, and he's a heroic athlete. There hasn't been anyone like that since...Reggie Jackson." In 2000, Griffey was traded to his hometown Reds. The president of his former team said about the trade, "We gave up Babe Ruth." His new general manager, Jim Bowden had equally high praise saying, "February 10, 2000, will go down in Reds history and baseball history as the night when one of the biggest trades in the history of our sport took place when the Michael Jordan of baseball came home to Cincinnati."
I understand that Griffey never even played in a World Series much less win one but neither did Cobb or Ted Williams. Willie Mays only managed to hit .247 in the postseason including .239 in four World Series. He had two home runs total in the six postseason series. Babe Ruth, despite being in 10 World Series only hit 15 home runs or one home run every 8.6 at bats. In the 1995 ALDS or ALCS, Griffey hit a home run every 7.5 at bats. I also understand that injuries are an unfortunate part of the game but for me, there has never been a better player than Ken Griffey, Jr.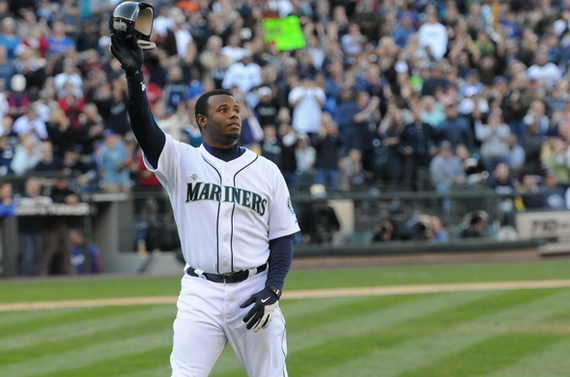 American filmmaker and baseball historian, Ken Burns offers the best possible summation and compliment of Griffey's career, "He not only did everything, but he did it with a kind of joyous abandon. Combined with that beautiful swing, I think he will stand for a very long time as a representation as the very very best in baseball."
REAL LIFE. REAL NEWS. REAL VOICES.
Help us tell more of the stories that matter from voices that too often remain unheard.