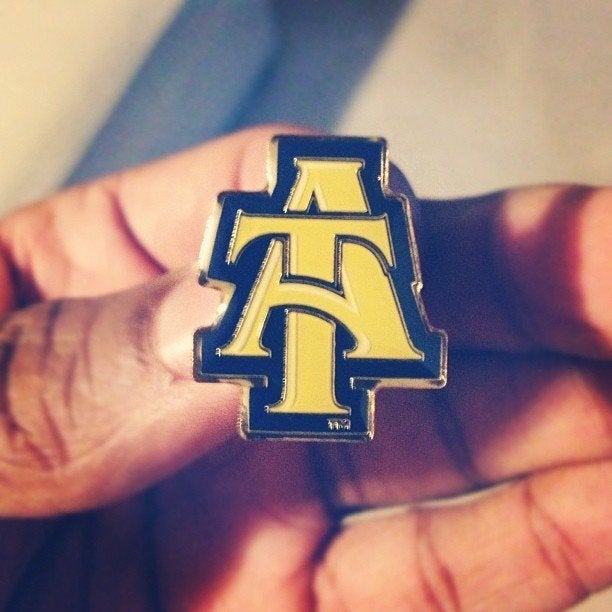 Frances Peppers and a group of her friends were riding around Greensboro, NC., looking for other drivers who were riding with their headlights on. Earlier in the day, members of the Gap Band appeared at a local radio station, and instructed students at North Carolina A&T State University to show their love for the band by flashing other Aggies and A&T supporters who were also lit up in anticipation for their homecoming concert.
It was a moment that changed Peppers' perspective on what it meant to be an Aggie, and an ardent attendee of the event known throughout HBCU culture as the 'Greatest Homecoming on Earth.'
Peppers, more than 20 years removed from her graduation from A&T and less than a year into her presidency of the university's National Alumni Association, says that homecoming is a vital tool in changing minds and lives to support an alma mater and its future.
"It brings together people literally from around the world -- and a lot of them aren't Aggies -- home to celebrate both the joys and sorrows, get reacquainted with old friends and classmates and embark on new memories," Peppers said. "The feeling that A&T's homecoming invokes in you is like winning the Super Bowl, the lotttery, an Olympic gold and more, rolled up into one."
"That feeling is contagious and everyone I know from other HBCU's and traditional colleges alike want to come and be a part of the GHOE. It doesn't disappoint."
For one weekend a year, a sea of blue and gold, dotted with fraternity and sorority colors, red cups and smiling faces washes over Greensboro, NC., bringing with it economic impact for the city and much-needed support for future A&T graduates.
Among the handful of HBCU events to earn an annual spot on Twitter's 'Trending Worldwide' list, GHOE may trail Howard University's homecoming in the collective awe of black college outsiders, but gladly banks on its sense of community and campus-driven inclusion, a great contrast against Howard's opulence-driven, celebrity-lust weekend in the District.
Former GHOE organizers say that the focus on community is what makes the Aggie homecoming stand out from other HBCU celebrations.
"The entire NC A&T community has devoted years to the development of a week that caters to every age group," said Marcus Bass, a 2010 A&T graduate and former Student Government Association President. "Even with recent additions like the Aggie Fun Fest, which serves as a play area for families with small children and the Young Alumni Concert, each event is the culmination of a year's worth of planning. Also the student events have maintained a tradition of providing the newest, breakout stars from Gospel to Comedy to Hip-Hop."
"Unlike other major homecomings that are promoted solely for after-hours entertainment, GHOE's focal point remains the student events," Bass said.
Outside promoters, like Diamond Life Concerts, have promoted shows for students, young alumni and older alumni for years surrounding GHOE. This year, the promoter brings Young Jeezy, Trey Songz, Elle Varner, 2 Chainz and Big Sean for the student concert, and Jill Scott for the Young Alumni concerts at Greensboro Coliseum.
Frankie Beverly and Maze and special guest Jerry Butler will headline the campus' concert for returning, seasoned alums.
And the student-driven agenda has paid off, as a Google search of GHOE yields 135,000 YouTube mini-documentaries, blog posts, dedicated Tumblr accounts, Twitter updates and photos, mostly created by current and recently-graduated A&T students. The school's sizable presence on social networks, built through a student enrollment of just over 10,000 and alumni numbers stretching near 40,000, has positioned the GHOE brand as a premium opportunity for small business and municipal growth.
"Every hotel, every club venue, every hot dog stand, and every clean-up man sees a return from homecoming," Bass noted. "For many folks, including the city, homecoming is a economic stimulus. An influx of 20,000 to 40,000 people in the city for a weekend makes a huge difference. Consumers even anticipate the costs, saving months in advance for GHOE."
According to A&T officials, the Greensboro Convention and Visitors Bureau last measured the economic impact from homecoming at $11.3 million. Dr. Velma Speight-Buford, a member of A&T's Class of 1953, commissioned the university's first economic impact study of homecoming, and the former Director of Alumni Affairs and Chair of the University's Board of Trustees says that its value is widely known in entrepreneurial and legislative circles.
"There is a significant financial impact. Homecoming is only second to the [High Point] Furniture Market. The city gets it ,and their answer is to roll out the red carpet for the event," said Dr. Speight-Buford. "You will find the politicians rallying around NCA&T. They refer to us as the economic engine."
It's hard to trace how or if GHOE has impacted an election in favor of a candidate out of his allegiance or presence to the festivities, or if the event's natural opportunities to address and mobilize large populations has impacted local policy. But for the university widely known for giving the world the A&T Four, and the famous Greensboro student sit-ins, many alums sternly hope that politics remain out of the celebration sphere, and focused on academic success and outcomes.
"Homecoming in many ways reflects our history as an HBCU, addressing and reflecting upon our civil rights legacy, land grant roots and the fact that homecoming was created to promote what the university was doing across the state," said Brandon Bellamy, a 2008 graduate, and current Vice President of the Washington, DC Chapter of the A&T Alumni Association and Chair of the Association's Young Alumni Council.
"Today, I think at times we have strayed from making sure that our academic successes are showcased, but the caliber of activities and events do reflect that we have grown in our expectations and abilities to do great things."
Bellamy says that GHOE has created ways for the college to address town and gown issues that similarly plague most college cities, and he has seen the impact grow throughout his life as a native of Greensboro. That growth, he says, leads to a common misconception among non-Aggies about the revenue generated by the event in benefit to the university, and how it reaches out to support its alumni and surrounding neighbors.
"I think that a lot people who are not A&T alumni are not aware of all of the other events that the university sponsors that are there to engage alumni and students. From the Entrepreneurs Conference to the Alumni Affirmation service, there are a number of events that serve to engage our alumni. Additionally, I think people believe that the university makes a lot of money off of homecoming; but so many of us fail to engage directly with the university or even use homecoming as a reason to make our annual donations to the institution."
"We have to do a better job of using homecoming as a fundraising opportunity and to showcase those who have made a commitment to A&T."
According to school development officials, North Carolina A&T posted a nine percent alumni giving rate in the fiscal year ending June 2012, a rate that is above the national average for historically black colleges, and at the average for all colleges and universities.
That nine percent accounted for $2.8 million in donations to the school over the same period.
Peppers says that buy-in surrounding GHOE can often lead to the university bearing unnecessary publicity for events billed under the homecoming umbrella.
"With all the different activities taking place in Greensboro that weekend, many are not sanctioned by the university and therefore the university has no control over what does or doesn't happen," said Pepper. "Again, A&T's homecoming is a money maker for so many in the city that many will put the tagline 'A&T homecoming' in front of their particular event's name and if something detrimental happens, then the University and the Aggies are faulted in the media."
The university, alumni and other affiliated entities of the university are working in unison to provide fun, safe and family-oriented activities that uphold the school's mission and goals locally, in the state and in the nation, Pepper explained. "Our goal is to continue to be the premier university in the nation and it's with that goal in mind that homecoming is planned and executed."
Aggies, in number and in bluster, can seem to be biased parties to the allure and value of the GHOE. But if trending topics don't move you, perhaps a visit to Greensboro in late October will change your mind.
"People that have never attended Homecoming at A&T feel there is some exaggeration on the part of Aggies," Bass said. "But after 10 minutes on any part of the campus during that weekend their mind is changed … you have to see it to believe it."
What makes your school's homecoming the greatest? Add a photo and tell us in the slideshow below.
REAL LIFE. REAL NEWS. REAL VOICES.
Help us tell more of the stories that matter from voices that too often remain unheard.
BEFORE YOU GO