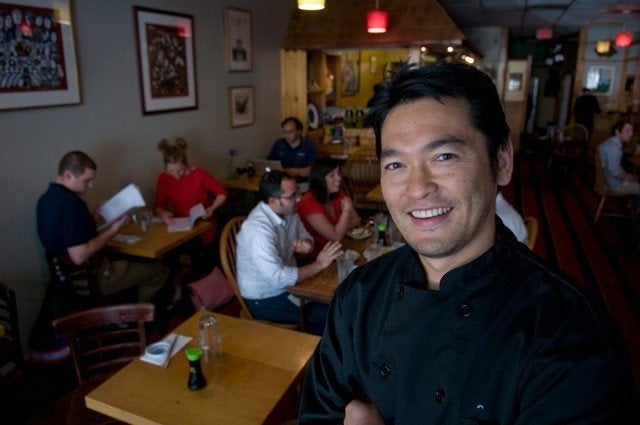 Every day on HuffPost, we're highlighting one 'Greatest Person'- an exceptional individual who is confronting the country's economic and political crises with creativity, generosity, and passion. Bun Lai is the chef and owner of Miya's, one of Connecticut's most celebrated and unique restaurants. He is the 2010 recipient of the Elm Ivy Award and the Key to the City of New Haven for his work with the community and Yale University. He is also the recipient of the prestigious 2011 Seafood Ambassador Award from Monterey Bay Aquarium for his leadership in the Sustainable Seafood movement. In April 2010 Fish2Fork ranked Miya's one of the ten most sustainable seafood restaurants in the country. Both his food and commitment to sustainability inspired us, and led us to feature him as today's 'Greatest Person'.
Huffington Post: Describe for us how Miya's evolved from a traditional Japanese eatery into a largely sustainable and vegetarian restaurant.
Bun Lai: Thirty years ago, when my mother opened Miya's, there were very few sushi restaurants in Connecticut. My mother wanted to introduce Americans to Japanese culture so she served some of the most authentic Japanese food around. When I took over, I yearned to cook in a way that was truer to the person that I am. I am Chinese and Japanese and I was largely raised in New Haven, Conn., where I was exposed to people from all around the world and entrenched in the Yale community through my father who was a medical doctor and a researcher. So, my sushi is quite American. And, when I say American, I don't mean American in the way that so many ethnic foods in America have evolved into junk food. Miya's is American in the way that it is meaningfully and positively innovative.

HP: How does your sushi differ from what is found in typical Japanese restaurants?
BL: The sushi that we serve at Miya's is healthier than traditional Japanese sushi. It's also healthier for the environment. I like the taste of it better too. Traditional sushi rice is made from white rice with cane sugar added. It's like Wonder Bread but even without the nutritional supplementation of it. All of our sushi rice is unsweetened and contains quinoa and amaranth, which are complete proteins, ground flax seed for omega 3 fatty acid, whole oats for fiber and a brown and wild rice base.

HP: How did you get involved in sustainable cuisine?
BL: I got involved in sustainability because of my parents. My mother always volunteered her time with the elderly and children despite her hectic schedule and my father used to go to Kenya to do free cataract operations to cure blindness. Sustainability is about your impact on others. Early on I knew that in whatever I chose to do for a living, I--like my parents--needed to impact others in a positive way. Giving and receiving are two sides of the same coin.
HP: How does Miya's work to make sushi, something normally fairly expensive, affordable for everyone?
BL: Only in America, can a person be obese and starving at the same time. In our country, calories are cheap but nutrients are expensive. One of the greatest challenges to the sustainability and organic movement is to be able to make high quality food affordable for everyone. In our menu, we have a section called "sushi for the masses" where we offer nutrient-dense, inexpensive sushi. The most affordable rolls on the menu are the healthiest, by design. Lots of people really appreciate what we are doing and that feels great.

HP: Talk about where you get your seafood.
BL: Many larger fish are over-fished and have a dangerously high accumulation of PCBs and mercury. Central to my menu is sustainable seafood that is affordable and abundant such as catfish, trout, tilapia, arctic char, mussels, clams and squid. It's easy to find seafood wholesalers that supply these items. Most of my sushi is exotic, not because of the ingredients we use but because of the recipes I have created for them. When I do have trouble sourcing a sustainable seafood item I go online and use Fishchoice. It is an indispensable tool for connecting restaurants with sustainable seafood wholesalers. Incredibly, the service is free.

HP: Talk about where you get your produce.
BL: If you order a salad at Miya's, it will be one of the best you've ever experienced. The Yale Sustainable Farm grows much of it for us. We get more of our greens from the Urban Foodshed Collaborative, an organization that teaches kids to grow vegetables on vacant lots around the city. The kids deliver the vegetables, too, and even explain their work to our grateful customers. Our salads are huge and cost as little money as possible since we believe everybody should be able to eat high-quality, organic vegetables. My rule of thumb is to keep the healthiest items on the menu as inexpensive as possible so more people can have access to them. On my menu, the items that cost the most are to be savored once in a while and are pieces of food art.
HP: Why is so much of the menu vegetarian?
BL: I created the largest vegetarian sushi menu in the world because I believe that a plant-based diet is the healthiest one for people living in wealthy nations. Over-consumption of meat has lead to obesity, diabetes, heart disease and cancer becoming the norm in our country. We do not serve beef or pork in our restaurant because they are inefficient, inhumane and ecologically damaging sources of animal protein.
HP: How is your menu a platform for environmental activism?
BL: One of the things that we do is serve sustainable seafood. What that means is that we won't use seafood that is caught or farmed in a way that is bad for the environment. In the cuisine of sushi, our zeal for exotic seafood has lead to the perilous over-fishing of many species. We don't carry half the types of seafood that other sushi restaurants carry. No farmed salmon. No freshwater eel. No farmed yellowtail. No foreign shrimp. No octopus. No red snapper. No Maine sea urchin. And the list goes on. It used to hurt my feelings when people would read my menu and scurry out the door but now I know that if you get any reaction out of people it's a good thing. It means that you are doing something extraordinary. My menu hopes to inspire conversation and thereby become a platform for environmental awareness and activism.
HP: Give us an example of a dish that raises environmental awareness.
BL: I have a dish, called Kiribati Sashimi, which incorporates Kiribati sea salt. I use Szechuan pepper corns in my recipe, which creates an alternately hot and cold mouth sensation. I created it to raise awareness about global warming. At only eight to twelve feet above sea level, Kiribati may become the first nation to be engulfed by the ocean due to climate change. It is also one of the world's poorest countries and is barely an afterthought in most people's minds. I know my sea salt purchase is hardly an economic stimulus package for Kiribati but I am hoping that the awareness that my menu creates may be worth something in some unforeseen tangential way.

HP: Talk a little bit about the foraging that you have been doing, and how you're incorporating that into your menu.
BL: Native Americans used to eat pine and sumac during the winter to prevent and treat scurvy. I make sakes from pine needles and sumac berries that I pick in the forest. I am interested in food as medicine, so I like to use non-commercial ingredients and abundant ingredients that are used by indigenous peoples everywhere. Most of my summer was spent collecting clams, crabs and conch and netting shiners by the sea. I work with seafood so it's important to feel connected to its source, the ocean. Nowadays everything is packaged and processed so we forget that our food once had a life. Native Americans used to pray over their downed prey. They believed that a sacred life force ran through every thing that existed. I feel the same way. Collecting wild food from nature makes me aware that food comes from a living thing that must be respected.

HP: What does Miya's do to give back to the New Haven community? What do you do?
BL: I support many progressive initiatives that I feel close to. As an immigrant and an Asian, I used to feel like I was on the outside looking in. I think that's why I feel in tune with causes such as children, gays, minorities, immigrants and women's rights. As a kid I use to fight bullies in the parking lot after school. Even though I don't do that much anymore, what I do now is on the same trajectory. Ultimately, my menu is a celebration of the underdog and people who are misunderstood or are given a smaller slice of the pie. All year long, I treat inner-city children, who would not normally have the opportunity to experience an acclaimed restaurant that serves food art, to lunches at Miya's. In America, poverty makes people very culturally centric. Part of educating children has to be showing them that there are other ways of doing things, that there are other ways of being and that the possibilities are as wide as they will allow their imaginations to take them. That's what I want kids to get out of experiencing my unusual recipes. Also, I want them to feel that there are very few places on earth that they shouldn't be, starting with this very nice restaurant of ours full of over-educated, light-skinned people. The worst thing about being poor is the feeling of being excluded.

HP: How do you encourage other people and chefs to incorporate sustainable seafood into their recipes?
BL: Chefs can make the switch over to using sustainable seafood gradually, if need be. It's not an all or nothing kind of proposition. It's about taking steps in the right direction. All those baby steps will eventually get you there. The most important thing is to educate yourself so you know which ingredients are sustainable. Learning about it makes you more aware and appreciative of your food. There is a lot of information on the web about sustainable seafood. A couple of really great websites are Monterey Bay Aquarium's Seafood Watch and The Aquarium of the Pacific's Seafood for the Future site. For information on sustainable sushi, visit Sustainable Sushi and Trevor Corson's website. All the information is free.

HP: What do you hope to bring to the discussion when you appear on The Food Network's 'Chopped'?
BL: I agreed to do 'Chopped' only if sustainable ingredients were used. It's a win-win situation for everybody.

HP: Who are your heroes?
BL: My Mom, my Dad, my mentors, my teachers, my co-workers, my family and friends and everybody who has ever striven to make the world a little bit better.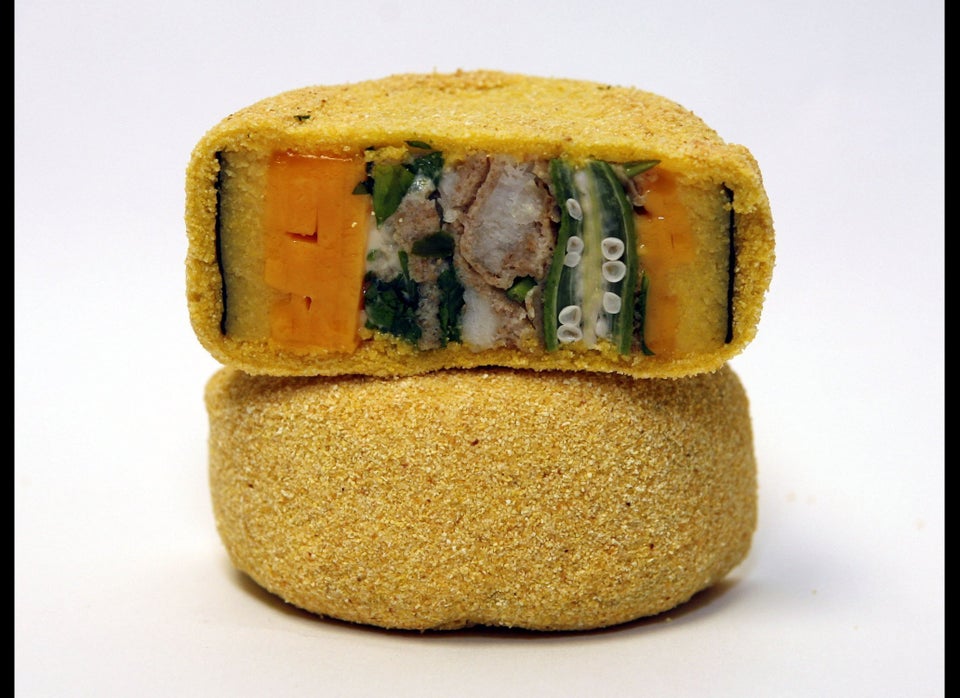 Greatest Person Of The Day: Bun Lai, Chef and Sustainable Sushi Guru
For more, subscribe to receive 'Greatest Person of the Day' email updates.