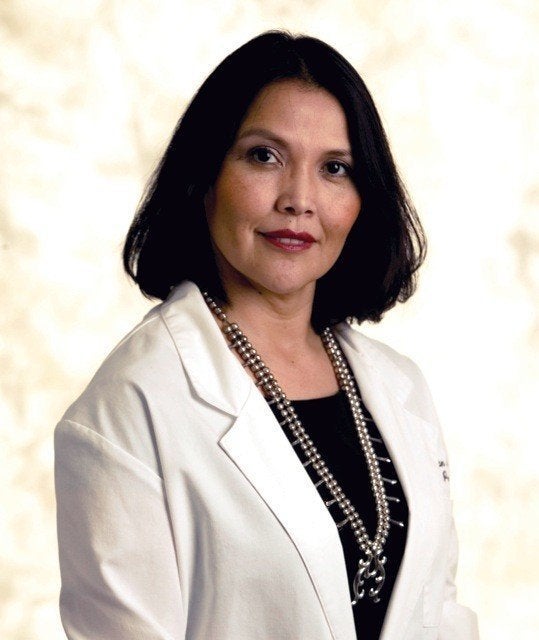 Every day on HuffPost, we're highlighting one 'Greatest Person' -- an exceptional individual who is confronting the country's economic and political crises with creativity, generosity and passion. Today we feature Dr. Patricia Nez Henderson, a member of the Dine' (Navajo) tribe. She is Vice President of the Black Hills Center for American Indian Health, an Native American nonprofit based in Rapid City, S.D., and is the first Native American woman to graduate from the Yale School of Medicine. For the past decade Dr. Nez Henderson has assisted tribal communities across the nation in enacting comprehensive tobacco control and prevention programs. Her tireless efforts to change the way Native Americans see and use tobacco, and her work in advancing the health of Native communities across this country, is something we all can learn from and be inspired by.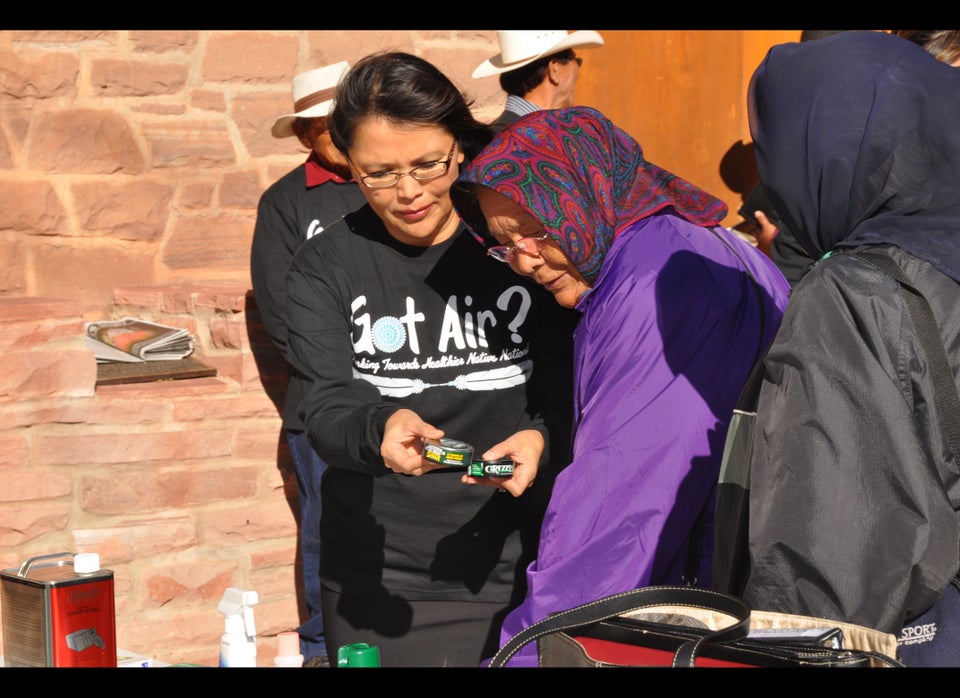 Greatest Person of the Day: Dr. Patricia Nez Henderson, Native American Health Advocate
Huffington Post: Part of what makes you so inspiring today is where you come from and the path you've taken to get here. Tell us about growing up on a Navajo reservation.
Dr: Patricia Nez Henderson: I grew up in the small community of Teesto, in the southern part of the Navajo Nation, in home with no electricity or running water. My father was in construction, and my mother was a stay-at-home mom. My childhood was wonderful; my relatives lived all around me, and since we had no television, we did so much together to entertain ourselves.
HP: Describe your education before college.
PNH: I went to boarding school starting in the fourth grade through high school. Before high school, I went to school with mostly Navajo kids. In high school we were a much smaller population, but were the only students to board at the school. I was fortunate to have great mentors in high school, to help me through and permit me to do extra and advanced work because the opportunities at my school were fairly limited. They really nurtured a love of science within me.
HP: When were you first interested in medicine?
PNH: Well my mother would say the first time she knew I was interested in medicine was when she found me at the sheep corral with stethoscope, listening to the lambs' hearts beat. I was 3 or 4 years old then. I'd say my grandfather made me the most interested. He was a Navajo medicine man, whom many patients would travel long distances to see. Medicine men are so significant in Navajo culture because they act as physicians and priests simultaneously. I saw my grandfather helping both body and mind in a comprehensive way, and knew that I wanted to continue that work somehow.
HP: Going to college can be challenging for anyone leaving home for the first time. Describe the experience of leaving your reservation to go to the University of Arizona. What obstacles did you face during your time there?
PNH: As a senior I applied to one school, the University of Arizona. Going there was a huge adjustment and challenge. I went from being in the company of so many native classmates who were like family, to being a 1 percent minority in a school of 35,000 students. So much of the social scene at UA was so foreign to me and it was very difficult at first. The few of us Navajos there were instantly drawn to each other, and we helped and supported each other. I was usually the only native student in my classes, especially in the sciences, but was fortunate to have the support of my family who kept telling me to stick with it, and not to give up. I graduated with a degree in biochemistry and took a year off.
HP: What did you do in that year off?
PNH: This is difficult for me to talk about. My family was forced to move as part of Navajo-Hopi Indian Relocation, where over 10,000 people were displaced from their homes. Moving is not a concept widely embraced in the Navajo culture. Navajos often bury their children's umbilical cords in the land to tie them to it. Obviously, this was a very traumatizing experience for us, and proved to be a critical time in my life during which I realized I really needed to stay on the road of medicine.
HP: After dealing with relocation for a year you enrolled at Yale for Masters in Public Health. Describe that experience.
PNH: It was a two-year masters program, and a wonderful experience. It presented health in a comfortable, familiar way with case studies where culture and social issues were addressed. It was done in a way that was very sensitive and gave me such an encouraging introduction to Yale.
HP: You're the first Native American woman to graduate from Yale Medical School. What was the best part of your experience there?
PNH: It was incredible to be in an environment where I had access to the best of everything: research, professors and facilities. For me having my classmates from all over was very exciting. To be a part of that was such a blessing and an honor.
HP: What has been your biggest obstacle?
PNH: My biggest obstacle occurred during the first and second year of medical school. Being the only American Indian student at Yale Med, I often felt alone and thoughts of quitting medical school entered my mind. It was a very difficult time not only for me, but also for my family. However, during an American Indian Science and Engineering Society annual conference, I met Wilma Mankiller, former chairwoman of the Cherokee tribe. I told her about the challenges I was facing as a student and the dilemma of quitting medical school. After she allowed me to cry for a brief moment, she told me, "Patricia, you cannot quit. You may never know in your lifetime why you are at Yale. But there are many more American Indian students who may aspire to go to Yale. Do it for them." It was this interaction with former Chairwoman Mankiller, as well as the support of family and friends, that got me through these difficult times.
HP: How has your career evolved over time?
PNH: Initially, I enrolled in medical school to become a physician. During the last two years of medical school, I did several of my clinical clerkships with the Indian Health Service. This provided me with an opportunity to learn clinical medicine while experiencing the health problems of American Indians. I became intrigued with understanding the origins of disease and illness among native communities and the biological, social, and cultural dimensions of the disease process. It was in the last year of medical school that I realized that I could best serve American Indian and Alaska Native people by a career in public health. It had become clear to me that the health problems of American Indians were rooted at many different levels. Native communities need culturally sensitive public health advocates and researchers -- individuals who can establish an intimate relationship with them while respecting their culture and traditions. My background as an American Indian and my experiences in medicine and public health equipped me to meet this challenge. I now serve as a vice president at the Black Hills Center for American Indian Health, an American Indian nonprofit organization whose primary goal is to improve the health of Indian communities through research, service, and education.
HP: As a Native American doctor, you have a special opportunity to be a forceful advocate for Indian health initiatives. What are the most important health problems facing native communities and what are you doing to solve them?
PNH: Research on the health of native tribes shows a high prevalence of suicide, cardiovascular disease, cancer, diabetes and alcoholism. What I've chosen to do is address one issue that causes so many of these problems: commercial tobacco. Projects have included development of culturally tailored cessation programs, development of web-based prevention programs for Native youth, and successfully mobilizing the Navajo Nation towards a commercial tobacco-free legislation. We've made it our goal to have commercial tobacco prohibited in all public places in Navajo Nation, including casinos.
HP: Politicians in this country often overlook native American issues. If you had the opportunity to speak with President Obama, what would you tell him is the greatest problem American Indians face today?
PNH: There are 564 recognized sovereign Indian nations in this country, and each is at a different stage of development. It's difficult to generalize about all native people so I'll talk about my own tribe. Many in this country complain about a the high unemployment rate of 10 percent. But think about this: in parts of Navajo Nation the rate is between 80-90 percent. That's not just "bad economic news", it's social injustice. Many of the poorest countries in this country are predominantly Native American. It's been that way for 40 years. If we want to solve any Native health or education issues, we've got to start at the root of the problem: unemployment.
HP: How do you try to make a difference?
PNH: I try to make a difference in the lives of people through my personal and professional life. On a personal level, I try to live a life that is based on the Navajo philosophy, which is to live in harmony. Living this way of life inspires people to live a healthier lifestyle. Professionally, I work with the Indian communities. The work I conduct will hopefully impact the lives of American Indian communities in a positive manner. I also serve as a mentor to many aspiring American Indian students. I make a difference in their lives by having them believe and live their dreams.
Popular in the Community