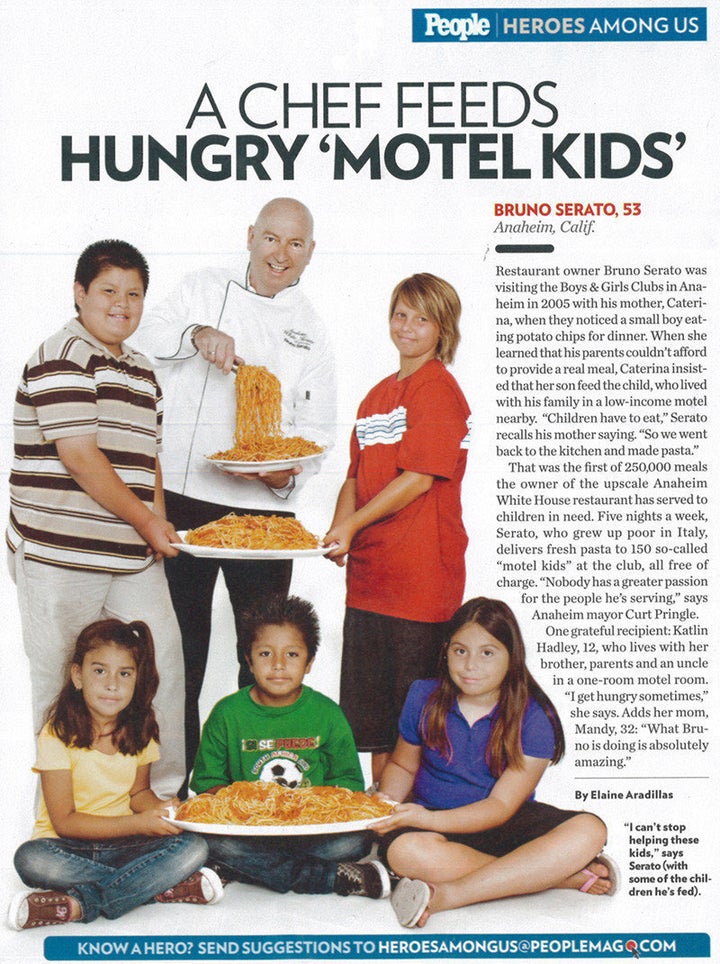 Every day on HuffPost, we're highlighting one 'Greatest Person'- an exceptional individual who is confronting the country's economic and political crises with creativity, generosity, and passion. Bruno Serato, who came to the United States thirty years ago without knowing a word of English, is now the owner of Orange County's well-known White House restaurant. His posh restaurant is frequented by celebrities and former presidents, and serves up Italian-inspired cuisine. However, Bruno is perhaps best known for his charity, Caterina's Girls Club, through which he has given away over 250,000 free meals in the last five years to his "favorite clients," the homeless "motel children" of Orange County. He is today's 'Greatest Person.'
Huffington Post: Where are you from? How and when did you come to the United States?
Bruno Serato: I come from Verona, Italy--the city of Romeo and Juliet. I came to America in 1980 with $200 dollars in my pocket. I came directly to California to visit my sister and have been here ever since. I fell in love with Southern California. The people are so kind, and there is a real sense of possibility out here--of living the "American Dream." I am now an American citizen.
HP: What was your first job? How did you get to where you are today?
BS: When I got here I applied to a dishwasher position at the famous La Vie en Rose restaurant in Brea, Calif. Though I couldn't speak a word of English, I was determined to learn the language. They gave me the job because I was so enthusiastic and, while many with the experience I had in the restaurant industry would have scorned such a lowly position, I was thrilled to be working in such a renowned establishment. I ended up getting a promotion every six months. I went from dishwasher to general manager of La Vie en Rose in five years.
HP: You now own your own restaurant, White House, in Anaheim, Calif. How did this come about?
BS: In 1987, I started to think about striking out on my own. I had received many propositions over the years to oversee other fine dining establishments, but out of loyalty I remained at La Vie en Rose. But after hearing of the pending sale of the nearby White House restaurant in Anaheim, I knew that it bore the potential to become one of the finest and most beautiful restaurants in Southern California. Leaving my home at La Vie en Rose proved to be as emotional for me as when I said goodbye to my family in Italy. It was a move that I knew would, once again, change my life forever.
I threw myself into redesigning the restaurant's menu to represent contemporary Northern Italian cuisine, but with a French flair. I moved away from dishes with heavy red sauces and created new ones highlighting the lighter tastes and flavors of herbs & olive oil -- a move that would help spearhead a culinary trend that would come to be known as "California cuisine." These changes, among others, earned me both popular and critical acclaim and, over the ensuing years, made the Anaheim White House a draw for celebrities ranging from President Carter to Madonna.
HP: You've recieved a lot of attention for the work you do outside your restaurant. You've been recently featured nationally in People Magazine and on CBS Evening News with Katie Couric. How did you get started with feeding the "motel children" of Anaheim?
BS: I became aware of the motel children's plight five years ago when I visted the Boys & Girls Clubs of Anaheim with my mother, Caterina. There was a little kid at 4 p.m. eating potato chips, and the director told me it was his dinner. I said, 'What do you mean it is his dinner?'" My mother told me, "I think we should do it." I said, "Do what?" My mother said, "Serve them pasta."
HP: The 2009 Conditions of Children in Orange County report found that the county has 22,025 homeless or unstably housed children (K-12), a nearly 30 percent increase from the previous year. Of those, 4 percent -- more than 1,000 children -- live in motels. You serve just a fraction of these kids. How many did you start out feeding and how many do you feed now?
BS: That first night we fed eighty kids. Now we feed 150 with free dinners, 7 nights a week. We now operate as Caterina's Girls Club, a fully accredited nonprofit organization. Every day at 4 p.m., the White House makes fresh pasta - penne, spaghetti, whatever - and mixes in red or white sauce. At 4:30 p.m. each day, a silver Boys & Girls van pulls up to the White House and picks up the pasta. Back at the club, it is handed out to the kids. Since the beginning, I've given these kids 245,000 meals.
HP: How much does it cost to feed these kids?
BS: It costs me about $2,000 a month. Or about 20 lbs of pasta a day! A customer once asked me, 'Bruno, how can you afford to do this?' I said, 'How can I afford to stop?' ... This is my passion. If I could not do what I do every day, I'd be devastated. Devastated. I don't need a million dollars. I just need to be able to feed the kids.
HP: How can people get involved?
BS: Visit the Caterina's Girls Club website and donate if you can. The money will go directly to feeding a needy child. If you come dine at the White House, bring a box of pasta. We take pasta donations happily since we use so much a day. Once I got a 1000-lb pasta donation!
HP: Who are your heroes? Who inspires you?
BS: My mother. She's the one who told me to do this, and now I refuse to stop.
HP: What do you get out of giving away all these free meals to underprivileged kids?
Well I was very poor growing up, and I haven't forgetten where i come from. Helping peple who need help now is important. I'm still not rich, but doing what I can to help others.
For more, explore our 'Greatest Person of the Day' archive and subscribe to receive daily email updates.
Related
Popular in the Community