This was a great year for pizza. We've graduated from 2013's astronaut pizza and The Pizza Underground to pizza cake and pizza at the Oscars. Luckily nobody had need to be crust-fallen, as 2014 held its own in the canon of pizza history. As the year winds down, please take a moment to order yourself a pie remember the pizza doughs that have risen and fallen throughout the last 12 months:
1. The tiny hamster who ate a slice of pizza.
Tiny hamsters ate various types of food on camera this year, but Chicken the Russian dwarf hamster having a slice of pizza certainly took the pizza cake. The slice of pizza was apparently composed of "pita bread, peanut butter, carrots and topped with cut up worms."
2. Pizza cake becoming a thing.
The hype for the "pizza cake" started taking off when the Canadian pizza chain, Boston Pizza, held a vote to see what pizza creation they should add to their menu. Naturally, the pizza cake won. Pizza cake recipes began floating around the Internet and people actually received this thing for their birthdays.
Image: chiiza
3. The pizza delivery to the Academy Awards.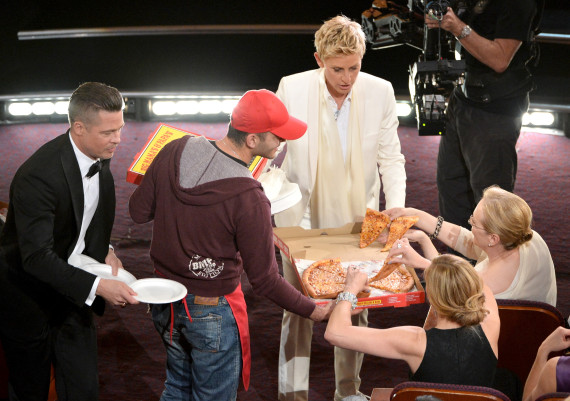 During the 87th Academy Awards, a live event, host Ellen DeGeneres ordered a pizza for the A-list celebrities sitting near the front of the stage. The delivery person, Edgar Martirosyan, had thought the pizza was just going to be for backstage workers, but when he arrived, DeGeneres told him there was a different plan. As Martirosyan said, "[Ellen] said just follow me, and I'm going and I'm on a stage. I was in shock."
4. The invention of the pizza bed.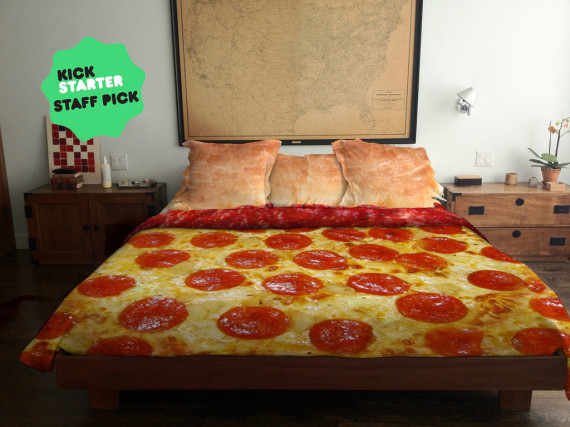 Unfortunately, this project may not become a reality. On Kickstarter, inventor Claire Manganiello set the project goal at $125,848 which is still over $100,000 more than what's been raised so far. If you'd like to join the current 150ish backers and throw your money into the about $17,000 already raised, head on over to the project page and help make this bed happen.
Image: Claire Manganiello Kickstarter
5. The arrested man who used his "one call" to order a pizza to jail.
Michael Harp, 29, was originally arrested for shoplifting and public intoxication, which were minor charges. While at the jail, Harp was given permission to make a call on his cellphone. Harp then allegedly used this call to impersonate the officer who arrested him and order five pizzas from Domino's. When the pizzas came, since they were under the officer's name, the station paid for the pizzas. Harp was given three more charges including the felony of identity theft for the prank. It is unclear if he was given the pizzas.
6. Aaron Paul handing out free pizza to people waiting in line for an Arcade Fire concert.
While a crowd was waiting outside for a semi-secret Arcade Fire show in West Hollywood, "Breaking Bad" star Aaron Paul showed up to give away multiple boxes of pizza. Apparently this was a deal Paul had made with Arcade Fire frontman, Win Butler, where Paul received last-minute entry to the show in exchange for the pizza delivery.
Image: RobotMonster99
7. The culinary professor who turned a burnt pizza into a clock.
According to the Reddit user who uploaded this photo, a culinary professor simply found this super-burnt pizza in the oven and said, "We should make it into a clock!" Now it's always pizza time!
Image: firekiller37
8. The man who has survived on a nearly all-pizza diet for 25 years.
A Vice writer friends with pizza-man Dan Janssen brought his incredible story to the public early this year. At almost 40-years-old, Janssen has diabetes and low-blood sugar, which causes the occasional blackout, but besides that the all pizza diet has worked alright enough. Janssen explained his lifestyle:
I've been eating pizza exclusively every day of my life for the past 25 years, and I'm not just talking about a slice of pizza every day. I usually eat an entire 14-inch pizza, and I only eat cheese pizza. I never get sick of it. If I go to one pizza shop or another brand, it's like eating a completely different meal.
9. This kid's all pizza outfit.
This is apparently a Reddit user's nephew and is the official model for all the pizza gear he is wearing that's made by Beloved. The kid is America's child now.
Image: Imgur
10. When someone called 911 to report that Subway put marinara sauce on her pizza.
A woman in North Carolina called 911 and insisted an officer come to the Subway that had just served her a pizza with marinara sauce instead of "pizza sauce." The dispatcher did send an officer, but to arrest the woman instead of charge the Subway. (Using marinara sauce is standard for Subway pizzas.)
11. The revival of a classic Domino's prank where two stores are tricked into talking to each other.
You've just got to watch this one. Very funny -- or -- ha, 'za!
12. A futuristic pizza is invented that can last for years.
Although it may look pretty gross, this is still an impressive feat in pizza technology. The Department of Defense was responsible for this pizza breakthrough through their ready-to-eat meals program. Michelle Richardson, a food scientist at the U.S. Army Natick Soldier Research, Development and Engineering Center explained, "You can basically take the pizza, leave it on the counter, packaged, for three years and it'd still be edible."
13. A whole pizza parlor is fit into a storage truck.
Here's the Facebook page for the 900 Degreez Pizza Food Truck. As Reddit user ymo explained:
Next level food truck: pizza parlor inside a 35-foot storage truck containing a 3500 pound Italian wood-fired oven that cooks pizza in 90 seconds. A stairwell leads to the recessed point of sale area.
Image: ymo
14. The saddest picture of people holding a giant pizza is taken.
This picture was used for a big pizza promotion at JJ's Pizza in northwest Indiana, according to the Reddit user who uploaded the photo. The two pizza makers simply don't seem as happy as they should be about holding such a humongous pizza.
Image: aceofblue
15. Pizza Hut starts a "Book It" program for adults.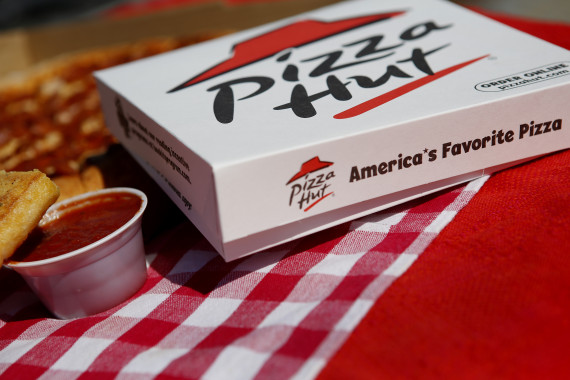 Pizza Hut created the Book It Alumni program, where simply signing up gets you one of those personal pan pizzas you had dreams about as a kid.
16. This kid uses a Domino's delivery bag as a backpack.
Living his best life.
Image: alocalnative
17. Salad is vastly improved with the addition of a new "vegetable."
The photo was apparently an advertisement for a local pizza shop. Although the health benefits may be questionable when compared to a more traditional salad, it's hard to say this pizza version isn't a clear improvement to a lettuce-based salad.
In other viral pizza salad news, Instagram user fuckjerry had this recipe:
Ate salad for dinner! Mostly croutons & tomatoes. Really just one big, round crouton covered with tomato sauce. And cheese. I ate a pizza.
Image: nevermatter
18. A marijuana-infused pizza place opens.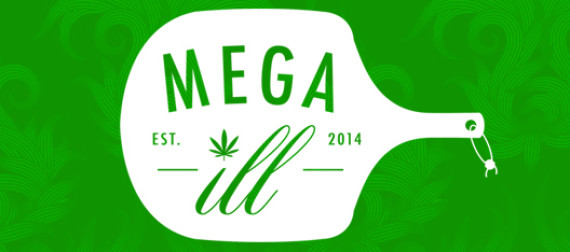 Mega iLL pizzeria opened in early 2014 in Vancouver, British Columbia, and offers "medicated pizzas" to patrons who have been permitted by a doctor to receive medical marijuana.
Image: Mega Ill
19. This vending machine is added to the FLCC campus, offering "old fashioned" style pizzas from a robot.
Shouldn't we all be so lucky to have a pizza vending machine near us at all times? Kind of surprising this hasn't already been rolled out to every college campus.
Image: Imgur
20. Creation of the pizza-version of Olaf from "Frozen."
In "Frozen," Olaf said, "I don't have a skull. Or bones." At least now he has a crust, sauce and cheese.
Image: HVdrumr
21. Tim Heidecker and Eric Wareheim create a commercial that may actually cause you to want Totino's pizza rolls.
Alternately, you may never be able to look at a pizza roll the same way again.
22. The pizza box that was opened upside down.
Yoooo I ordered a Pizza & Came with no Toppings on it or anything, Its Just Bread😐 @dominos

— ㅤㅤ (@SadderDre) September 1, 2014
@SadderDre We're sorry to hear about this! Please let our friends at @dominos_uk know of this so they can help. *EV

— Domino's Pizza (@dominos) September 1, 2014
Never mind, I opened the pizza upside down :/ @dominos @Dominos_UK

— ㅤㅤ (@SadderDre) September 1, 2014
23. The time someone had sex with a pizza.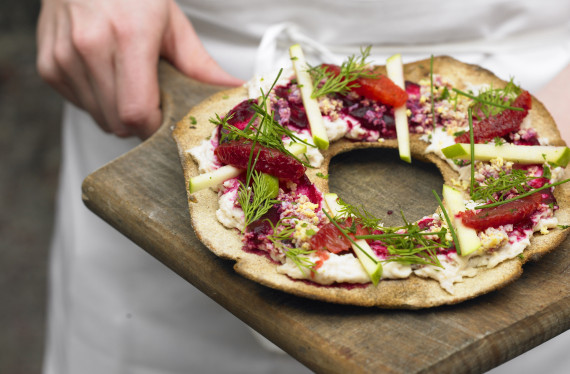 In February, a man tweeted to the official Domino's Twitter account for the United Kingdom, "HELLO I'VE JUST MADE LOVE TO ONE OF YOUR PIZZAS AND BURNT MY PENIS SEVERELY. PLEASE ADVISE ON YOUR TERMS FOR A REFUND. THANKS." Since Domino's Twitter account is set to automatically reply, the account offered help for this claim. When the pizza-loving man told the account their stores needed to warn customers about the dangers of "MAKING LOVE" to their pizzas, the account still continued to try and help. Eventually someone actually took over the Domino's account for the conversation and said the man should contact the head office and tweeted:
@indiantank @ITK_AGENT_VIGO It is definitely recommended, as that is not what is expected of our pizzas. We raised them better than that!

— Domino's Pizza UK (@Dominos_UK) February 24, 2014
Image: Getty
24. When a tourist confused Richard Gere for a homeless person on the street and gave him pizza.
A French woman visiting New York City saw Richard Gere while he was in character as a homeless person for an upcoming movie and the tourist mistook him for an actual homeless person. The woman gave Gere her family's leftover cold pizza and apparently Gere simply responded, "Thank you so much. God bless you." Before leaving the city, the tourist was shown a copy of the New York Post's story about the incident and she responded saying the whole thing was "magical."
Image: henriksen1
25. This special delivery.
The customer then threw money out the window and the pizza guy caught it all right out of the air. Here's the full video. Gawker declared him "the best pizza delivery guy of all time."
26. Vinnie's Pizzeria remembering Robin Williams.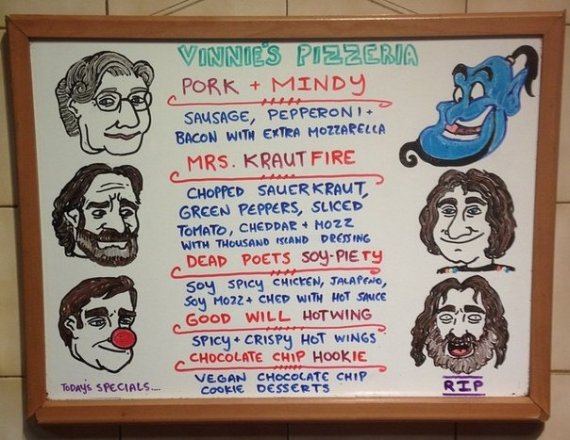 This is how Vinnie's Pizzeria in Brooklyn, New York, commemorated the death of Robin Williams in July of 2014. The pizza place often has celebrity themed pizzas and made the "greatest moments" list last year with their Miley Cyrus themed "Wrecking (Meat)ball" slice.
Vinnie's Pizzeria Instagram
27. The man who ate a slice of pizza while doing sit ups at the gym.
Nothing compares to this man's pizza dedication. Clear eyes. Full bellies with pizza. Can't lose.
REAL LIFE. REAL NEWS. REAL VOICES.
Help us tell more of the stories that matter from voices that too often remain unheard.
BEFORE YOU GO
PHOTO GALLERY
Pizza Fails