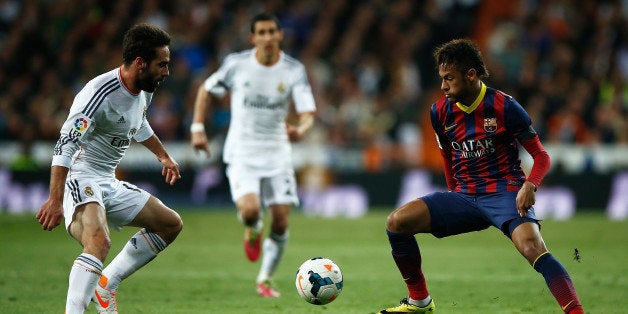 On Wednesday, the American soccer community will again turn its head east to the Iberian Peninsula, where in Valencia at the grand Mestalla, the two most powerful and revered clubs in the world will do battle in the final of the Copa Del Rey.
Deep within the greatest sporting rivalry on the planet, this edition of El Clasico strikes a more traditional tone. The tactical battle expected between Carlo Ancelotti and Gerard Martino marks a stark departure from the hyper-polarized days of "The Special One," Jose Mourinho, and his incendiary albeit short lived rivalry with Pep Guardiola. But what the game lacks in animosity -- of which there is still plenty -- should be made up for in class and technique. Even in a cup final, in which teams traditionally play not to lose, more than to win, it should be another sparkling, star studded evening of footballing grandeur.
Over the course of their respective histories, Barcelona and Real Madrid have combined for 54 La Liga titles, 27 UEFA club competition trophies and currently house the two best players in the world in Cristiano Ronaldo and Leo Messi. Messi (4) and Ronaldo (2) have garnered the last six consecutive Balon D'Or's ("golden ball" in French, the Balon D'Or is an honor given by FIFA to the best player in the world).
While other leagues lay claim to regional rivalries comparable in ferocity: such as the Manchester derby between City and United, the Derby Della Madonnina between Inter and AC Milan, the Bundesliga's Revierderby between Borussia Dortmund and Schalke 04, and the Superclasico in Argentina between River Plate and Boca Juniors, to name a few -- no single rivalry in the world commands as much global attention as El Clasico.
In October 2012, at the height of their tensions, over 400 million viewers tuned in to watch the Blaugrana take on Los Blancos at the Camp Nou in Barcelona. 680 media representatives from 28 different countries were in attendance, while the match was broadcast live to people in over 30 countries.
It is, simply, the greatest sports rivalry on the planet.
Enter the Supreme Commander.
While the rivalry dates back to the early 1900s, at the very core of El Clasico lies a political divide born in the 1930s. From within the fall of the Second Spanish Republic, an ensuing bloody civil war and the outbreak of a larger armed conflict across the European theater, arose a dictator, Francisco Franco.
Generalissimo Franco was the notoriously brutal military commander -- who, through a partially successful coup and the deaths of his revolutionary counterparts -- had come to rule Spain. He was a fierce nationalist who would control Spain from 1939 until his death in 1975.
Real Madrid was Franco's muse -- a propaganda tool, even -- and it soon became the symbol of Castilian Spain. While Real was propped up under Franco, Barcelona, and its distinctly Catalonian identity, was vilified. Catalan is a proud culture, with its own language and customs, one striving for independence from Spain, and under Franco's repressive regime, the rivalry took on an entirely new, more venomous tone.
Flash forward to today. Gone are the Franco-era hostilities, of course, and by no means are these partisan divides universally true, as there are outliers on either side of the equation. But suffice to say that on Wednesday, when the two sides line up, the match will be about more than the respective clubs, and more than a progressive versus conservative chasm. The men on the field will be representing two sides of Spain's complex cultural and political identity -- two sides that make for a fierce rivalry.
Malcolm Gladwell once wrote eloquently of the "psychic benefits" of sports ownership, stating simply that while sports teams look like a business in the sense they maintain traditional corporate structures, they are not. This is due in large part to the idea that professional sports teams do not operate in a free market and owners, typically, purchase them a toys to be played with more so than purely businesses to be run.
Nowhere is this Gladwellian ownership theory more applicable than in the world of international football, where teams who for decades were mediocre at best, are now world beaters (see: Chelsea, Manchester City or Paris Saint Germaine), vying for the top players and top trophies simply because they have been purchased by a Russian oligarch, a billionaire sheikh from the UAE or a National Investment Authority from Doha, who seek championships and glory, not necessarily profits.
While Barcelona and Real Madrid do not officially belong in the category of the aforementioned upstarts due to the fact that they are still technically member-owned clubs governed by a constitution, with a democratically elected leadership, they do represent a new type of stacked-deck duopoly that has seen them spend upwards of 180 million euros this past transfer window -- on just two players. All of this within an economy that rests at the very core of Europe's sovereign debt crises, with unemployment rates of over 26 percent. According to a 2012 story in the New York Times, over half the clubs competing in Spain's top two flights have entered bankruptcy proceedings in order to seek protection from their creditors. In a cash strapped desert, where some teams can't afford to pay their players, Real and Barca continue to spend... but how?
The answer, most likely, is television revenue. La Liga, Spanish football's governing body, allows teams to negotiate their own television contracts, which of course means that Barcelona and Real Madrid - who hold far more brand recognition -- take home the lion's share of the television based revenue. This past season, according to Bloomberg, Real and Barca took home broadcast revenue of over 188 million euros each, collectively representing over half of the league's total intake. This model has led to huge talent gaps between the league's top two teams and everyone else. There is little parity in La Liga, in fact it has been 10 years since a club other than Barcelona or Real Madrid has won the league. Lawmakers have begun to take notice.
New legislation has been passed recently in Spain that will prevent Real Madrid and Barcelona from receiving more than four times as much broadcast revenue as the smallest 20 clubs in Spain's La Liga. Currently, the two giants are earning about six and a half times as much as the smallest team. It is a necessary redistribution of wealth, one that will either prove to be too little too late, or a much needed mechanism able to provide the type of equitable distribution capable of breathing parity in to a league virtually void of top-to-bottom competition.
Of the hundreds of millions of people who will tune in on Wednesday, few will remember Franco, and perhaps even fewer will pay notice to the economics at play. They will turn in to watch Ronaldo, the rocket-legged Portuguese peacock from Madeira, or Messi, the diminutive Argentine genius from Rosario. A lucky few will stand amongst the flashbulbs and stadium lighting, rising high above the beautiful Valencia skyline. People across the globe and from all different walks of life will take breaks from their jobs and their daily stresses. Young children will cheer on their heroes and grown men will adorn jerseys and scarves.
While few words can encapsulate what the rivalry means to people around the world, former Real Madrid manager Jose Mourinho may have put it best: "When Madrid plays Barcelona... the world stops."
Calling all HuffPost superfans!
Sign up for membership to become a founding member and help shape HuffPost's next chapter