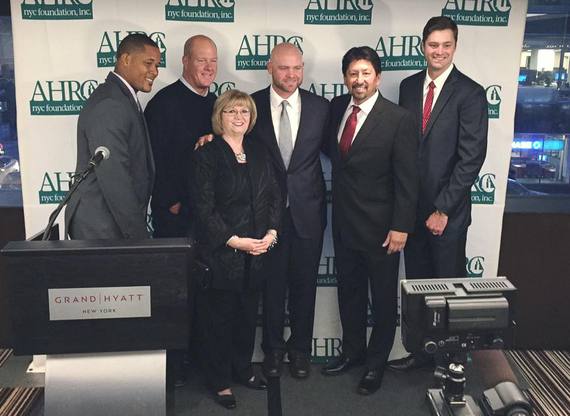 Last night was the 36th Annual Thurman Munson Awards Dinner in New York City benefiting AHRC NYC. This year's event remembered the late Yankee Captain and catcher, Thurman Munson and honored Diana Munson (Thurman's widow), as well as Andrew Miller (Yankees), Jeurys Familia (Mets), Jim Abbott (Yankees), Brian McCann (Yankees), and Jesse Orosco (Mets). Since its inception, the Munson Dinner has raised over $14 million for programs for New York City children and adults who have intellectual and developmental disabilities.
This year's presenters were: Bernie Williams (Abbott), Doc Gooden (Orosco), Nelson Figueroa (Familia), John Flaherty (Miller) and Jason Zillo (McCann).
The Munson Awards are presented for success and inspiration on the field and off the field.
When I lecture on peak performance, I often talk about leadership and how important it is to be a great player as well as a great person. Last night I spoke to some baseball legends on their secrets to success. Here's what I unearthed...
Bernie Williams (Yankee legend)
"It's important to be a great player as well as a great person because you're not a player forever."
"It's all about relationships and being a good person is a choice."
"Work hard because you never know who's watching."
Diana Munson (Thurman's widow)
"It's vitally important to be a good person. It's the great people that everyone remembers. That's why 36 years later, these awards are still around. It's what you do behind the scenes that makes a big difference. Thurman did many charitable things that he didn't tell anyone about. It doesn't take talent to be a good person."
Jesse Orosco (1986 Mets World Series champion reliever)
"Giving back is very important. Anybody can be great at something, but doing great things is even more impressive. It is an honor to receive this award."
"Did I ever get nervous? Absolutely. There were times that I doubted myself it was difficult to concentrate, but I knew it was normal and I was okay with it."
Jim Abbott (Yankee no-hitter)
"We all aspire to be good people. We are all blessed with opportunities to do so. If you want to be a good person, you can be."
"I saw things differently with my adversity...I became ambitious and driven."
"Baseball has always been about ability vs disability...a lot of people have it worse than me."
Well, there you have it...a sneak peek into the minds of some of the greatest athletes in history.
You don't have to have the smooth swing of Bernie Williams to have the same mindset as him.
REAL LIFE. REAL NEWS. REAL VOICES.
Help us tell more of the stories that matter from voices that too often remain unheard.