Former Greek finance minister Yanis Varoufakis published a blog on his website Wednesday providing a line-by-line takedown of the July 12 Euro Summit statement on Greece's proposed 86 billion euro bailout deal.
The terms of the deal are controversial and include many of the harsh austerity measures that Greece's left-wing Syriza government campaigned against, such as cutting pensions and raising taxes. The nation faces a dire alternative, however, since rejecting the bailout could lead to bankruptcy and an exit from the eurozone.
Railing against what he entitles the "Terms of Greece's Surrender," Varoufakis annotates the European Council's original statement -- which outlined the reforms Greece would have to undertake to receive bailout funds -- by inserting his own interpretation of the document's bureaucratic language:  
Immediately, and only subsequent to legal implementation of the first four above-mentioned measures as well as endorsement of all the commitments included in this document by the Greek Parliament, verified by the Institutions and the Eurogroup, may a decision to mandate the Institutions to negotiate a Memorandum of Understanding (MoU) be taken [i.e. The Syriza government must be humiliated to the extent that it is asked to impose harsh austerity upon itself as a first step towards requesting another toxic bailout loan, of the sort that Syriza became internationally famous for opposing.]
Varoufakis also uses phrases like "fiscal waterboarding" to describe creditors' demands on Greece.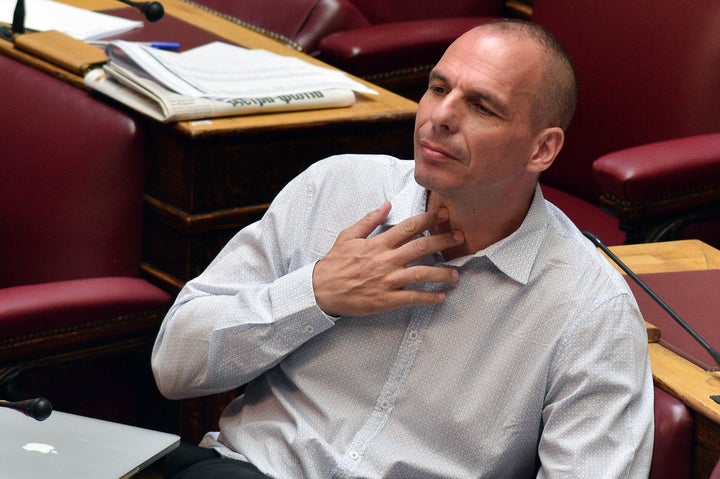 Former Greek finance minister Yianis Varoufakis attends a session of Parliament  in Athens on July 15, 2015. (Louisa Gouliamaki/AFP/Getty Images) 
Varoufakis has been one of the most vocal opponents of the deal within Syriza, although he played a large role in the months of negotiations that ultimately led to the agreement. Speaking in Parliament on Wednesday, he told lawmakers that "what we are confronted with is a new Versailles Treaty." 
In a surprise move, the former finance minister resigned last week, after the July 5 referendum in which Greek voters rejected the terms of a proposed bailout deal. As he explained in another blog, he was pressured to step down by Syriza so they could present a friendlier face to negotiators.
Varoufakis had repeatedly butted heads with European creditors, at one point calling them "terrorists" for their demands.
Greek Prime Minister Alexis Tsipras with members of the Syriza governing party in Athens on July 15, 2015. (Petros Karadjias/AP)
Meanwhile, Greece's Parliament pulled an all-nighter on Wednesday to debate passing some of the reforms that the nation's creditors have demanded in exchange for a bailout.
Early Thursday, lawmakers voted to pass the measures as a first step in the bailout. Varoufakis was not among the majority who chose to support the reforms, casting a "no" vote during the roll call. Greek Deputy Finance Minister Nadia Valavani resigned before the vote in opposition to the harsh terms of the bailout. 
In violent clashes outside of Parliament, some anti-austerity protesters threw petrol bombs while riot police who used tear gas to disperse the crowds. Greek civil servants and pharmacists also went on strike against the proposed bailout on Wednesday, saying they feared the effect the austerity measures would have on their livelihoods.  
Riot police run through fire as anti-austerity protesters throw petrol bombs during clashes in Athens, Greece, on July 15, 2015. (Emilio Morenatti/AP) 
Calling all HuffPost superfans!
Sign up for membership to become a founding member and help shape HuffPost's next chapter