By Michele Kambas and Lefteris Papadimas
ATHENS, June 29 (Reuters) - Stunned Greeks faced shuttered banks, long supermarket lines and overwhelming uncertainty on Monday as a breakdown in talks with international lenders plunged their country deep into crisis.
With Greece's bailout expiring on June 30 and an IMF payment falling due at the same time, Prime Minister Alexis Tsipras pleaded in vain by phone with European officials to extend the program until a referendum on July 5 on its future terms.
The frantic efforts to secure Greece's place within the euro zone followed a dramatic weekend. Tsipras's decision, early on Saturday, to put the aid package to a popular vote took the lenders by surprise and sent Greeks rushing to cash machines.
It also pushed Greece towards defaulting on 1.6 billion euros ($1.77 billion) due to the International Monetary Fund on Tuesday, which would take it closer to an exit from the euro zone. A Greek official confirmed to Reuters that the payment would not be made.
Greeks - used to seeing lengthy talks with creditors end with an 11th-hour deal - were shocked by the turn of events. Queues snaked outside ATMs and inside supermarkets while fears of disruptions to fuel and medicine supplies grew.
Drugmakers said they would continue to ship medicines to Greece in coming weeks despite unpaid bills, but warned that supplies could soon be in jeopardy without emergency action.
The breakdown of talks has pushed the European Union and euro zone into uncharted terrain. The Athens stock exchange was closed like the banks, but other share markets fell on fears that Greece could be heading out of the euro.
The blue-chip Euro STOXX 50 index fell more than 4 percent, with bank shares down sharply. By midday, all three major U.S. stock indexes were down more than 1 percent.
"I can't believe it," said Athens resident Evgenia Gekou, 50, on her way to work. "I keep thinking we'll wake up tomorrow and everything will be OK. I'm trying hard not to worry."
After months of talks, Greece's exasperated European partners have put the blame for the crisis squarely on Tsipras for rejecting a package they consider generous. The Greek side argues that pension cuts and tax hikes demanded of it would only deepen one of the worst economic crises of modern times in a country where a quarter of the workforce is already unemployed.
A snap Reuters poll of more than 70 economists and traders taken on Monday put the probability of Greece leaving the euro zone at 45 percent, up from 30 percent a week ago.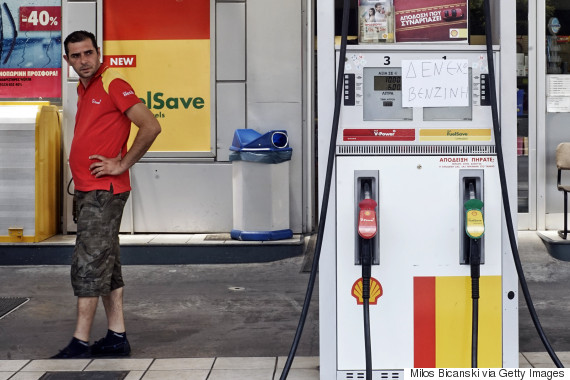 A notice at a petrol station reads 'NO Fuel' on June 29, 2015 in Athens, Greece. (Photo by Milos Bicanski/Getty Images)
Emotions were unusually raw among Europe's leaders. EU Commission President Jean-Claude Juncker said he felt personally betrayed and told Greeks a "No" vote would be seen as signaling an exit from the euro - a position that other European leaders lined up to echo.
"I will say to the Greeks, who I love deeply: you mustn't commit suicide because you are afraid of death," Juncker told a news conference.
Despite the acrimony over the weekend, the creditors said the door to negotiations remained open.
French President Francois Hollande appealed to Tsipras to return to the negotiating table and German Chancellor Angela Merkel said she was ready to restart talks with Athens after the referendum, including on how to ease its debt burden.
Hollande spoke to U.S. President Barack Obama, and Hollande's aide said they had agreed to work together for a resumption of talks and a solution to the crisis to ensure Greece's financial stability.
Greece's banks were shut after the European Central Bank rejected its request for 6 billion euros of additional emergency funding on Sunday to cope with massive withdrawals, though the ECB is expected to allow Greek banks to keep using existing funds until the referendum, people with knowledge of the matter told Reuters.
As Tsipras announced the closure of banks and the stock exchange late on Sunday, long queues grew outside ATMs and petrol stations as people raced to take out cash before it was too late.
On Monday, cash machines remained closed until midday, and then opened for withdrawals of no more than 60 euros a day.
"I've got five euros in my pocket, I thought I would try my luck here for some money. The queues in my neighborhood were too long yesterday," said plumber Yannis Kalaizakis, 58, outside an empty cash machine in central Athens on Monday.
"I don't know what else to say: It's a mess."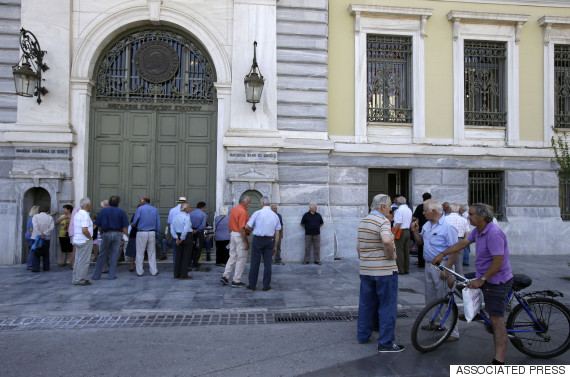 Elderly people, who usually get their pensions at the end of the month, wait outside a closed bank in Athens, Monday, June 29, 2015. (AP Photo/Thanassis Stavrakis)
Pensioners hoping that they, at least, would be allowed to receive money were turned away from banks.
"I've worked all my life, only to wake up one morning to a disaster like this," said one shop owner queueing at a branch of the National Bank of Greece hoping to collect his wife's pension.
Businesses complained that they could not pay salaries or suppliers and had had to halt imports, while agricultural production was also expected to be affected.
"The worst has been confirmed by the nightmarish developments," said retail lobby chief Vassilis Korkidis.
Despite the financial shock, parts of daily life went on as normal, with shops, pharmacies and supermarkets opening and Greeks meeting to discuss their country's fate at cafes and restaurants. Tourists gathered as usual to watch the changing of the presidential guard outside parliament.
Tsipras's Syriza party called a rally for Monday evening to protest against austerity measures and urge citizens to vote "No" on Sunday.
The referendum poses a simple question: "Should the proposal which was submitted by the European Commission, the European Central Bank and the International Monetary Fund at the Eurogroup of June 25, 2015 which consists of two parts that together constitute their comprehensive proposal be accepted?"
The "No" box appears as the first option, above the "Yes" box. The says a "No" will strengthen its hand at the negotiating table, though other European leaders say it will instead push Greece out of the euro.
No public opinion polls were available, but the Economist Intelligence Unit said a "No" vote was more likely, raising the probability of Greece leaving the euro zone to 60 percent. ($1 = 0.9026 euros) (Additional reporting by Deepa Babington, Lefteris Karagiannopoulos, Yannis Behrakis and Alkis Konstantinidis; Writing by Matthias Williams and Deepa Babington; Editing by Anna Willard and Janet McBride)
REAL LIFE. REAL NEWS. REAL VOICES.
Help us tell more of the stories that matter from voices that too often remain unheard.