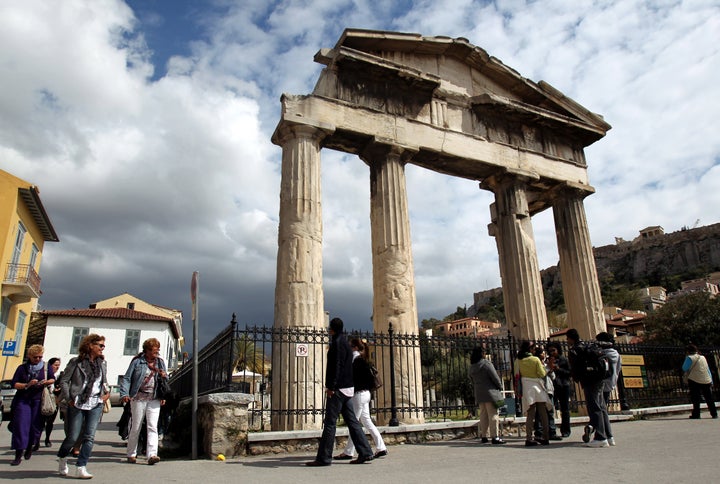 A deeper-than-expected recession caused Greece's central government deficit to widen by almost one third in the first half of the year, widely missing an interim budget target under the country's bailout plan, the finance ministry said on Monday.
Budget slippages amid the recession caused the government last month to agree even harsher austerity measures in a bid to qualify for its second EU/IMF rescue package in one year.
"The current shortfall of revenues is expected to be covered in the second half of the year, as a result of the tax measures of the 2011-2015 mid-term budget plan," said the finance ministry.
The central government deficit stood at 12.78 billion euros ($18.28 billion) between January and June, higher than a 10.37 billion euro target for the period, the government said in a statement.
Net budget revenues dropped 8.3 percent year-on-year to 21.81 billion euros, compared with a 25.08 billion euro target. Spending before payments on the country's debt increased 4.5 percent to 25.62 billion euros, 7.1 percent above target.
The ministry attributed the revenue shortfall to a more severe economic slump than had been anticipated, and one-off road taxes that boosted revenue in the previous period.
Spending rose to settle public hospital debts, the statement added, even though the government kept sharply cutting public investment, down 42 percent year-on-year.
Hurt by austerity, the Greek economy contracted at an annual pace of 5.5 percent in the first quarter. The Greek government revised downwards its 2011 growth forecast for this year to 3.9 percent.
The budget data refer to the state budget deficit which excludes local authorities and social security spending and does not coincide with the general government shortfall -- the benchmark for the EU's assessment of Greece's fiscal progress.
On a cash basis, the central government's budget deficit widened by an annual 15 percent in the first half to 13.15 billion euros, Greece's central bank said separately on Monday.
(Reporting by Harry Papachristou)
REAL LIFE. REAL NEWS. REAL VOICES.
Help us tell more of the stories that matter from voices that too often remain unheard.