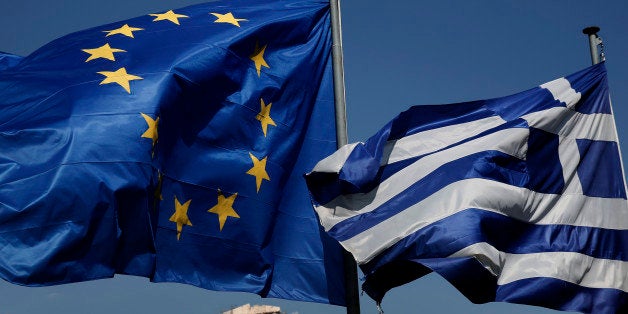 Greece is going to need a lot more than 120 euros to escape its current debt crisis.
But that's all that three donors had given by Monday morning, a day after a British man named Thom Feeney set up a crowdfunding campaign on the site Indiegogo.
The goal: 1,600,000,000 euros (about $1.8 billion) -- and only eight days left before the unofficial funding campaign closes.


"I truly do believe it can be effective, remember it's a very small amount per person we're looking for," Feeney, a 29-year-old shoe-shop worker in London, told The Huffington Post in an email. "It also makes a statement, if a man who works in a London shoe shop can get closer to solving the Greek financial crisis than David Cameron and Angela Merkel, maybe we all need to take a good hard look at the world."
By Tuesday afternoon, donations soared into the hundreds of thousands, though the campaign was still far off from the target amount.
Resolving the crisis is no simple task. Greece has been negotiating with creditors for months to extend a bailout program and release a 7.2 billion euro ($8.03 billion) tranche of funds that the country could use to pay off its debts. Greece has refused to meet some of the strict austerity reforms demanded by lenders.
In addition, Greece's 1.6 billion euro ($1.8 billion) loan payment to the International Monetary Fund is due Tuesday. The country does not have the money to pay it.
On Friday, Greek Prime Minister Alexis Tsipras shocked lenders when he announced a July 5 referendum on the country's bailout. Greek banks were closed on Monday, and residents were limited to ATM withdrawals of just 60 euros (roughly $66). Greeks queued up around the country, trying to pull out cash ahead of a potential financial collapse.
Moreover, it's unclear how Greece could legally accept such a large transfer of money from Indiegogo to government coffers.
Still, Feeney appears to be holding out hope that a huge chunk of the EU's citizenry will voluntarily part with a few euros, or at least pay up for a Greek-themed reward for donating: Three euros ($3.35) earns a postcard of Tsipras, sent from Greece; 6 euros ($6.69 U.S.) delivers a feta cheese and olive salad to a donor's door; 10 euros ($11.15 U.S.) gets a voucher for a small bottle of ouzo, Greece's signature aperitif (Indiegogo doesn't allow alcoholic gifts); 25 euros ($27.89 U.S.) means a voucher for a bottle of Greek wine.
And for a donation for the full 1.6 billion euros, Feeney has vowed to find that donor her or his own private Greek island.
"Do I feel it will help? It can't harm, can it?" he said. "I'm confident the people of Europe will get this campaign and some time soon we'll all be raising a glass of ouzo and having a bloody great big celebration."
For now, it may be time to just pass the ouzo and wait for what happens next.
This story has been updated with comments from Feeney and a number that better reflects the amount of money donated so far.

H/T Seth Fiegerman
Support HuffPost
The Stakes Have Never Been Higher
Related
Popular in the Community