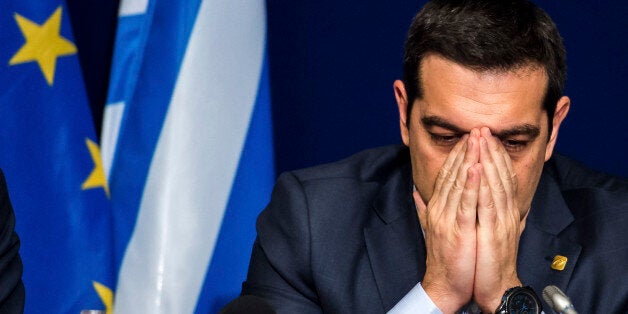 By Matthias Williams and Lefteris Papadimas
ATHENS, June 12 (Reuters) - Greece's government is under intense pressure to deliver unpalatable concessions to international creditors to break a four-month debt deadlock and save the country from looming default that could tip it out of the euro zone.
With no sign of a breakthrough on a cash-for-reform deal after Greek Prime Minister Alexis Tsipras met European leaders for talks in Brussels, here are three scenarios of how the crisis could unfold.
Greece and its creditors play for time with an interim deal after Tsipras makes some face-saving concessions but the two sides leave the most difficult issues such as debt relief, comprehensive reforms and a third bailout program for later discussion.
The current bailout, which expires at the end of June, would be extended for a few months, or until the end of March next year as Athens has suggested, to give both sides a breathing space for talks.
A deal would have to be struck before a June 18 meeting of euro zone finance ministers in Brussels that would have to endorse any disbursal of aid, leaving both sides less than a week to paper over wide differences to avoid a default at the end of the month.
An interim deal may not be enough for lenders to allow Athens to draw the 7.2 billion euros in aid remaining under the second bailout program that was frozen last year pending a bailout review that was never completed.
But a deal would likely open other ways for Greece to meet a 1.6 billion euro repayment to the IMF at the end of June and further debt repayments of about 6.7 billion euros in July and August to the ECB.
One option would be that a deal gives the European Central Bank enough political cover to increase the ceiling on how much short-term debt the government can raise through selling treasury bills. Another would be to let Athens use about 10.9 billion euros left over from a fund earmared for recapitalising Greek banks that was returned to the EU's bailout fund (ESM).
TALKS COLLAPSE, ATHENS DEFAULTS
A complete breakdown in talks before the end of the month, prompting Greece to default on its 1.6 billion euro bill to the IMF, the global lender of last resort, due on June 30.
Tsipras's government has made it clear it would prioritize paying wages and pensions over servicing debt, and government officials have said there is not enough money to pay both.
Athens may still be able to use a 30-day grace period allowed under IMF rules before it is formally considered in default. But missing such a payment - after Athens already delayed payments in June to the end of the month - could trigger a chain of unpredictable events in Greece.
The ECB could restrict or halt emergency funding for Greek banks made through the Bank of Greece, probably prompting a run on the lenders and requiring the imposition of capital controls to staunch a huge outflow of euros from the country.
That in turn, would almost certainly precipitate social and political upheaval that could mark the beginning of the end for Tsipras's novice radical leftist-led government.
A default might also open the way for Greece to leave the euro zone - though analysts say it could theoretically continue in the bloc even after defaulting. If the government runs out of money to pay bills and salaries, for example, it could start issuing IOUs that would circulate alongside the euro as a sort of parallel currency.
None of the creditors wants Greece to become the first country to leave the euro zone, even if the risks of contagion - with the crisis spreading to other weaker euro zone countries - are seen as less severe than in previous years. But senior euro zone officials held their first official discussion of a possible Greek default on Thursday, in a sign the possibility is being taken increasingly seriously, EU sources said.
Some economists say Greece could reap some benefits from returning to the drachma, by devaluing its new national currency to make exports more competitive and boost tourism.
PAINFUL CONCESSIONS & POLITICAL TURMOIL
To avoid running out of cash and precipitating a banking and economic collapse, Tsipras is forced to make a humiliating about-turn and accept a deal that crosses his "red lines" on avoiding fresh austerity including pension and labor reforms.
That could pave the way for a third bailout package of up to 50 billion euros, on top of two since 2010 that total 240 billion euros, though officials say there is not enough time to agree one before the current bailout expires at end-June.
Such a deal would almost inevitably trigger a backlash in Athens, both from an austerity-weary public and inside Tsipras's Syriza party, which has adamantly opposed scrapping pension benefits and insisted it will reverse cuts to the minimum wage and curbs on workers' collective pay bargaining rights.
Under pressure, Tsipras might be forced to reshuffle his government at the very least or reluctantly call a snap election or referendum to secure political legitimacy and silence hardliners in his party.
Tsipras would be likely to win an election easily, as opinion polls suggest he remains popular and Greeks overwhelmingly want to stay in the euro zone despite the years of grinding austerity imposed on them.
"I believe that Mr. Tsipras has a big advantage. The only opposition that he is facing is from a part of his party that wants Greece to exit the euro zone, but he is able to control that," said Panagiotis Theodorikakos, president of pollster GPO.
"The rest of the parties want him to sign the deal, so he has the consent of the voters of the rest of the parties, apart from (extreme-right) Golden Dawn and Communist voters." (Editing by Deepa Babington and Paul Taylor)
Calling all HuffPost superfans!
Sign up for membership to become a founding member and help shape HuffPost's next chapter