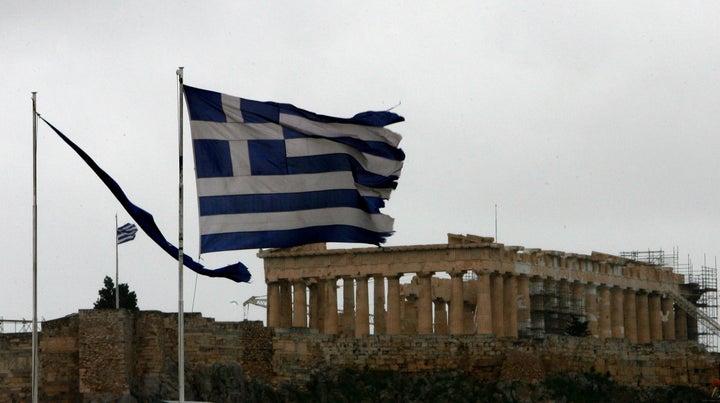 * EIB reluctant, row with the EU Commission over the funds
* Channelling the funds via local banks could be a solution
ATHENS, March 10 (Reuters) - Greece hopes to get 1 billion euros ($1.31 billion) in financing from the European Investment Bank (EIB) this year as a stimulus for its ailing economy, a senior official said on Saturday.
Greece and the European Commission are pushing the EIB, the European Union's long-term investment arm, to disburse the funds, said Gikas Hardouvelis, top economic adviser to Prime Minister Lucas Papademos.
"I believe in the end it will happen," Hardouvelis told Greece's Mega television, adding the EIB might channel the money into the Greek economy through local banks.
After the success of a debt cut plan on Friday, which opens the way for a 130-billion euro international bailout, Athens is looking for ways to kick-start its stricken economy, now in its fifth year of recession.
Austerity measures associated with its second international bailout in two years have plunged the Greek economy into its longest and deepest slump since World War Two.
Gross domestic product shrank by a record 7 percent in 2011, data showed on Friday. Investment slumped by 21 percent after a 15 percent slide in 2010.
"The faster we do it, the better. The economy is sinking and everyone is too scared (to invest)," Hardouvelis said.
But the EIB was still worried about getting too exposed to Greece and a solution to overcome its reluctance might be to disburse the funds using local banks as intermediaries, he said.
The EIB is the largest non-sovereign lender and it gets top-notch terms when it taps capital markets to raise funds thanks to its triple-A rating. Over the past two years, it has already provided more than 700 million euros in financing to large Greek energy firms.
As a way to help boost Greek growth, the European Union has already increased its share of financing in certain EU co-financed projects and said it would help Greece cut red tape to make more efficient use of EU funds earmarked for it.
Greece is entitled to a total 20 billion euros in so-called EU structural funds for the period 2007-2013. It has only used 8 billion euros so far, EU Commission President Jose Manuel Barroso said on Feb. 29.

Related
Popular in the Community