Greek Prime Minister Alexis Tsipras affirmed in a televised speech on Wednesday that Sunday's referendum on a proposed bailout for the cash-strapped country will move ahead. Tsipras also denied that a "No" vote on accepting the terms of the bailout package with Europe would mean the country has to exit the euro.
European leaders have warned Greeks in previous days that voting "No" on Sunday could mean the end of the country's membership of the eurozone.
Earlier on Wednesday, Tsipras announced in a letter to Greece's creditors that the country would be willing to accept the terms of a June 28 bailout proposal if amendments were made. Germany's Finance Minister Wolfgang Schauble dismissed the proposal, arguing it came too late and the content wasn't clear enough.
Greece failed to make the 1.6. billion euro payment that it owed the International Monetary Fund on Tuesday, putting the country in arrears and deepening the debt crisis. The country's bailout program ended that same day, after months of failed negotiations between Greece's government and the trio of the International Monetary Fund, European Commission and European Central Bank.
ATHENS, Greece (AP) — Eurozone finance ministers decided Wednesday to break off talks on more aid for Greece until after it holds a weekend referendum, even as the Greek government pressed ahead with plans to let the people decide whether to accept more austerity measures in exchange for a rescue deal.
Following a late-night teleconference, the chairman of the eurogroup said the 19 ministers had decided to put any further negotiations on hold.
"Given the political situation, the rejection of the previous proposals, the referendum which will take place on Sunday, and the recommendation by the Greek government to vote 'No,' we see no grounds for further talks at this point," Dutch Foreign Minister Jeroen Dijsselbloem said.
"There will be no talks in the coming days, either at eurogroup level or between the Greek authorities and the institutions on proposals or financial arrangements."
Earlier Wednesday, Prime Minister Alexis Tsipras, who called the popular vote for Sunday, was defiant, saying it would go ahead as planned and again urging citizens to vote "No." In a televised address to the nation, he said a "No" result would not mean that Greece would have to leave the euro, as many European officials have argued.
Rather, Tsipras insisted, it would give the government a stronger negotiating position with creditors.
"There are those who insist on linking the result of the referendum with the country's future in the euro," Tsipras said. "They even say I have a so-called secret plan to take the country out of the EU if the vote is 'No.' They are lying with the full knowledge of that fact."
The hastily called referendum is based on creditor reform proposals made last week as part of a negotiation with the Greek government. But they were later updated and are now no longer on the table as the European part of Greece's bailout program expired at midnight Tuesday.
The head of a top European intergovernmental institution told The Associated Press that holding such a referendum would fall short of international standards.
The Council of Europe, an independent body that monitors elections and human rights, has no enforcement capacity. But the declaration by its chief, Thorbjorn Jagland, was a major blow.
International standards call for at least two weeks' notice to allow for discussion, crafting a clear question to be put to voters and for international observers to be invited to monitor the vote.
This vote, Jagland said, "has been called on such a short notice that this in itself is a major problem." He said the question put to the people was "not very clear" and said the Council of Europe, which monitors votes, had not been invited to do so.
In a letter to creditors sent late Tuesday, Tsiparis said his government was prepared to accept their earlier proposals, subject to certain amendments.
Some European countries — including Germany, the largest single contributor to Greece's bailout — said the proposal wasn't good enough and that a deal remained impossible in any case before the referendum.
"We will wait for the referendum," Chancellor Angela Merkel told the German Parliament. "There can be no negotiations on a new aid program before the referendum."
But French President Francois Hollande urged an accord before then.
Hollande said it was the responsibility of other countries that use the shared currency to keep Greece in the eurozone.
"We have to be clear. An accord is for right now, it will not be put off," he said. "If it doesn't happen, we would have to wait for a referendum, but there is always a risk" of turbulence and a "leap into the void."
Hollande, a Socialist who has been one of the few remaining EU allies of Greece's leftist government, criticized "intransigent comments" and "vetoes or roughness," in an apparent reference to Germany's tough stance.
"It is our duty to keep Greece in the eurozone," he said. "That depends on Greece ... but it also depends on us."
Hopes that Tsipras was softening his position — after refusing for five months to accept the proposed spending cuts — boosted markets Wednesday.
Greece is in a financial limbo now that its bailout program has expired, cutting it off from vital financing and pushing it one step closer to leaving the euro. It also has become the first developed country to fail to repay a debt to the International Monetary Fund on time. The last country to miss an IMF payment was Zimbabwe in 2001.
As long as it is in arrears on the IMF payment, Greece cannot get any more money from the organization.
The country has put limits on cash withdrawals to keep banks from collapsing after Greeks rushed to pull money out of ATMs following the referendum call at the start of the weekend.
In Athens, crowds of anxious elderly Greeks thronged banks beginning before dawn Wednesday, struggling to withdraw their maximum of 120 euros ($134) for the week after the government reopened some banks to help pensioners who don't have bank cards. Greeks are now limited to daily ATM withdrawals of 60 euros ($67) and cannot send money abroad without special permission.
With many elderly Greeks unable to access any money without bank cards, the government said about 1,000 bank branches would open for three days starting Wednesday to give them access to some cash.
But a seeming last-minute decision to serve customers on an alphabetical basis led to chaotic scenes of confusion and anger, with many pensioners waiting hours to eventually be told they would have to return Thursday or Friday.
Others were told their pensions had not yet been deposited and they would therefore have to return later in the week.
"It's very bad," said retired pharmacy worker Popi Stavrakaki, 68. "I'm afraid it will be worse soon. I have no idea why this is happening."
Meanwhile, many ATMs had run out of 20 euro notes, meaning the maximum they would dispense per day was one 50 euro note per bank card, effectively cutting the amount of cash Greeks have access to.
Capital controls will remain in place until at least next Tuesday.
Related
Before You Go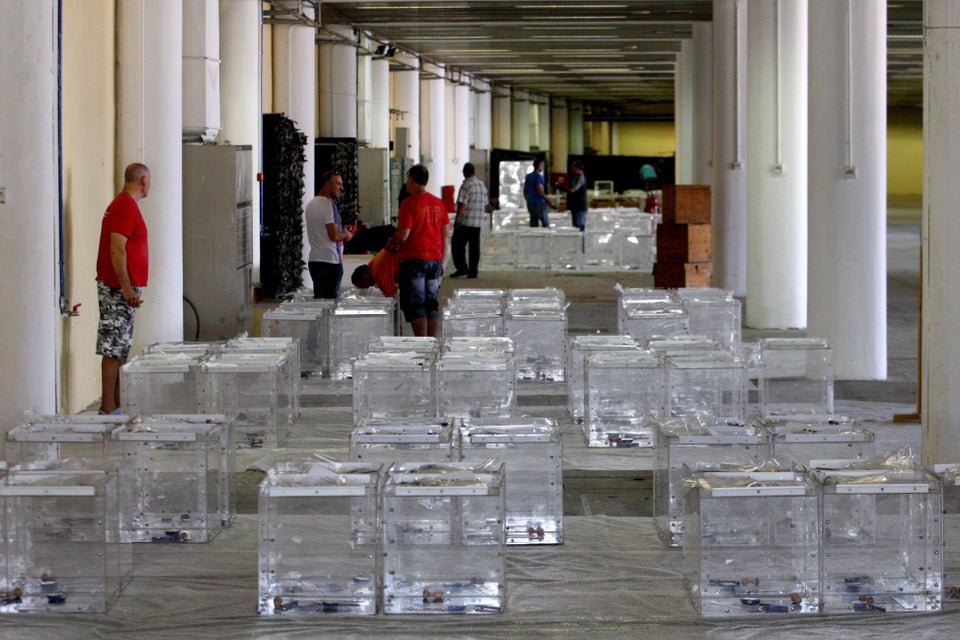 AFP/Getty Images/Sakis Mitrolidis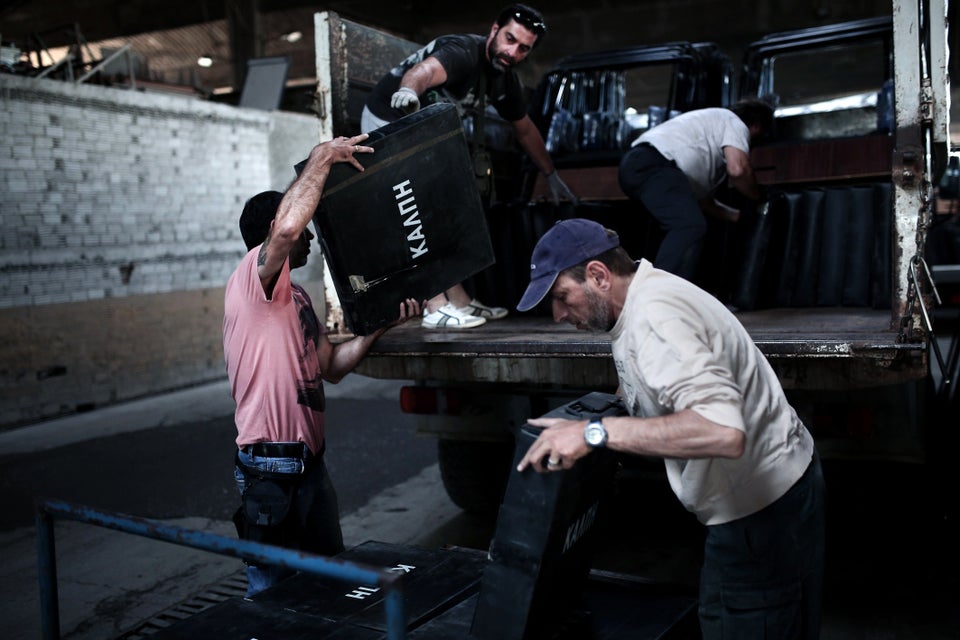 AFP/Getty Images/Angelos Tzortzinis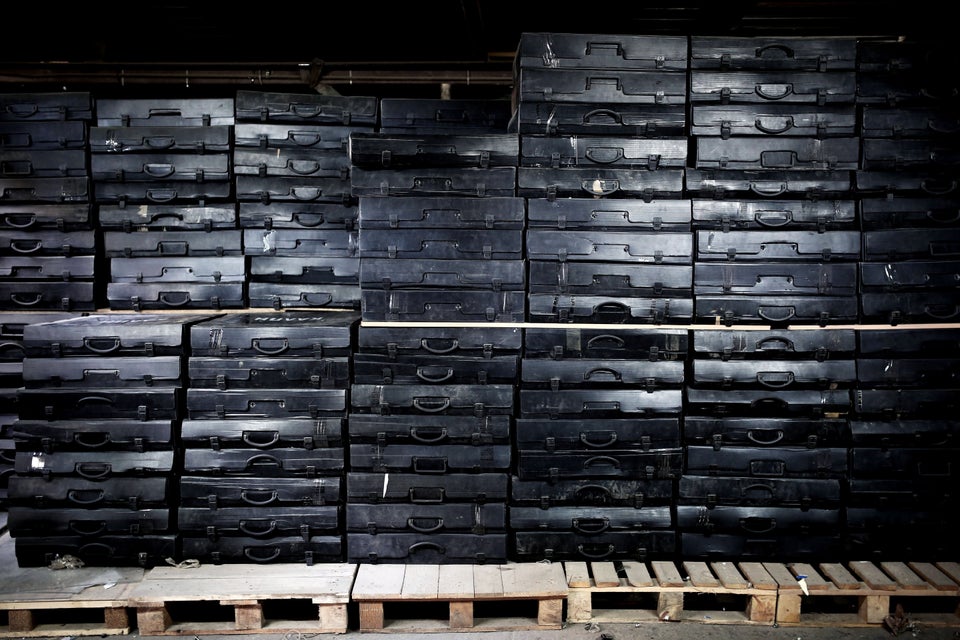 AFP/Getty Images/Angelos Tzortzinis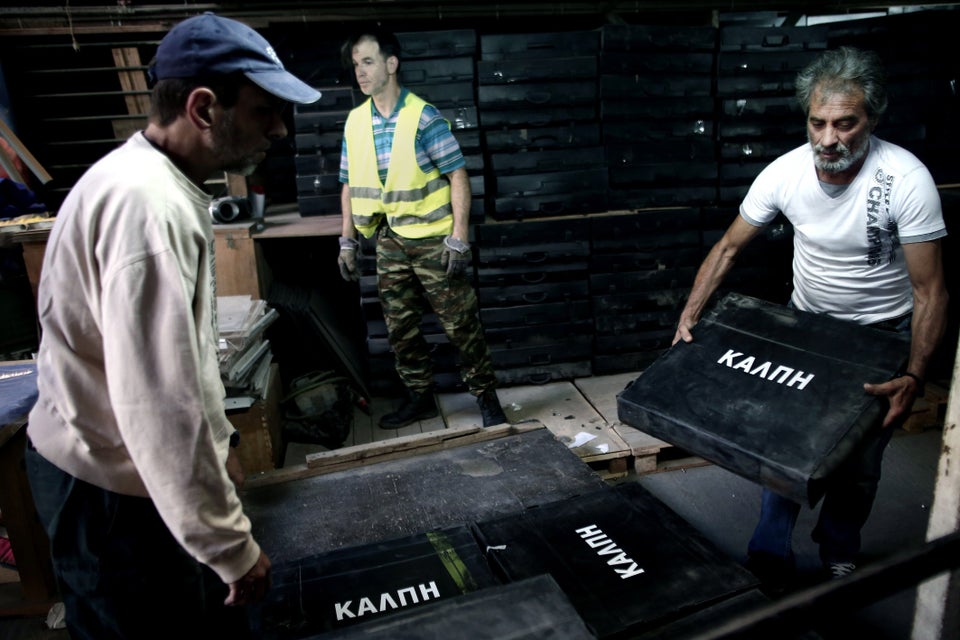 AFP/Getty Images/Angelos Tzortzinis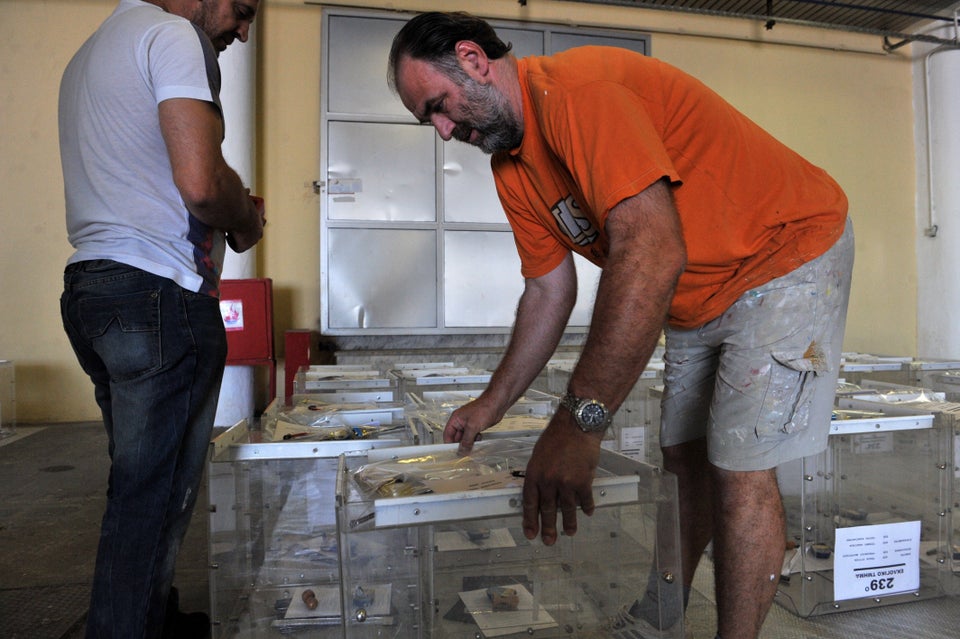 AFP/Getty Images/Sakis Mitrolidis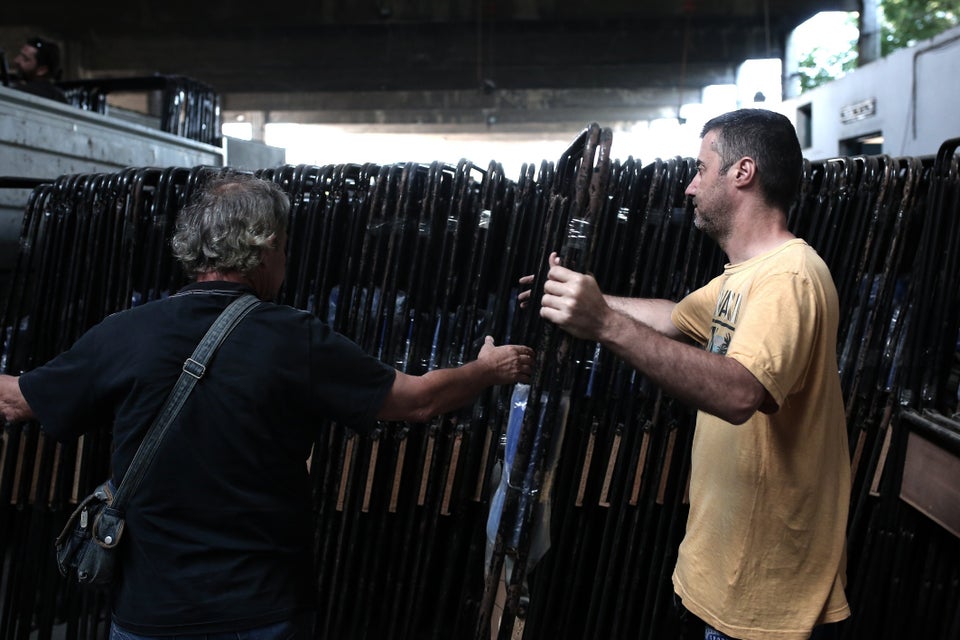 AFP/Getty Images/Angelos Tzortzinis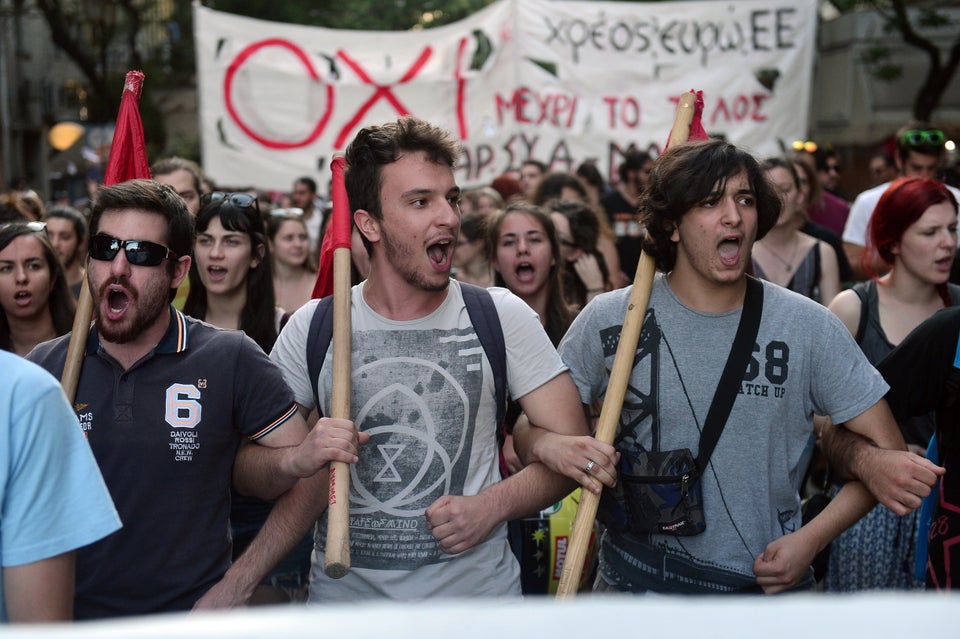 AFP/Getty Images/Louisa Gouliamaki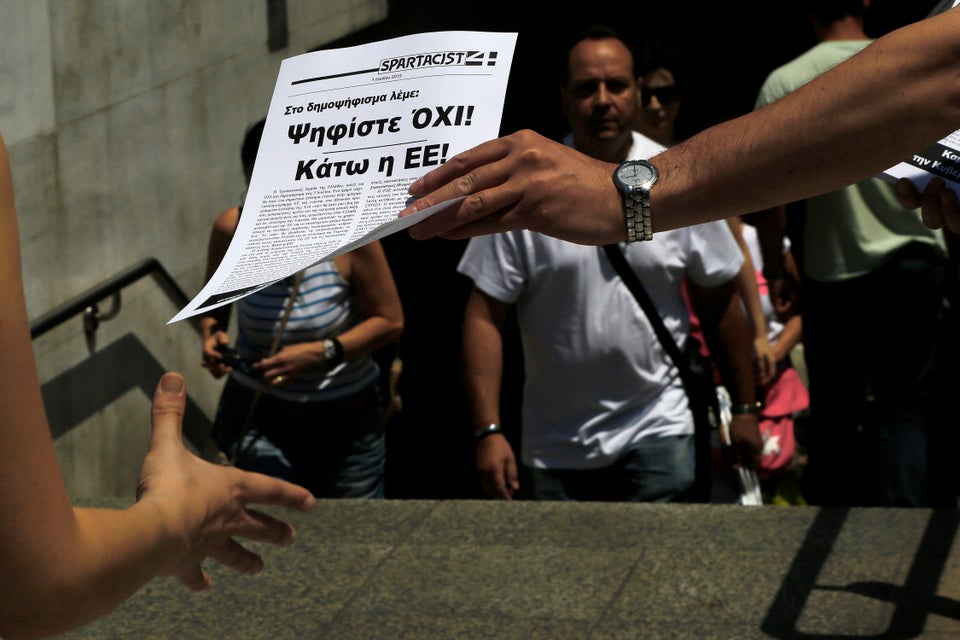 AP Photo/Petros Karadjias
Popular in the Community