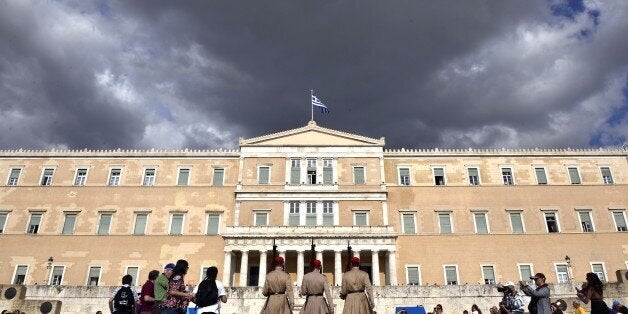 By Jan Strupczewski and Renee Maltezou
BRUSSELS, June 10 (Reuters) - The leaders of Germany, France and the European Commission told Greece on Wednesday it must reach a deal with its creditors and stop seeking softer terms in a political fix to unlock desperately needed funds.
The chairman of euro zone finance ministers said a cash-for-reform deal with Athens was still possible in time for their June 18 meeting with just a few issues remaining to be solved, but Greek counter-proposals were not yet satisfactory.
Without a deal to release fresh cash by the end of this month, Greece is heading for a default, with severe consequences for its economy and the risk of sliding out of the euro area.
Spokesmen for German Chancellor Angela Merkel and French President Francois Hollande said they would meet leftist Greek Prime Minister Alexis Tsipras after dinner at a European Union summit with Latin American countries in Brussels.
But Merkel stressed that while they want to keep Greece in the 19-nation single currency area, that required it to conclude technical talks with the European Commission, the European Central Bank and the International Monetary Fund.
"The message will be: you've got to continue negotiations with the three institutions," she told reporters.
A German spokesman dismissed as "pure invention" a media report that Merkel might agree to a deal if Greece committed to at least one major economic reform sought by the creditors, saying it was up to the institutions.
Athens said it was waiting for the lenders to respond to ideas it put forward on Monday. Euro zone officials said those proposals were inadequate to plug budget holes and dodged key pension and labor reforms to make the economy more competitive.
European Commission President Jean-Claude Juncker, who accused Tsipras on Sunday of misrepresenting the creditors' proposals and misleading his parliament, had a brief meeting with the Greek leader and agreed to resume talks on Thursday.
"For this final push, the Commission is of the view that the ball is now clearly in the court of the Greek government," spokesman Margaritis Schinas told a news conference.
Tsipras has denounced creditors' demands to scrap an income top-up for the poorest pensioners and to refrain from unilateral moves to reintroduce collective bargaining or raise the minimum wage - policies that are anathema for his leftist Syriza party.
Brussels says he is free to put forward alternative measures provided the numbers add up to deliver a small primary budget surplus before debt service payments.
A Greek official accompany Tsipras told reporters it was hard for Athens to make more concessions.
"We believe that if there is good will from all sides, if there is political will, then it would be possible to reach a deal. The Greek side has done what it had to do and what it can do. There are deliberations on every level possible in order to reach a deal," the official said.
In a further complication, a Greek court ruled that the government should reverse cuts to private sector pensions it made in 2012 as a condition of its bailout agreement because the reductions deprived pensioners of the right to a decent life.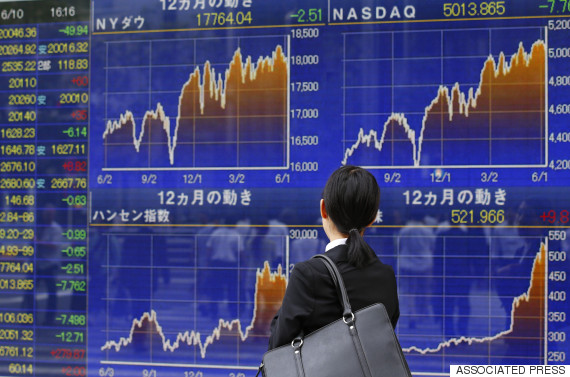 A woman looks at an electronic stock indicator of a securities firm in Tokyo Wednesday, June 10, 2015. (AP Photo/Shizuo Kambayashi)
In Helsinki, Eurogroup chairman Jeroen Dijsselbloem warned that time was running out fast and the institutions needed time to assess whatever new proposals Greece might make.
"We are still open to serious alternatives, but the alternatives of the last couple of days have not been of a high enough standard," he told a news conference after talks with Finish Finance Minister Alexander Stubb.
Athens is likely to default on a 1.6 billion euro repayment due to the IMF at the end of June unless it receives fresh funds from its bailout or the European Central Bank lets it sell more short-term debt to Greek banks.
That will only happen if the two sides can agree in the coming days on a cash-for-reform deal that has been the focus of acrimonious negotiations for the last four months.
A default could lead to the imposition of capital controls and possibly put Greece on a path to becoming the first country to leave the 19-nation single currency area, undermining the euro's avowed irreversibility.
An EU official said the Greek document did not address pension or labor market reforms sought by the creditors.
For its part, Greece appears to be insisting it will not sign any deal unless it contains a commitment to official debt relief, while the creditors say they will only start discussing debt rescheduling once a deal is signed and implemented.
One of the Greek documents discussed options for debt restructuring, which the creditors say is irrelevant now because debt sustainability can only be assessed once Athens implements reforms promised in exchange for aid it has already received.
The creditors say it is now impossible to disburse the remainder of the money available to Greece under the existing bailout -- 7.2 billion euros -- without a formal extension of the bailout beyond its June 30 expiry date.
A Greek official said Athens' latest proposal envisages an extension until March 2016 provided the terms include a debt restructuring -- a request already made public and rejected.
Financial markets have taken the Greek debt impasse in their stride, with little impact on euro zone bonds and stocks other than Greek financial instruments, even in a stressful period for government bonds globally.
In the past two months, as bond yields jumped worldwide due to improving inflation and growth expectations, the gap between benchmark German Bund yields and Italian, Spanish or Portuguese borrowing costs over 10 years has widened only slightly.
EU officials say the euro zone has put in place institutions since the start of the Greek crisis in 2010 with a financial rescue fund, a single banking supervisor and resolution system and better enforce fiscal rules that would prevent contagion to other peripheral states if Athens were to leave the euro.
Some market specialists are less certain.
"If Greece does exit then it is possible that all hell breaks loose and that risk assets and peripheral government bonds suffer," said Gary Jenkins, chief credit strategist at LNG Capital.
"However the least likely outcome is that Greece leaves and that the Eurozone takes no measures to stop speculation that it might fall apart."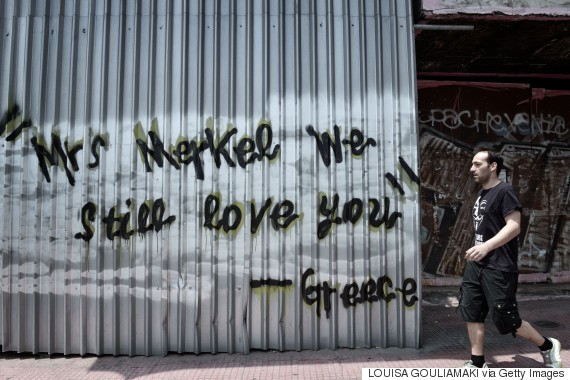 A man walks past a slogan reading 'Mrs Merkel we still love you-Greece' on a sheet metal covering a burned down building in Athens on June 10, 2015. (LOUISA GOULIAMAKI/AFP/Getty Images)
(Additional reporting by George Georgiopoulos and Deepa Babington in Athens, Jussi Rosendahl in Helsinki and Marius Zaharia in London; Writing by Paul Taylor; editing by Janet McBride and Giles Elgood)
REAL LIFE. REAL NEWS. REAL VOICES.
Help us tell more of the stories that matter from voices that too often remain unheard.