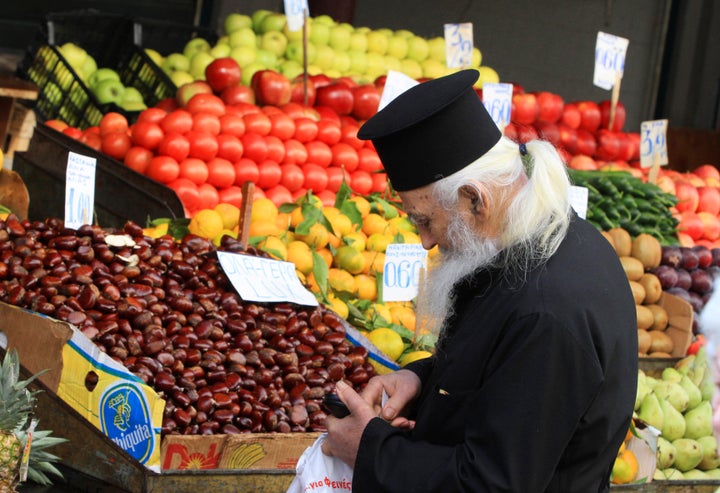 ATHENS, Greece -- The elderly are among the social groups most affected by Greece's economic and social crisis.
According to the 2015 Global AgeWatch Index, Greece is the worst country in Europe when it comes to the socio-economic prosperity of seniors. During six years of financial crisis and austerity measures, thousands of Greek seniors have seen their pensions cut, some by up to 40 percent. Care facilities for the elderly have been hit hard by rising taxes. This summer, thousands of Greek pensioners were left to survive on 120 euros a month, or a little over $130, as banks closed during the tense negotiations over the country's international bailout deal.
But amid the austerity regime, organizations across the country have stepped in to try to fill some of the shortcomings in the care of Greece's senior citizens that have been caused by years of cuts.
Among them is Life Line, an Athens-based nonprofit organization that was founded in March 2006.
Life Line delivers up to 800 bags and 300 boxes of food handouts to elderly people in the Greek capital each month. The organization started the program in 2011, when pension cuts first started to be felt in earnest, and now reaches around 900 elderly people every month. According to the organization, the number of those in need increases daily.
Life Line also introduced a 24/7 pager alert system that allows elderly people at home to call for immediate assistance in case of an emergency. Gerasimos Kourouklis, president of Life Line, says the "red button" pager service particularly makes a difference in the lives of those who are alone and helpless.
Unfortunately, many of Greece's elderly are in that situation.
Public care for seniors in Greece is generally limited to either day care centers or help-at-home programs. There are no state-funded long-term care facilities for the elderly in the country and many of the private facilities providing these services have seen their taxes rise, leading to price increases for residents and their families.
Public day care centers, on the other hand, have been affected by the drastic cuts in public spending in the past years and a temporary gap in funding for two European Union programs that have helped support those centers in the past. Many of the help-at-home programs have received funding from the EU in the past, in the hope that they would gradually develop into permanent services. However, mismanagement of the European funds by the Greek administration has contributed to the failure of many of these to turn into permanent programs.
More than 2,800 seniors are currently using the Life Line pager service and 5,500 are on a waitlist. Life Line provides the devices for free and covers the cost through donations.
The organization also operates a national help line for elderly people who have been neglected or abused, or are struggling with medical and family issues, a growing concern in Greek society, and Silver Alert, an internationally known public notification system that broadcasts information about missing senior citizens.
According to a study published this year, suicides have been on the rise in Greece since 2010 -- when the crisis began -- including among seniors. The number of suicides among Greeks older than 60 rose by 20 percent between 2011 and 2012, the study found.
Kourouklis says that among the calls the organization received from Athens families who feared their elderly members were at risk of suicide after going missing, intervention came too late in five cases.
Echoing the mission to not give up on the elderly is 50+, another NGO envisioning a better future for them.
50+ was founded in 2005 to actively promote the rights of older people and give them incentive to engage with society. According to the group, both aims are currently largely neglected by the Greek government, despite their obvious possible benefits in times of crisis.
Liz Mestheneos, sociologist and founding member of 50+, says that the organization is trying to push for a proactive approach to aging by providing platforms for lifelong learning, training seminars on new technologies for older people and senior participation programs.
None of those have ever been part of a comprehensive social policy planned by the Greek state. "Aging is still taboo in Greece, as anywhere else," said Myrto Ranga, a psychologist who has been working with 50+ but is no longer paid due to lack of resources. She explains that Greece's elderly could fare much better, especially in times like these, if the government would set up an expert policy department that would target the real needs of elderly people effectively.
In the next few months, Greece's new government will further slash pensions over 1,000 euros, and extend the retirement age to 67. In a climate where funding for basic social services is threatening to disappear, the challenges for NGOs like Life Line and 50+ are growing.
At 50+, funding mostly comes from EU programs that run for limited periods of time. Despite the occasional sponsorship, money is a daily cause for concern.
Kourouklis, the Life Line president, said that from the 15 people he initially employed, he had to let eight go because he could no longer pay them. "The overall situation in Greece hasn't left us unaffected," Kourouklis said. The organization now relies largely on its volunteers as it gets limited sponsoring and is mainly funded by institutions or private donations.
The cuts at Life Line also highlight how the problems of Greece's elderly are directly related to those of the rest of the population. "When unemployment has hit the active population so hard, the family comes to rely more and more on the one pension of its eldest member," Kourouklis noted. "How can one pension of less than 400 euros per month support a family of four? Unemployment of the young together with cuts in pensions spell disaster."
Kourouklis, however, refuses to despair. "These people, even under the most difficult circumstances, have hope," he said. "So we couldn't even think of giving up on them."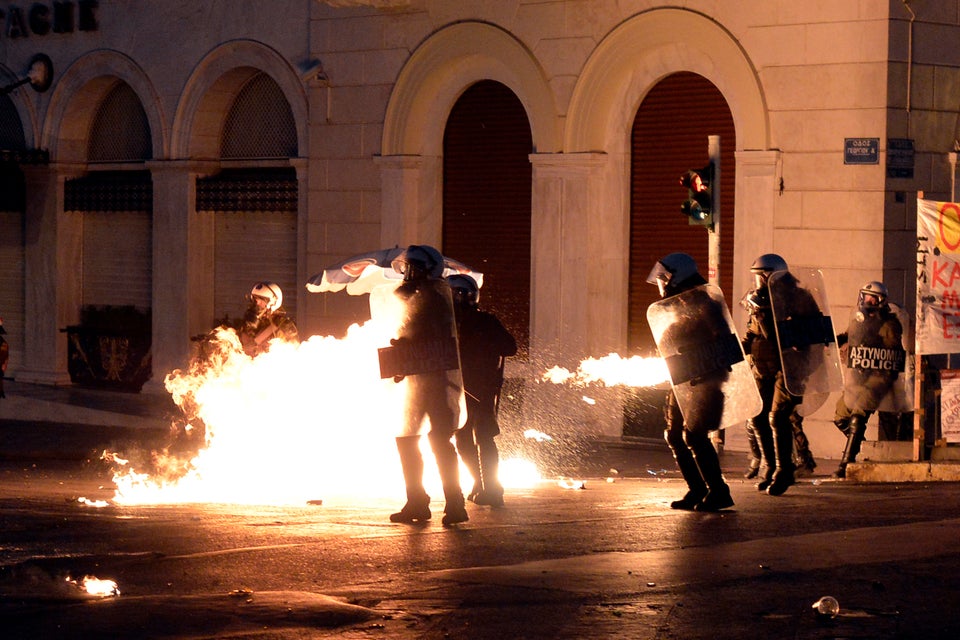 Anti-Austerity Protests In Greece
Support HuffPost
The Stakes Have Never Been Higher
Related
Popular in the Community