By Karolina Tagaris and Deepa Babington
ATHENS, June 3 (Reuters) - Greece's international creditors signaled on Wednesday they were ready to compromise to avert a default even as Athens warned it might skip an IMF loan repayment due this week.
Prime Minister Alexis Tsipras agreed in a telephone call with German Chancellor Angela Merkel and French President Francois Hollande on the need for an immediate solution to the long-running debt negotiations involving a lower primary budget surplus target for Greece, a Greek official said.
Their third call in a week took place shortly before Tsipras flew to Brussels to meet senior European officials and hear the terms of a plan drawn up by the European Commission, the European Central Bank and the International Monetary Fund after a meeting of leaders chaired by Merkel on Monday.
With time running out, and looking to draw a line under four months of acrimonious negotiations, the creditors have effectively come up with a take-it-or-leave-it offer.
However, Tsipras has produced a plan of his own and said he intended to discuss that document in Brussels, calling on euro zone partners to show some "realism" and urging a deal that would let Greece escape from "economic asphyxiation."
Hardline German Finance Minister Wolfgang Schaeuble said an initial look at Greece's reform suggestions indicated that talks aimed at securing an aid-for-reforms deal will take time.
"I have no information that anything decisive has changed in terms of substance," he said at an event in Berlin.
Looking for a compromise, the creditors suggest that Greece should post a budget surplus before interest payments of one percent of gross domestic product this year and two percent in 2016, instead of 3 percent and 4.5 percent under the terms of the current plan, sources familiar with the proposal said.
The sources said the Greek government, elected in January pledging to end years of bitter austerity, had suggested a primary surplus of 0.8 percent this year and 1.5 percent next year.
However, the relatively small gap in headline numbers masks tougher unresolved issues on how to achieve the fiscal targets.
Athens has offered to curb early retirement to save on pension payouts but the lenders have been seeking cuts in supplementary pension benefits and an easing of private sector layoffs to make the economy more competitive.
It was also not clear if the creditors - euro zone governments, the IMF and the ECB - had shown any flexibility in those areas.
Sounding more upbeat and conciliatory than Schaeuble, Hollande suggested an agreement was within reach.
"We are a few days or hours away from a possible deal on Greece," he told a conference at the Paris-based OECD think tank. "Asking too much of Greece could stifle growth. But asking too little would have consequences for the euro zone as a whole."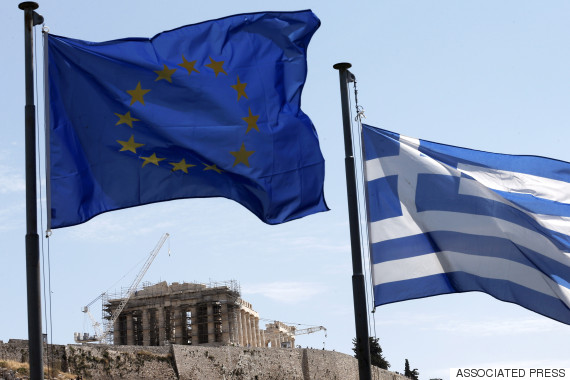 A Greek and a European Union flag billow in the wind as the ruins of the fifth century BC Parthenon temple are seen in the background on the Acropolis hill, Athens, Wednesday, June 3, 2015. (AP Photo/Petros Giannakouris)
Locked out of international bond markets, Greece has not received any cash from its trio of creditors since last August and its coffers are all but empty.
It is due to pay back the IMF 300 million euros ($335 million) of loans on June 5, but a spokesman for the ruling Syriza party raised the possibility that it would not.
"If there is no prospect of a deal by Friday or Monday, I don't know by when exactly, we will not pay," Nikos Filis told Mega TV on Wednesday.
Greece has three other repayments, totalling about 1.23 billion euros, due to the IMF in June after the one on Friday.
ECB President Mario Draghi made clear the central bank would not help to bridge Athens's acute funding gap by allowing Greek banks to buy more short-term government debt until the lenders agreed the bailout was back on track and began releasing the outstanding aid.
"There should be a credible perspective for a successful conclusion of the current review and that would imply, by the member countries, a disbursement," Draghi said in Frankfurt. "That would be the condition for the Governing Council to consider ... a lifting of the t-bills ... and we are not there."
Tsipras was due to meet European Commission President Jean-Claude Juncker for dinner and possibly Jeroen Dijsselbloem, who chairs meetings of euro zone finance ministers, as well as representatives from the ECB and IMF while in Brussels.
"We do not expect any final outcome tonight. This is a first discussion, not a concluding one," Commission spokesman Margaritis Schinas told a briefing.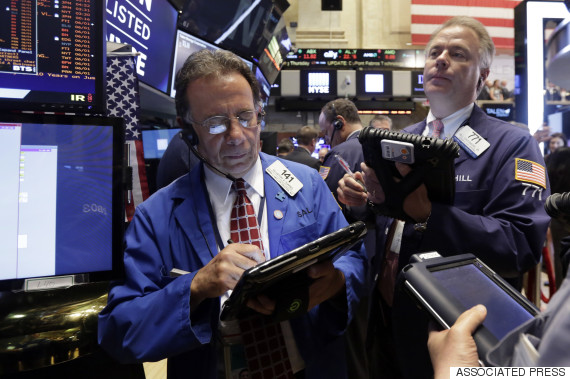 Traders Sal Suarino, left, and F. Hill Creekmore work on the floor of the New York Stock Exchange, Tuesday, June 2, 2015. U.S. stocks are opening lower as investors fret over Greece's shaky finances. (AP Photo/Richard Drew)
The Greek leader, who faces a backlash in his party if he is forced to retreat on his anti-austerity drive, said he would push his government's proposal at the Brussels meeting.
"Today, more than ever before, it is necessary that the institutions, and mainly the political leadership of Europe adopt the realism that the Greek side has been showing for the past three months," he told Greek television.
Greece owes a total of about 320 billion euros, of which about 65 percent is to euro zone governments and the IMF, and about 8.7 percent to the ECB.
Many euro zone capitals appear unwilling to offer Athens too much slack, fearing it would undermine fiscal rigor across the bloc and boost radicals in their own countries clamoring for an end to years of austerity.
If Greece skips the IMF payment, the immediate consequences are hard to predict. However, officials have warned for months that a default could ultimately push Greece out of the single European currency and unleash possible turmoil on world markets.
White House economic adviser, Jason Furman, said a Greek default was a "potential accident" in waiting.
"It would be a mistake to think it would be just contained to Greece," he told the OECD conference, saying policymakers had been wrong-footed in recent years by contagion from the U.S. sub-prime debt crisis.
With cash running out and the economy seizing up as the government halts payments to suppliers and curtails investment, Tsipras faces intense pressure to capitulate soon to prevent an outright economic collapse.
His supporters have suggested that rather than go back on his campaign pledges, he might prefer to call a new election or a referendum to let the Greek people decide on the way forward.
Dutch Prime Minister Mark Rutte said an exit of Greece from the euro zone could still not be excluded and that bridging the gap between Athens and its creditors remained difficult.
"I do believe they are working very hard to get somewhere, but at the same time they (the Greeks) have made so many promises in the elections and afterwards in parliament ... that it's difficult to bridge the gap," he told Reuters in Paris.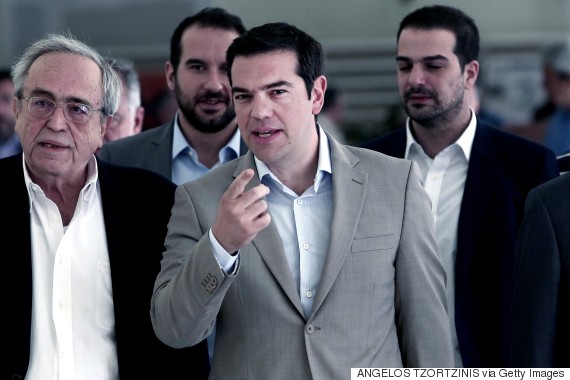 Greek Prime Minister Alexis Tsipras (C) arrives at the ministry of Education in Athens on June 2, 2015. (ANGELOS TZORTZINIS/AFP/Getty Images)
(Additional reporting by Renee Maltezou and Lefteris Papadimas in Athens, Ingrid Melander in Paris and Jan Strupczewski in Brussels, Writing by Crispian Balmer; editing by Anna Willard, Janet McBride, Paul Taylor and David Stamp)
Calling all HuffPost superfans!
Sign up for membership to become a founding member and help shape HuffPost's next chapter