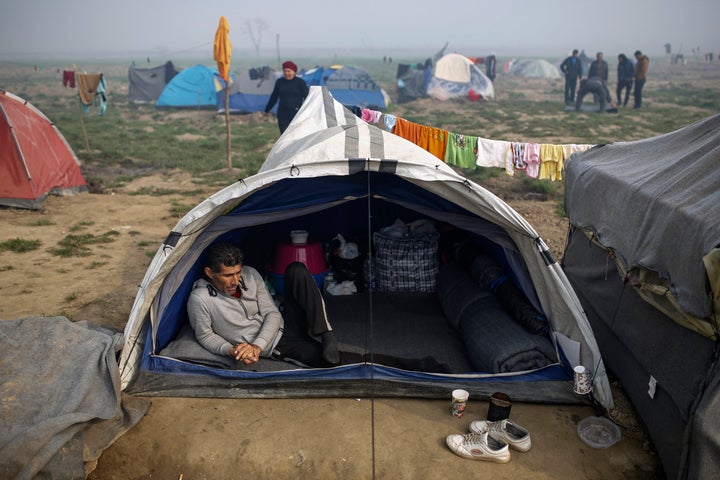 Greece on Monday sent the first group of migrants back to Turkey under a controversial migrant exchange agreement between the European Union and Turkey.
The deal, struck in Brussels last month and criticized by human rights organizations and refugee agencies, stipulates that "irregular migrants" arriving in Greece may be sent back to Turkey. In return, the EU will resettle Syrian refugees directly from Turkey. Syrian refugees arrived in Germany and Finland from Istanbul on Monday as part of the agreement.
That agreement, however, does not include 50,000 migrants and refugees who arrived in Greece prior to the deal, and have been stuck there since European countries closed off the Balkan trail. 
We really cannot meet their needs in Idomeni, and that's why are calling on them to go to the more organized camps.

Nikos Toskas
Conditions in the camp are steadily deteriorating, with reports of tensions, lack of adequate sanitation facilities and rampant disease. Greek authorities have urged the people in the camp to move to better accommodation inside the country. Most migrants and refugees prefer to stay near the border, hoping the crossing may reopen, despite Macedonia's announcement that it will keep the border shut until the end of the year.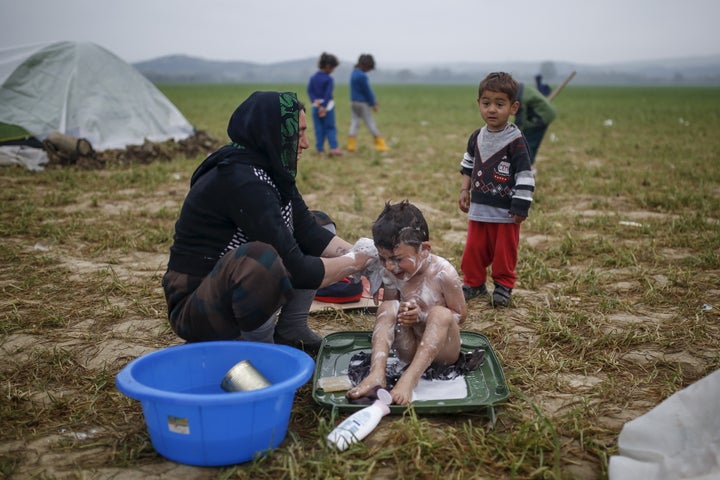 Greece's Public Order Minister Nikos Toskas told HuffPost Greece in an interview that his country is on a mission to evacuate the Idomeni border camp within the next few weeks. 
Migration Minister Yiannis Mouzalas announced in parliament that Idomeni would be closed within a month. Is there a plan to evacuate Idomeni? When will this take place? Will you send in special police forces?
It is neither realistic nor is it our desire to go on the offensive with police forces against 13,000 people, 50 percent of whom are women and children. There will be more intensive efforts in the coming days to persuade these people to leave Idomeni and go to refugee camps. Naturally, police force may be used against those who create problems, but it will be moderate and used only in exceptional cases. I think the timetable laid out by Mr. Mouzalas is realistic.
So Idomeni will be evacuated within the next three weeks?
Yes. We have already seen a small reverse flow, and special efforts will be made in the coming days so that this reverse flow increases.
The provision of food to the refugees at Idomeni has been an issue. Panos Kammenos [founder of a right-wing anti-austerity party] has stated that the army isn't a catering service. What did he mean by that?
The point of all our efforts is to provide basic food and shelter to the organized camps. Idomeni is not an organized camp and cannot be an organized camp given its position. This conglomeration of people was the result of the closing of the border. It's a makeshift situation, and we cannot tolerate makeshift situations. We are transitioning to more organized camps, where we can provide them with the basics. We really cannot meet their needs in Idomeni, and that's why are calling on them to go to the more organized camps.
The events of this spring and summer portend difficult times for our country. Hundreds of thousands of additional migrants will pursue their European dream. What is your assessment of what will happen in Greece? Is Turkey signaling its intention to clamp down on human traffickers?
Whatever we say will be premature. During the coming days, Turkey will be judged on how reliably it carries out the agreement, how effectively it hunts down human traffickers and traffickers, and how reliable it is in closing down those shops that sell boats and life vests on the opposite side.
Is it possible that that these rings of human traffickers are also working with Greeks on our own islands? That they have Greek accomplices?
It is likely. I'm not excluding this. But the traffickers are mainly from the other side. They are transporting the refugees from deep inside Turkey, from the Syrian and Iraqi border, and transporting them to the coast. With regards to the weather, this year's winter was a relatively mild winter, so we are not entering into a completely different situation with very different weather conditions. Everything depends on the willingness of the Turkish side to be effective in carrying out what it has signed off on.
So for now, you don't see a reluctance on their part? I am pointing this out because a few days after the agreement was signed, we saw hundreds of people arriving in Lesbos.
The flow has been reduced but it has not been stopped. I have some reservations but I want to believe that the Turkish side will show good will and will implement the agreement.
A version of this post originally appeared on HuffPost Greece and has been translated into English.
Calling all HuffPost superfans!
Sign up for membership to become a founding member and help shape HuffPost's next chapter