With all the news about Greece's economic problems, people are wondering whether it's a good time to go there or not. I've surveyed my Tour Department and our Greek guides who live and work in Greece. Here's my report:
We're running our Athens and the Heart of Greece tours this year as normal (the next tour, going out in a couple of weeks, is full with 23 on board). While Greece tour sales are slow (9 tours in 2012 compared with 14 tours in 2011) and we're not adding extra departures, we expect each of our tours to go full this year. My guides report that our Greece tours so far this spring have been as smooth and fun as ever -- virtually unaffected by the local political and economic events
The big concern among the hotels and restaurants we use in Greece is whether they'll be able to survive the downturn in tourism as many postpone their travels there, fearing "instability." And many sights are running on their shorter winter schedules for lack of money to staff the longer summer hours.
People wonder about Greece and the euro. At a recent foreign currency seminar, we were told that if Greece pulls out of the Eurozone and reverts to the drachma, it wouldn't happen overnight but take place over about a six-month transition. Greece's parliamentary elections -- the results of which will determine the currency direction -- are on June 17. If Greeks opt to abandon the euro and go back to the drachma, foreign travelers to Greece should encounter no difficulty using euros at least through the end of 2012. Whenever and wherever I travel, I pack along a few hundred dollars of hard cash in case of a temporary closure of banks or ATMs. I'd advise that when travelling in Greece (or anywhere else).
I've reviewed surveys from visitors who completed our Athens and the Heart of Greece tours in the last month. Here are some comments directly from these travelers about the reception they received in Greece and the impact of the economic problems there on their travels:
We had some reservations about taking our tour to Greece because of the economy and recent rioting there. But while there, we found the people to be so gracious and thankful that we were visiting there and helping them with our dollars in their time of need. Please don't hesitate to go there! Americans are all about helping others and the citizens there have all taken a huge financial hit. What better way to make an impact than by contributing to their economy while visiting a beautiful country, enjoying wonderful food, and seeing ancient history.
The news media is, perhaps, causing people to remove Greece as a possible destination. After taking our Greece tour, I believe this is a mistake. I hope ETBD helps to encourage a visit to this lovely country. The people are friendly and generous. Sites are accessible, English is spoken well and readily. We had a great time.
I felt safe and welcomed among the Greek people. A couple of tour days were very vigorous, but they needed to be in order to see the sites and associated museums. It would have been nice to have more time at some of the ruins, but the Greek government was only keeping them open until 3 p.m. due to budget cutbacks so there was nothing our tour guides could do to alter that situation.
After taking our tour, we think this was a great time to visit Greece. The hospitality of the people we met was great, we felt very well taken care of, and our business was certainly appreciated.
Greece needs visitors. Sure, we were a little uncertain about going given what the international media has reported on the economic situation. But we found that, other than that one little Metro slowdown in Athens, our tour was perfect. Everyone was gracious and the country is spectacular.
One of our guides sent me this note from Athens:
Hi Rick. I was asked to send you a few thoughts about Greece. First and foremost, Greece is a safe place to visit. In fact, it's a good time to visit because you will be made especially welcome. Tourism is Greece's heavy industry and its leading employer.

It seems to me that US media coverage of Greece has been nothing less than hysterical -- just plain silly at times, and woefully lacking in analysis. Greeks are emotional people, and they are given to outbursts of anger -- as well as outbursts of joy. Their bad governments in recent times have given them plenty of reasons to be angry. The scenes in Syntagma, the big square immediately in front of the Greek parliament building, are a symptom of this -- and act as a release valve. These scenes occur only when the parliament is voting on the hated austerity measures. When you see riots on TV, they are generally the work of a group of anarchists who are limited to Syntagma and know how to get on the news.

The big debate politically is austerity (from the right) versus no austerity (from the left). Until this all sorts itself out, I would recommend that travelers do not wear "Angela Merkel" masks. Regardless of how the debate turns out, and who emerges as the new government, Greeks of all political stripes will take care of tourism, so vital to its struggling economy. The Greeks, a welcoming people at any time, will be doubly appreciative of any visitors in these difficult circumstances.
The main impact on travelers as Greece struggles through this period will be: shorter hours of sights; intermittent strikes; and friends and loved ones back home wondering if Americans traveling in Greece are okay. From my experience, they are more than okay.... They are enjoying a wonderful vacation in a wonderful and more-welcoming-then-ever corner of Europe.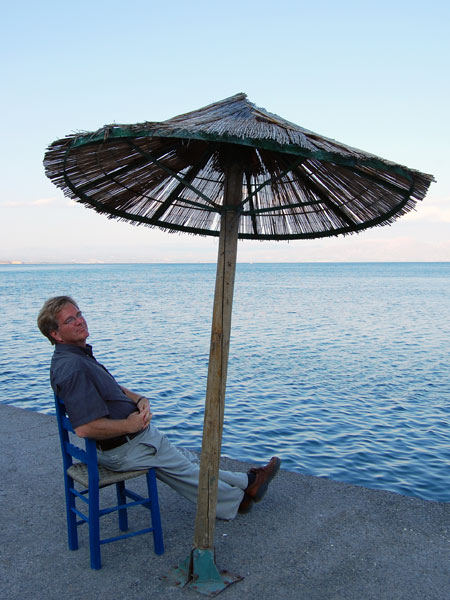 Rick Steves checking out the impact of the economic crisis in Greece
Popular in the Community