ATHENS -- It's noon and the heat in the historical center of Athens is suffocating, as if the buildings themselves are perspiring. Despite the burning mid-July temperatures, the streets are buzzing with people and traffic.
In Athens' central market -- or Varvakeios Agora, as locals call it -- action is sluggish. Here, where merchants sell every imaginable edible product, the Greek government's announcement it has agreed to another tough austerity package in exchange for a third bailout by international creditors is the topic of conversation among vendors and buyers.
The last three weeks have been a bumpy ride for Greeks. They have been forced to deal with the closing of banks, with strict capital controls, a dividing referendum and an erratic stream of information about the negotiations. Many Greeks are worn out, almost numb with fatigue.
At the market on Tuesday, some customers were ambivalent about the possible outcomes of the deal. Others saw it as yet another harsh reality check.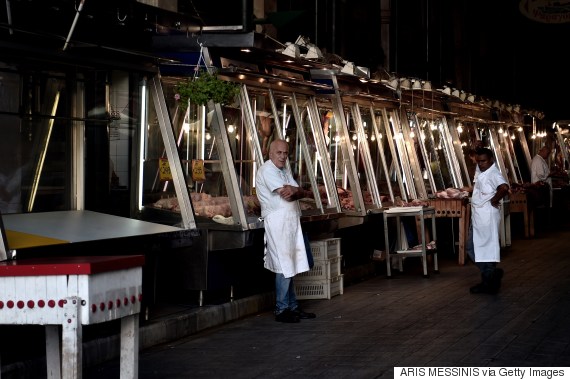 A man stands outside his shop in Athens' central meat market on July 13. (Aris Messinis/AFP/Getty Images)
"I don't have to tell you that it's really tough," Stamatis, a young fish salesman, tells The Huffington Post.
Stamatis explains he switched professions at the beginning of the financial crisis because he thought his previous job in the military had no future. He imagined fish would be a good trade, but business has been slow since he got in. Stamatis is worried that the fresh bailout deal will come with new taxes that will make his situation even worse. "I can't say I'm thrilled with this deal," he concludes. "Here, it's like the stock market. The price of fish has been constantly falling."
While a new tax on fish won't become reality -- the fresh bailout proposal keeps the VAT on fresh food at 13 percent -- Stamatis still has good reason to fear the implications of the new deal. For average customers, fish has just become too expensive. In a country plagued by a seemingly never-ending financial crisis, merchants are not only affected by tax rates but also by consumers' confidence and customers' declining purchasing power.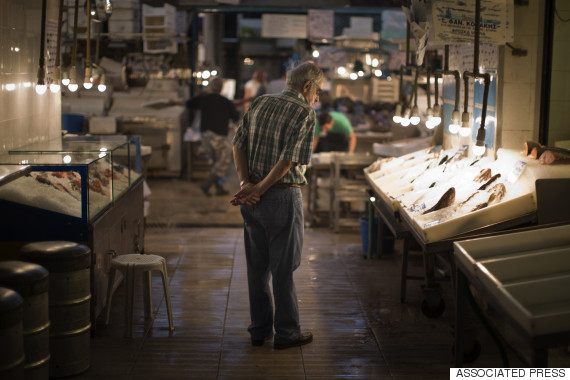 A man looks at fish in a fishing market in central Athens on Wednesday. (AP Photo/Emilio Morenatti)
Next door from the fish vendors, in the meat market, merchants are discussing the deteriorating working conditions.
Stathis, 40, works for one of the market's meat sellers. "The job is tough, I hack meat all day, from 6 a.m. to 8 p.m. if there is a lot of work," Stathis says. He explains many at the meat market put in 11 hours a day, six days a week and get paid about 600 euros monthly. There are no paid holidays, no extras.
"This new agreement is going to bring those who own shops to their knees," Stathis says. "If they liberate the market, as they say, we are all going to be affected. We, the workers, are not going to have any rights left at all. No union representation or nothing."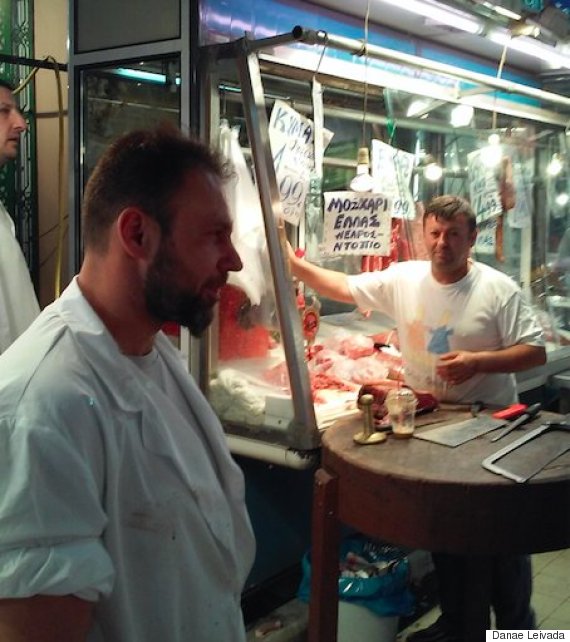 Stathis and Panaglotis at the meat market. (Danae Leivada/The Huffington Post)
In exchange for up to 86 billion euros in bailout funds, international creditors are asking Greece to make a series of sweeping reforms. The retirement age will rise, pension contributions need to increase, and "solidarity" top-up payments to poor pensioners will be phased out. VAT rates will rise, and the VAT exemption for islands popular with tourists will come to an end. A series of "closed" professions such as pharmacies will be opened up, and state industries will be privatized. Additionally, Greece will have to make a series of significant administrative reforms, such as restricting collective bargaining and eliminating red tape.
Panagiotis, 58, another meat vendor, is slightly more optimistic than his colleague: "I am pleased that a deal is underway. I want this insecurity to end," he says. "Sure, it is going to be really tough, but I trust Tsipras that at least he will battle corruption and tax evasion. Before, with the previous government, only we paid the bill. Now, it looks like everyone is going to be taxed and everyone will have to pay."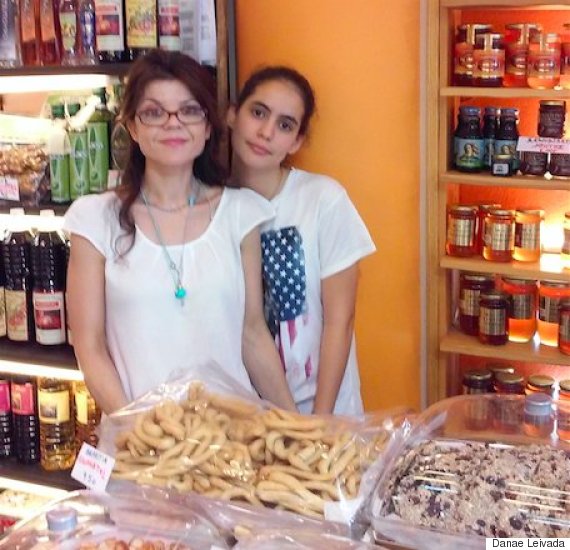 Stella Kollios and her daughter. (Danae Leivada/The Huffington Post)
A recent survey by major opinion polling company KAPA showed that 51.5 percent of Greeks see the fresh agreement between Greece and its lenders in a positive light. More than 70 percent of the population thinks the deal was necessary.
The bakery of Kostas Kollios lies just outside the Varvakeios Market. Kollios is modestly optimistic about the government's new agreement. His wife Stella, on the other hand, begs to disagree. "We are all struggling to remain optimistic, but this does not mean we are going to enjoy the measures," she says. "I am just waiting to see the new laws on taxation, and then we will know exactly what's in store for our business."
REAL LIFE. REAL NEWS. REAL VOICES.
Help us tell more of the stories that matter from voices that too often remain unheard.
BEFORE YOU GO
PHOTO GALLERY
Athens' Badass Street Art