 Omar Diallo's head is still swollen after a recent assault on the streets of Athens which left him with several stitches.
Having fled his troubled homeland of Guinea, the 28-year-old is no stranger to violence, but the virulent racism he says he has experienced in crisis-hit Greece has come as a shock.
In the Athens neighbourhood where he lives -- an area full of empty, graffiti-covered shops with "for rent" and "for sale" signs on the windows -- it has become increasingly dangerous to be a dark-skinned foreigner.
"There are zones where we no longer have the right to go, or where we can only go in groups."
He was on his own when he was assaulted. The attack was swift and silent, unaccompanied by racist taunts or demands.
"Four people got hold of me on the street, one of them hit me with some object on the head. I fell down and they hit me. When they finished, they left."
Omar fled his west African home after a September 2009 stadium massacre during an opposition rally. His father was among the 157 killed, while he was thrown in jail.
After being released he decided to leave his country where he said he feared for his life.
But just a few years after coming to Athens in search of a better future, he found himself lying in the street, blood dripping from his head, until police officers found him and took him to the hospital.
"I saw a young Pakistani being beaten right in front of me, by two giants, who ran through the whole bus to get to him and then kicked him violently out on the street. I did not interfere because I was scared," a mortified retired Frenchman, who has been living in Athens for a year, told AFP.
A watchdog recording racial violence counted 154 victims in 2012, 107 of whom were assaulted in Athens. In at least eight cases, victims or witnesses said they recognised people associated with neo-Nazi party Golden Dawn.
Omar, who used to study international relations in Conakry, feels that racial attacks have surged since conservative Prime Minister Antonis Samaras came to power in June 2012.
That is when Golden Dawn was elected into parliament for the first time, winning 18 seats out of an overall 300.
"They felt politically fortified," Omar said.
According to the report on racial violence, only 24 of the victims made a formal complaint to the police in 2012.
"In my understanding, they (perpetrators) try not to kill, but to make visible injuries, so as to spread the fear to the communities," said Doctor Nikitas Kanakis, secretary general of the Greek branch of the non-governmental group Doctors of the World.
Kanakis has long tried to highlight the problem, and victims of racial attacks often turn to him instead of going to a hospital.
He has brought attention to several attacks such as the case of a 14-year-old Afghan boy, whose face was slashed by a broken bottle in an Athens neighbourhood dominated by neo-Nazis.
"Almost every day in various parts of the country, particularly in Athens, racist attacks occur," said Giorgos Tsabropoulos, head of the UNHCR's Athens office.
The government's response to the problem has been ambiguous.
It has condemned Golden Dawn's attacks as unacceptable, and Public Order Minister Nikos Dendias recently told the BBC that "Golden Dawn... is clearly a neo-Nazi party."
He said a special police unit had been created to deal with racist crimes and "that the people who act unlawfully should end up in prison."
But in the same interview he said "creating new legislation won't help" , despite being under pressure from the Council of Europe to do so.
Dendias said the rise of Golden Dawn and its xenophobic and racist doctrine was linked to a surge in undocumented migrants arriving in Greece, which he said were "are a huge burden to our society."
Dendias has appealed to the EU for financial aid to deal with the increasing number of migrants.
The premier recently made a big show of his meeting with Greek star basketball player of Nigerian origin Giannis Adetokunbo, who was drafted into the NBA, to counter accusations of racism.
Eva Cosse from Human Rights Watch admits that there has been some progress, notably the appointment of a special prosecutor in Athens, but "there is still a lot of work to do."
"They need to assure that every migrant and asylum seeker, even undocumented, has the right to access the judicial system," she told AFP.
Meanwhile, the US Embassy in Greece has warned US citizens travelling to Greece to be wary of "a rise in unprovoked harassment and violent attacks against persons who, because of their complexion, are perceived as foreign migrants."
"US citizens most at risk are those of African, Asian, Hispanic or Middle Eastern descent in Athens and other major cities," the statement on the embassy's website, first posted last November, reads.
Copyright (2013) AFP. All rights reserved.
Related
Before You Go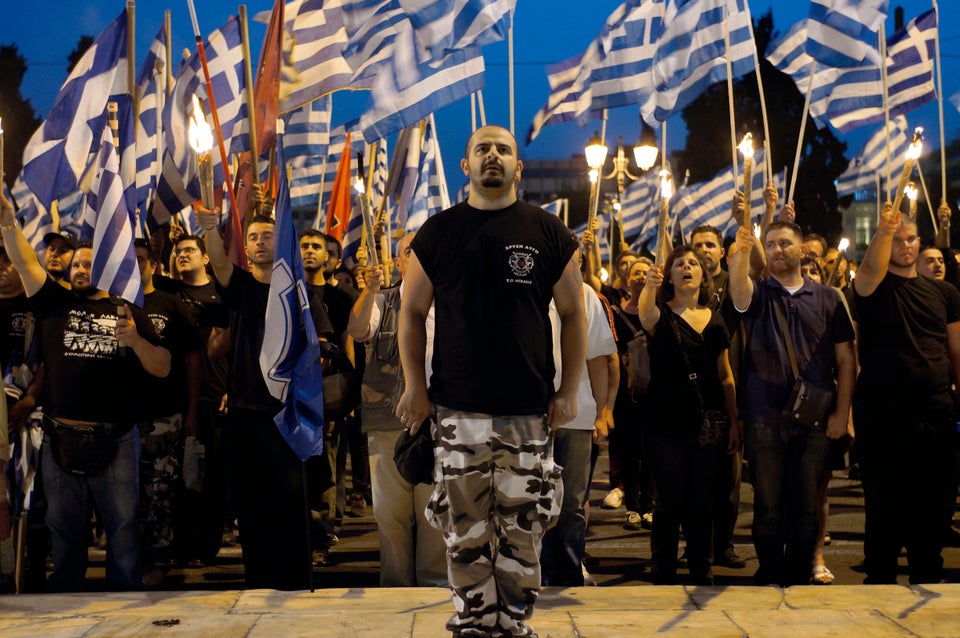 The Rise Of Racism And Neo-Nazism In Greece
Popular in the Community