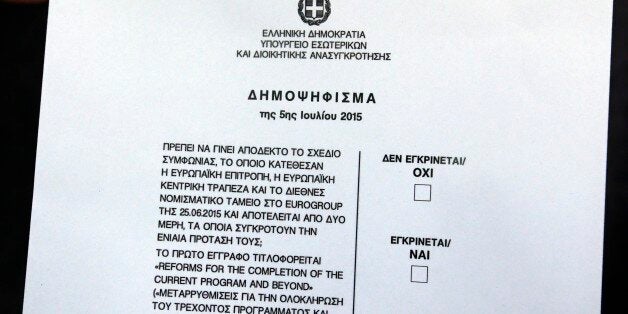 Greeks will vote in a referendum Sunday on whether the government should accept a proposed bailout deal which would provide critical funding if the country implements more economic and labor reforms.
The problem is that the question is so unclear, many don't really understand what Greece is actually voting for or against.
The BBC, which provided an English translation of the referendum question, warned readers: "For those who can't read Greekdebtspeak, well, you're on your own."
Greek Prime Minister Alexis Tsipras called the referendum last Saturday, giving Greece just eight days to organize a national ballot and come to an informed decision about how to vote. Tsipras and his government have urged Greeks to vote "no," arguing that the proposal would increase the burden that years of austerity measures have already put on Greece's struggling economy. Tsipras' political opponents and European leaders have appealed for a 'yes' vote, warning Greece would face economic disaster and a possible exit from the euro currency if a bailout deal is not reached. Opinion polls this week appeared to show the two camps neck-and-neck.
The Council of Europe, which monitors human rights in Europe, warned that the vote falls short of international standards because of its rushed organization and the complexity of the question. "Because of the short notice it is not evident whether the content of the questions and the consequences of the decision are fully clear," Daniel Höltgen, spokesman for the secretary-general of the Council of Europe, Thorbjorn Jagland, told The Wall Street Journal.
On Friday, Greece's top administrative court rejected a legal appeal by two Greek citizens to suspend the referendum. They had argued the vote was unconstitutional because it asked the populace to decide a question of public finances, used confusing technical terminology and required that voters be able to access and comprehend complex financial documents.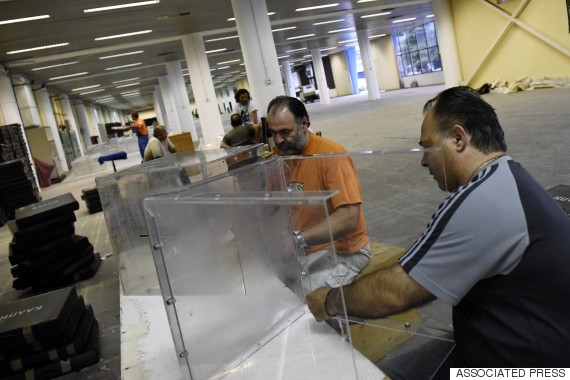 The long-winded referendum question refers to two documents that outline international creditors' debt sustainability analysis and proposals for Greek reforms. Besides being fairly inaccessible to a general audience, the documents had to be translated into Greek and contained at least one translation error, Bloomberg News pointed out.
To add even more confusion, it's not clear that the proposals they are voting on are still even available to Greece. The nation's creditors have indicated that the bailout offer that is on the ballot has already expired, after the parties failed to reach a deal for a new assistance package by Tuesday's deadline, The New York Times reported. Greece also missed a deadline for a debt payment to the International Monetary Fund on Tuesday and the ensuing economic turmoil prompted the government to limit cash withdrawals and shut down banks this week, even as authorities scrambled to assemble a nationwide vote.
Meanwhile, commentators and Greek voters remain perplexed about what the consequences of their vote may be, whichever way they go. "No one is really telling us what it means," 27-year-old Athens resident Erika Papamichalopoulou told The New York Times. "No one is saying what will happen to us if we say yes, or what will happen to us if we say no."
Related
Popular in the Community