Tens of thousands of protesters took to the streets of Athens Friday night, two days before Greeks are expected to vote in a crucial referendum on a bailout deal with the country's international creditors.
"Yes" and "no" voters rallied simultaneously in downtown Athens. An estimated 25,000 people came out to Syntagma Square in support of the "no" camp, police said. About 17,000 attended the "yes" rally.
Greeks face a momentous decision on Sunday. While European leaders have warned that a "no" vote would force the country out of the eurozone, Greece's government is arguing that a vote against the European demands will give Greek negotiators the ammunition to garner a better deal from the country's lenders. Greek Prime Minister Alexis Tsipras urged his compatriots Friday night to resist Europe's blackmail and "turn your backs on those who terrorize you daily."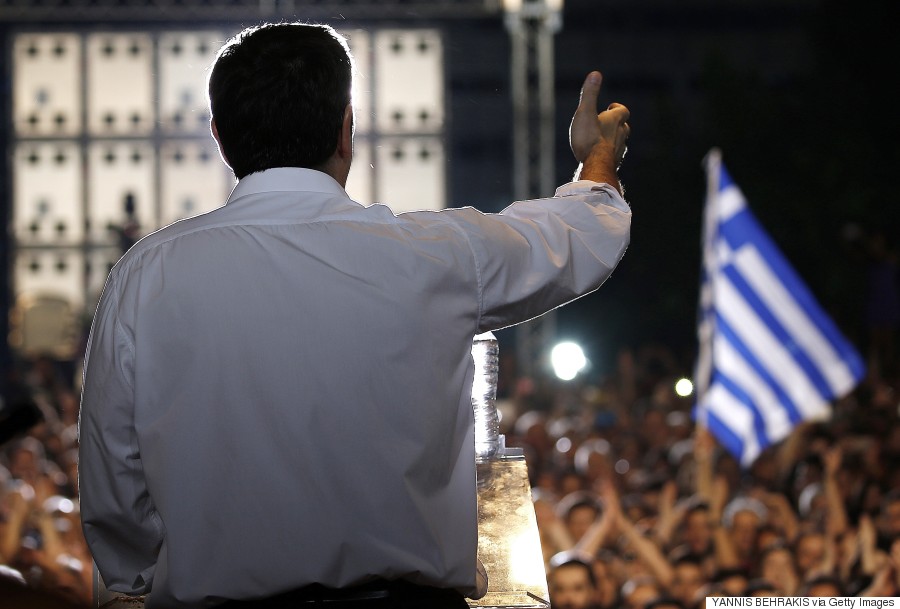 Greek Prime Minister Alexis Tsipras addresess an anti-austerity rally at the Syntagma square in Athens on July 3, 2015. (Yannis Behrakis/AFP/Getty Images)
Many Greeks have come to feel that the vote on Sunday is crucial in determining their fates and the future of their children. The referendum has sharply divided the country's citizens, pitting neighbor against neighbor. Exit polls released Friday indicate that the "yes" and "no" camps are neck-and-neck.
"You cannot take from him who has nothing," Dimitris, a small business owner who plans to vote "no," told HuffPost Greece. "I don't want to leave the eurozone, but after five years of terror, I'm no longer afraid of anything," he said. "I think there are leaders in Europe that truly want to reach an agreement and reduce our unsustainable debt load. If not, there will never be money left over for the job market, and I cannot bear the thought of my kids going abroad and having to take an airplane to go see them."

Dimitris and his family at a rally of the "no" camp in Athens on Saturday.
Also at the "no" rally, 19-year-old Vera and 22-year-old Mihalis said they'd prefer for Greece to stay in Europe but want European leaders to respect their rights. Like nearly half of Greece's youth, both Vera and Mihalis are unemployed.
"I don't want anything crazy, just a regular life. For things to go back to normal, for the banks to open. To find a way to work together," Mihalis said.
Vera criticized Greece's previous administrations. "All these years, they were saying yes and signing on the dotted lines without thinking of us." She hoped Prime Minister Tsipras would hold off on signing another punishing bailout agreement.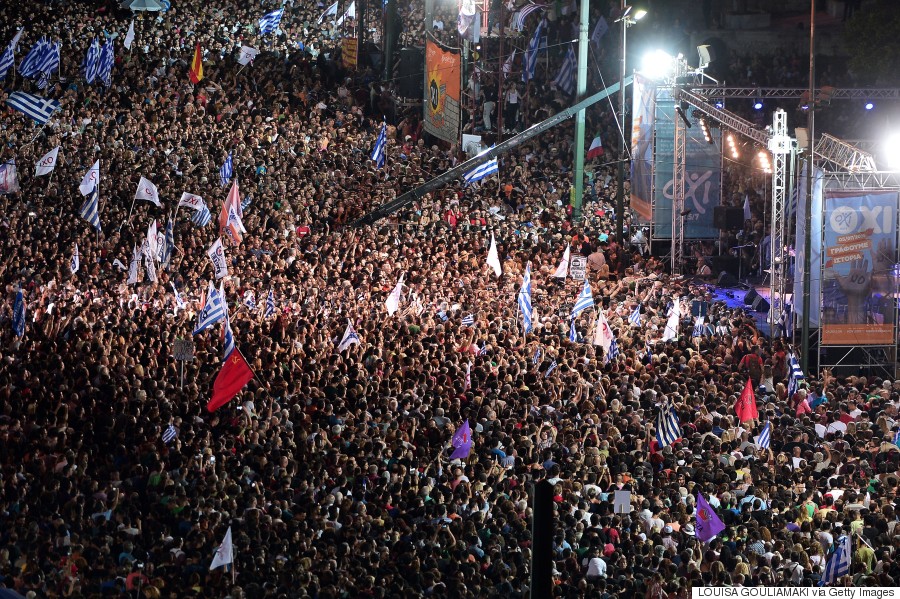 Thousands on 'NO' protesters gather in front of the parliament building in Athens on July 3, 2015. (Louisa Gouliamaki/AFP/Getty Images)
Just a few hundred yards away, 38-year-old lawyer Alexandros was supporting the "yes" camp. "I'm pro-European," Alexandros said. "Not blindly. I recognize the negative consequences of an agreement, for society, and in my personal life. The memorandum hit me at 32 years old, just as I was opening a business. It destroyed me, work-wise. But a 'no' vote likely means returning to the drachma, leaving the eurozone and even possibly the European Union. Complete isolation." Giannis, a teacher, said he favored staying in the European Union so that his children could partake in the European job market. He said Greeks need to realize what it really meant to be part of a larger whole. "Greeks have not understood that the EU is a collection of states that are slowly and steadily becoming one nation. When you partake in such a collective, you must give up some of your rights, a bit of your sovereignty."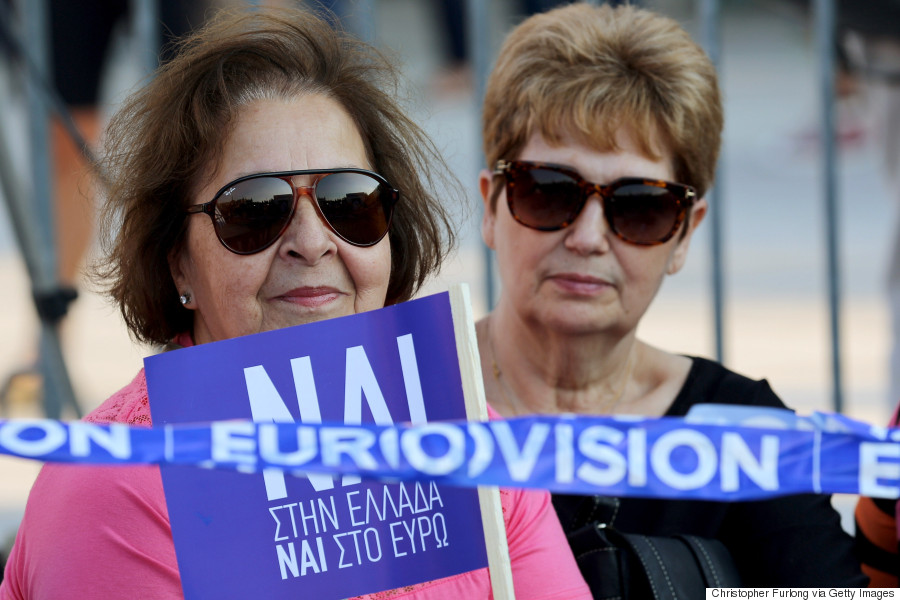 Supporters of the 'Yes' campaign attend a rally and listen to speeches at the Olympic Stadium in preparation for Sunday's referendum on July 3, 2015 in Athens, Greece. (Christopher Furlong/Getty Images)
But not everyone on Friday night was there to rally behind one side.
"I came down here to keep the peace, my child. These situations bring division and strange behavior," said Ioanni Galani. Galani was just a boy during the Greek civil war and still remembers family members on opposing sides killing one another.
"Young people are very angry, they lost a lot, they're unemployed," Galani said about the current crisis." They see their future as dark and I'm afraid that brings division."

Ioanni Galani came to the rallies Friday, July 3, to keep the peace.
Calling all HuffPost superfans!
Sign up for membership to become a founding member and help shape HuffPost's next chapter