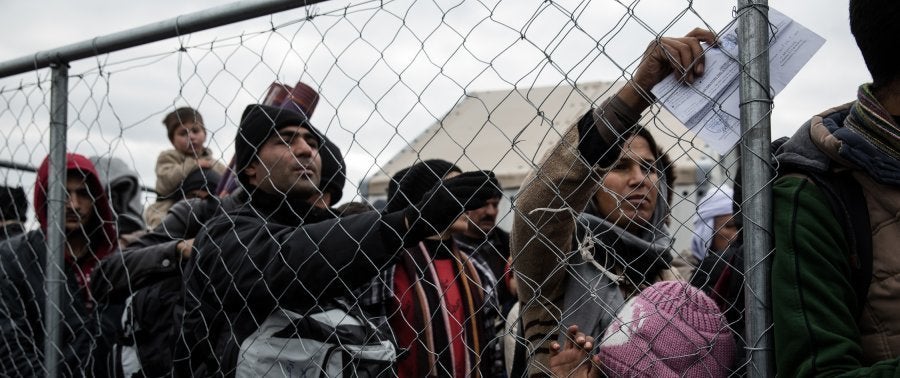 IDOMENI, Greece -- Every day, thousands of migrants and refugees arrive on a narrow patch of land near the Greek village of Idomeni. And there, many of them stop, barred from going any further.
The area, located a mere 100 feet from the Macedonian border, has become the main gathering point for people from war-torn and poverty-stricken countries in the Middle East and Africa who are waiting to head north into the promise of Europe. While the picturesque village and the beauty of the region may deceive at first, the illusion doesn't last long: Nobody enjoys being stuck in Idomeni.
As the number of migrants and refugees arriving on the Greek islands from Turkey rose dramatically this summer, the Greek government organized ferries to bring the new arrivals to the mainland. From there, many made their way to the Macedonian border. Some turned to traffickers to cross; others waited for official permission. A temporary camp developed in Idomeni near the border checkpoint.
Following the Paris terrorist attacks in mid-November, Macedonia erected a metal fence in an effort to limit the illegal crossings and channel people through the checkpoint. The country also toughened its policy on who could enter. It started making a distinction between those it considers "refugees" -- people from the war zones in Syria, Afghanistan and Iraq -- and those it considers "economic migrants." Only the "refugees" are allowed in.
Despite the new procedure, people keep flocking to the area, hoping to cross. The transit shelter in Idomeni has become a makeshift refugee camp.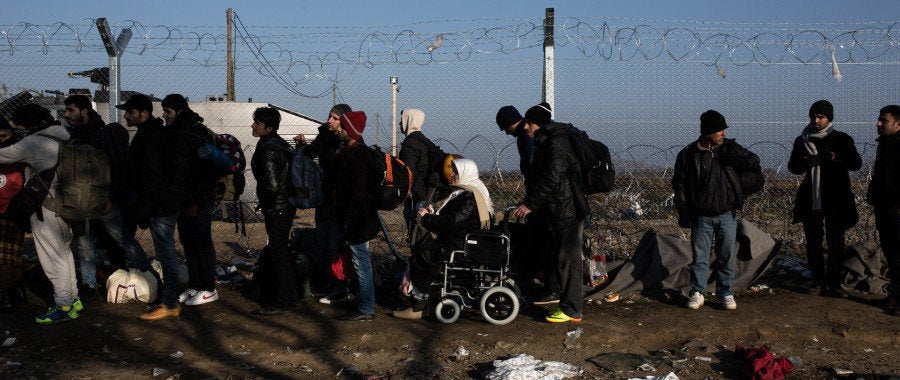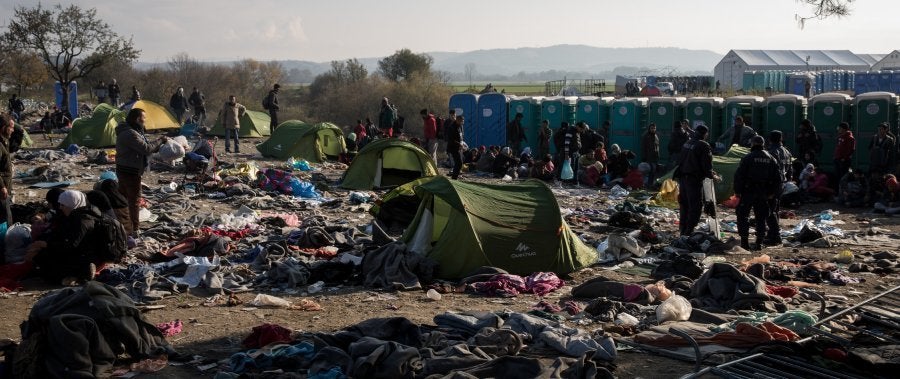 "The place was transformed from a transit spot for refugees to a camping site for those who couldn't cross over to Macedonia because of the arbitrary and unreasonable categorization of nationalities," Antonis Rigas, head of a Doctors Without Borders team operating in the area, tells HuffPost Greece. "In the first period, you would see up to 1,000 people in the woods, and now there are days when there can be up to 9,000."
Think of the Idomeni camp as a gigantic hole, in which people without a Syrian, Afghan or Iraqi passport are trapped. Railway lines cut through the camp, with tents and the temporary offices of nongovernmental organizations scattered on either side. Discarded blankets, clothes, shoes, children's toys and sanitary products -- all destroyed by rain and mud -- recall those who previously passed through.
A group of people from Africa are sitting together, shucking something that looks like peanuts. They cannot cross the border as the countries they left behind are not recognized as war zones. They are looking for company but also for explanations.
A man named Francis takes the role of translator. (Most people interviewed for this story did not want to give their last name for safety reasons.) "Will they open the border? Why did they close it? Why don't they let us go through like a few days ago?" he asks.  
Members of the group display the documents that Greek authorities gave them when they first arrived on the islands from Turkey. The documents are a source of frustration to many. They are in Greek, and refugees often complain that no one explained to them what the papers said. Many of the documents are also riddled with errors -- people's names are spelled wrong or their birthdates are incorrect.
The only way to correct the papers is to travel hundreds of miles back to Athens, since the police station in Idomeni doesn't handle such matters anymore. Refugees say there are rumors that decision was made to encourage them to leave.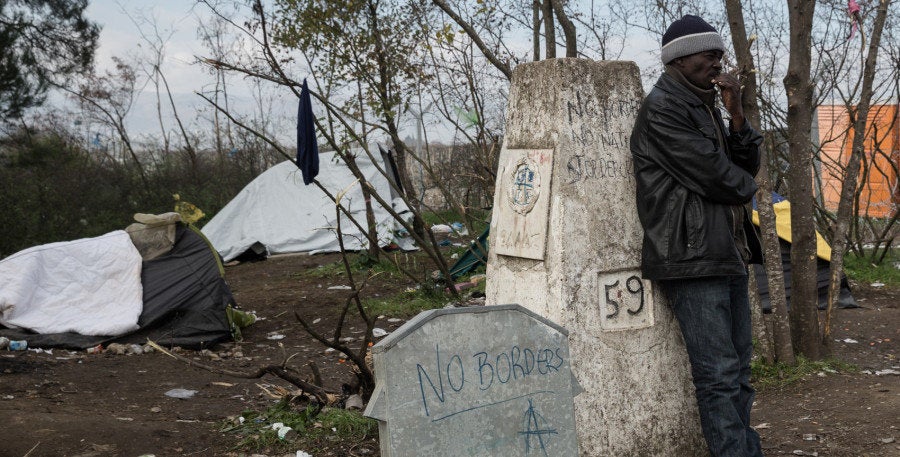 The HuffPost Greece team offers to translate the documents, but translation doesn't necessarily bring good news. Michael from Nigeria had hoped to join his wife and children in Dublin. Felice, who travels alone, wants to reach Norway. They're both from Nigeria. They're not allowed to cross into Macedonia, and their documents indicate they must leave Greece in 15 days.
Francis, on the other hand, is relieved to hear he can stay in Greece. He's from Somalia, one of the countries in which Greek immigration authorities consider conditions to be dangerous. While he, too, can't cross the border into Macedonia, he can have his case examined in Greece.
He's dismayed at Macedonia's policy. "How can Europe and the United Nations, knowing about what's going on in the African countries, think that we are able to live there?" Francis says. "Isn't this their mission to protect those in need? ... I know, they are afraid of the Africans, the Muslims, that we are going to take their jobs or hurt them after all that's happened in France. But you know, I am afraid as well, all the time, here and there."
Tensions have grown in Idomeni in recent weeks, as the number of people barred from crossing continues to swell. Most of them have spent thousands of dollars to get this far, and many are angry and disappointed to find their path blocked. Last week, clashes broke out between the police and the travelers after a refugee was killed while trying to climb onto a train. Migrants and refugees protesting the border policy have also blocked the railway, stopping train services between Greece and Macedonia.
Police in Idomeni have a hard time maintaining order these days. The border checkpoint is about the size of an apartment door, and every small hiccup creates hours of delays among those waiting to cross.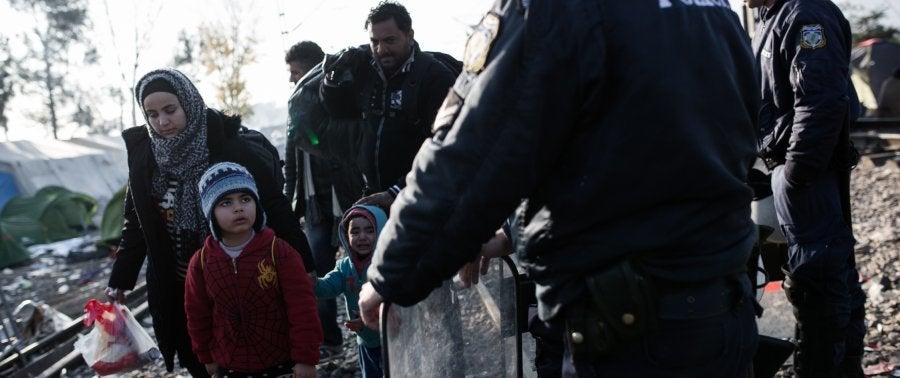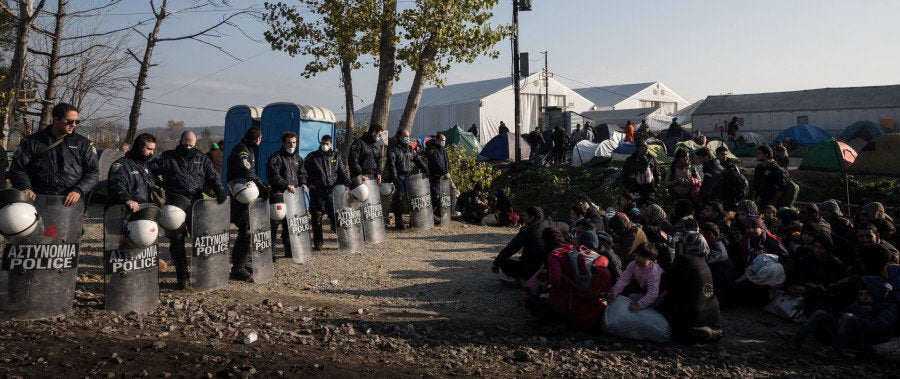 Officers admit they operate very much on a trial-and-error basis in managing the flow of people. "We don't have specific orders or a basic plan of action," one officer says.  
"We are merely decorative here," another officer adds. "We don't have jurisdiction. Most issues are handled by the NGOs, and we only intervene in keeping the order. And that is difficult. There are people from different countries who don't get along. The buses keep bringing more, the system blocks, and there are tensions."
Security forces recently started to force some of the buses bringing more refugees to wait miles away from the border in an effort to avoid further overcrowding. Police officers with helmets and shields also began to line the border fence to prevent refugees from being crushed in line.
But there aren't any translators working with the officers, and they mostly try to impose order by screaming key terms in English. "Make line," an often repeated order, is rarely obeyed. "Sit down," which is delivered with the corresponding gesture toward the mud or to blankets left behind by others, is more effective.
Not all the police treat the migrants and refugees with respect. "Sit down, Ali Baba!" one officer yells at someone who stood up to protest the wait.
To try to reduce the pressure, the Greek government has moved some 2,300 people from Idomeni to temporary accommodations in Athens, including a former sports hall. On Tuesday, the government said it will transfer the people to another stadium and is preparing to shelter them there for the next three months.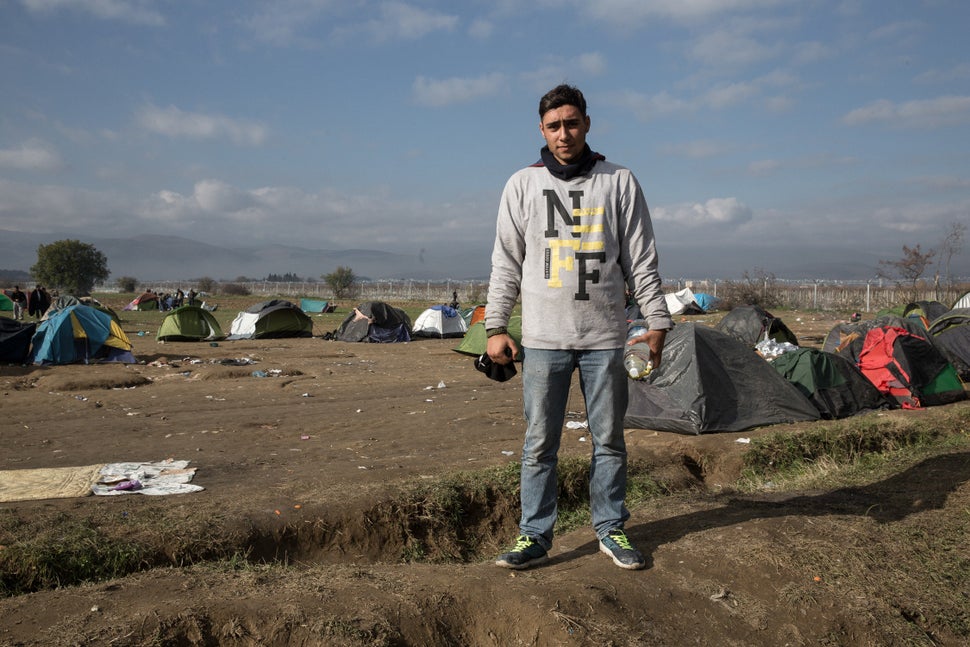 Along Idomeni's railway tracks, 21-year-old Ali from Tehran, Iran, shows off a mobile-phone video of his breakdancing skills. "I've been dancing for three years and I have been to contests. I am really good!" he says.
But dancing is not what brought him to Greece. Ali left his country and his family to pursue his dream of becoming a boxer. "I am training everyday and I have taken part in the Iranian championship, but it takes money. I can't just do that and not work," he says. "My boxing teacher managed to go to Sweden. We are in touch. He writes me that he knows I am talented and that I can become better. If I manage to reach Sweden, he will take me up. I told him I have gone on this journey, and he is waiting for me."
Ali's mother didn't want him to leave. "She didn't want me to be on my own. She thinks I am still little, but I am not. I get into the ring and knock out older boxers. I will make it."
But Ali, too, won't be allowed to cross.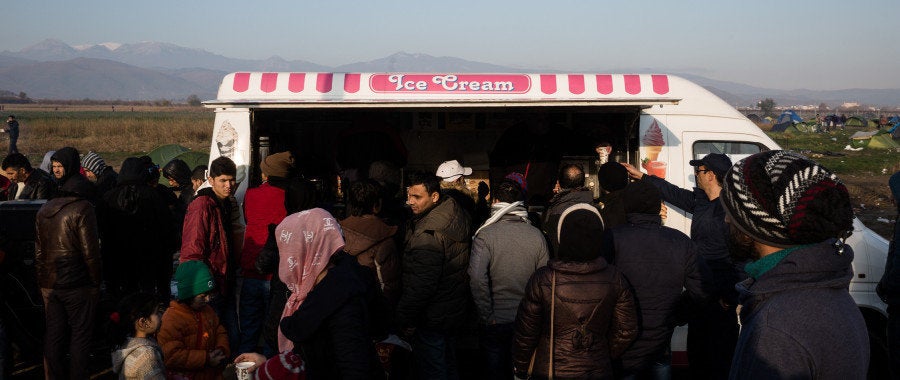 Around the Idomeni camp, canteens have mushroomed to sell food to the refugees. Wandering merchants peddle cell phone SIM cards. Jehovah's Witnesses have set up stands hoping to spread their version of God's word -- they distribute brochures in English and Arabic. There are reports that restaurants in the area sell meals to Greeks and refugees at different prices. Taxis at a stand along the road that offer to take people to the nearby town of Polykastro reportedly overcharge refugees significantly. 
At the gas stations where the buses ferrying arrivals from Athens to Idomeni stop for hours, everyone is complaining. The drivers claim their buses full of people get dirty when police hold them in place so long. "Something needs to be done. We can't work in these circumstances," says one driver. "Of course, you feel sorry for them too, seeing them with their babies. I am also from Albania and I have a son. I get it," he adds.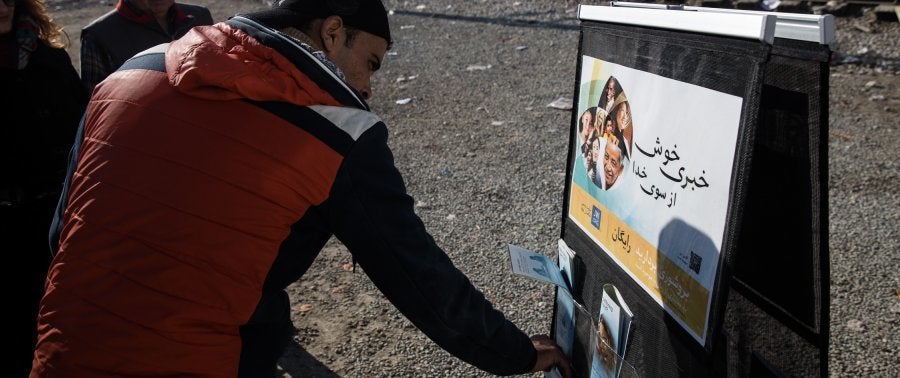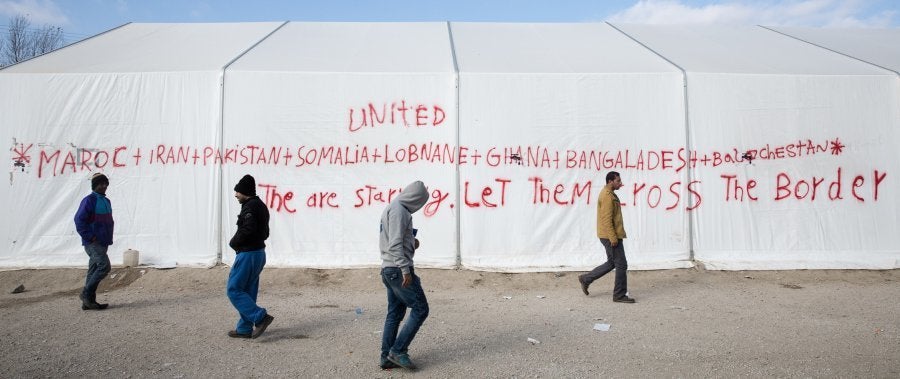 The Greek government's presence in Idomeni is minimal. Apart from security, the daily needs of the people in the camp are essentially left to volunteers. Dozens of Greek and international NGOs operate in the area. They're the ones providing the refugees with information, medical care, psychological support and translation services. No state institution is coordinating aid.
"For the state, it is as if this camp doesn't exist. It's not a entrance gate but an exit gate, and the involvement of the state would mean the acceptance of an illegal situation," Daniel Esdras, head of the Greek Office of the International Organization for Migration, tells HuffPost Greece.
Of course, the Greek government is dealing with its own financial crisis. It has struggled to tackle the refugee crisis with a small budget and a lack of infrastructure.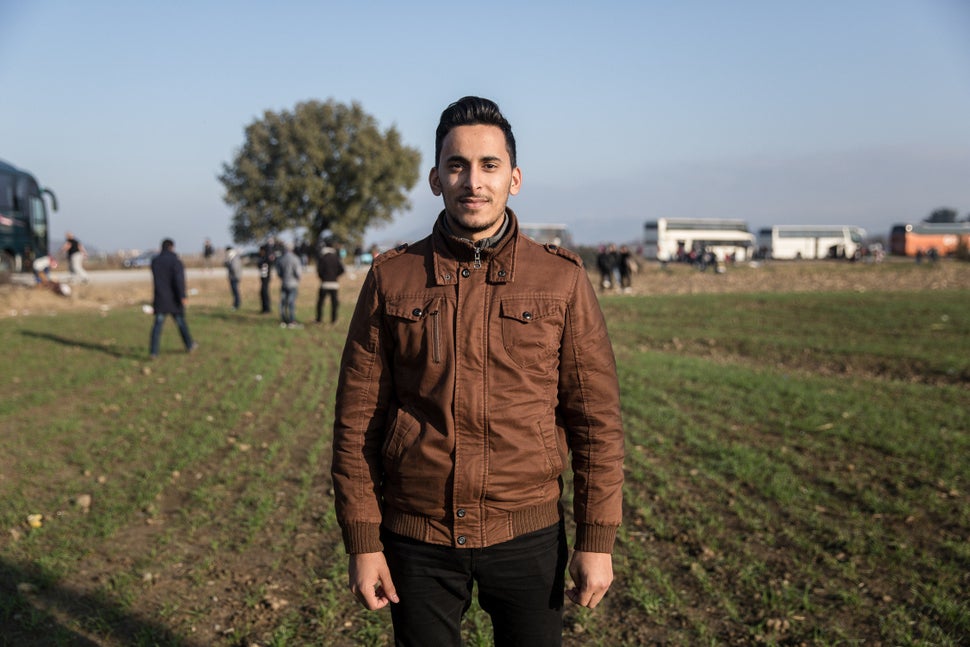 Mohammed Suleiman, a polite and composed 25-year-old, is waiting at the border, having traveled all the way from Syria. His excellent grasp of English makes him extremely popular among fellow refugees.
Suleiman says he had been working in Lebanon as a hotel receptionist. He went back to Syria to see his parents but couldn't find a job there. So his parents convinced him to go to Germany just as his brother did some years earlier.
His family members raised all the money they could and Suleiman traveled to Turkey, reached Halicarnassus and crossed the Aegean Sea to the Greek island of Kos. He doesn't want to talk about the journey here. "It's behind me now," he says.
Suleiman says what he misses most are books -- they were too heavy to carry in his bag.
He is relieved when he learns that as a Syrian, he is eligible to cross the border and will probably reach Germany uninterrupted. When he arrives there, he would like to go to engineering school. "If I hadn't been this old, I had wanted to become a pilot," he says.
Suleiman passes through the fence and crosses over to Macedonia later that day.
This story originally appeared on HuffPost Greece. It was translated and edited for an international audience. Danae Leivada contributed to the English version. 
Calling all HuffPost superfans!
Sign up for membership to become a founding member and help shape HuffPost's next chapter