Abdullah sat alone on a bench in Athens' Victoria Square. The 61-year-old refugee from the Afghan city of Kunduz traveled from Iran to Turkey by foot through mountainous terrain. Now in Europe, his fate hangs in the balance as he waits in Greece for an opportunity to head farther west.
"The borders are shut and I don't know what to do, I honestly don't," Abdullah told HuffPost Greece at the end of February. "I don't know where we are going to put the children to sleep. We have spent all that we had, but we need to continue our journey. We just have to."
Abdullah is one of 1 million migrants and refugees who arrived on Greece's shores since the start of 2015. Many of them use Greece as their entry point into the European Union, amounting to arrivals of around 2,000 people on average per day.
Around 130,000 migrants and refugees arrived in Europe in the first two months of this year -- that's almost equivalent to the total number of arrivals in the first half of 2015 and is about the same amount as all seaborne arrivals in 2014. 
But several Balkan countries, including Macedonia and Serbia, sealed their borders several weeks ago, leaving around 43,000 migrants and refugees stuck in Greece. 
The border restrictions place enormous pressure on the country as it figures out how to deal with extraordinary numbers of people with nowhere to go. 
Some aid organizations like the United Nations High Commissioner for Refugees have teamed up with the Greek government to get the situation under control on the island of Lesbos. "Altogether, there are about 6,000 places to shelter people," Boris Chesirkov, the UNHCR spokesperson on the island, told The WorldPost. 
While a spokesperson for the International Rescue Committee in Greece said Lesbos has "very good facilities," the numbers are still staggering. 
"So far, in just two months, 70,000 people have already landed on Lesbos," Chesirkov said. "And with the good weather, it's only going to increase."
Although there is no reigning sense of panic on Lesbos, "obviously there is confusion," he added. "There are questions being raised by people on the island [as relates to] movement, like people being able to buy tickets for the ferry."
Large ships, one with the capacity to house 2,000 people, have even been set up on the island's shores as emergency shelter "if there is a need," he noted.
This level of coordination on Lesbos is fairly recent. For months, Greece's government faced criticism from aid organization and other EU members for leaving so much of the relief efforts to volunteers. And even now, though the government's presence is felt on the island, volunteers and aid organizations still take on the brunt of the work.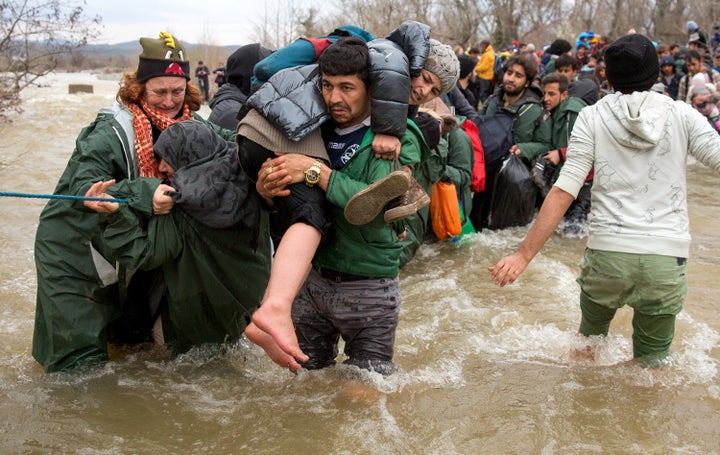 Meanwhile, chaos has invaded parts of Greece's mainland. The outskirts of the northern Greek town of Idomeni have morphed into a makeshift, muddy refugee camp, currently housing up to 14,000 people who are waiting for Macedonia to reopen its borders.
"The situation at Idomeni is like nothing I've seen in a long time," said Save the Children spokesperson Imad Aoun. "People are sleeping in mud and waiting up to an hour to use the bathroom."
"The organization in the camp is out of control. It's difficult to even walk at night when the temperatures drop to minus 5 degrees Celsius," Aoun added. "People are starting fires with plastic bottles or even by burning their own clothes."
Aoun senses extreme panic among refugees because "they don't know if they're going to have to wait for a week, or if they'll be able to go in the next hour."
Chesirkov said the situation is growing more dire. 
"Crowded conditions are leading to shortage of food, shelter, water and sanitation. Tensions are building, there's violence and desperation," Chesirkov said. 
Some 1,500 people took desperate measures Monday, wading through a river to try and pass around the Macedonian border fence. They were rounded up and forcibly returned to Greece.
Before the border closures, many followed a route from Greece to Macedonia to Serbia and then farther into central Europe. Refugees are now stuck in several countries along the way.
"There is an increase in demands for asylum in Serbia and the capacities of the asylum centers are used more than before," said Gordan Paunovic, founder of Info Park, a Serbian refugee aid organization that is an IRC partner. "But to [the refugees], this is a temporary solution. They are trying to figure out a way to move on."
He noted that refugees have grown "edgier, more frightened, and suspicious" since authorities shut the borders.
Large groups, especially women and children, are "terrified of the possibility of not being able to move forward," he added. "What they keep saying is 'We should have found a better smuggler.'"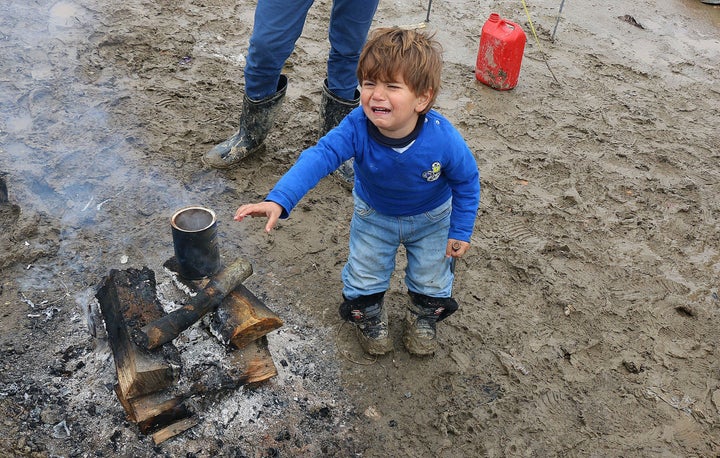 Greek Prime Minister Alexis Tsipras reaffirmed that Greece does not have the capabilities to handle the crisis on its own. "We will not allow Greece or any other country to be turned into a warehouse of souls," Tsipras told Reuters earlier this month. "We are at a crucial moment for the future of Europe." 
Tsipras also proposed a system whereby refugees living in Turkey, Lebanon or Jordan could be directly resettled in Europe in order to avoid the risks of paying smugglers and crossing by sea, explained Daniel Esdras, chief of the International Organization for Migration's mission in Greece. There's been no indication whether EU leadership will take this proposal seriously. 
The EU's response has been too little, too late. It proposed a 700 million euro disaster relief program to support shelter and medical aid programs several weeks ago.
At the latest summit on refugee migration, it decided to disburse 3 billion euros to Turkey, which is not a member state but has been the primary land point of entry for refugees, who then take dinghy boats into Greece. Turkey and the EU are planning for a deal that would only allow Syrians in who came through Turkish refugees camps.
"We are ... really worried," European Commission President Jean-Claude Juncker said earlier this month.
Calling all HuffPost superfans!
Sign up for membership to become a founding member and help shape HuffPost's next chapter
BEFORE YOU GO
PHOTO GALLERY
Refugees Protest at Greece-Macedonia Border