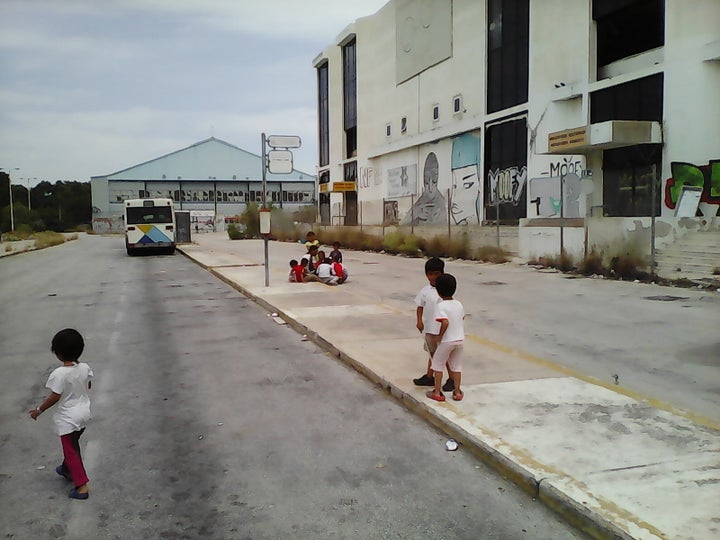 ATHENS, Greece -- The country launched a new pre-registration process for asylum-seekers on June 8th. The beleaguered Mediterranean country has high hopes for the new process, which aims to expedite family reunification requests and relocation efforts for those seeking to settle elsewhere in the EU. 
As many as 57,000 migrants and refugees from Syria, Iraq, Afghanistan and other conflict-ridden areas who had been attempting to reach western Europe have been stuck in Greece since Balkan countries closed their borders in early March. That decision left many refugees and migrants stranded for months in makeshift camps with little hope and in increasingly harsh living conditions — most notably evidenced by the recently evacuated Idomeni camp.
The new pre-registration process, funded by the European Commission and run by the Greek Asylum Service, the UN refugee agency and the European Asylum Support Office, hopes to meet the demand for access to international protection from the tens of thousands of people currently residing in temporary accommodation sites in Greece.
In the first three days following the launch of the new registration process, 1,200 people were pre-registered at camps in Athens and the coastal town of Thessaloniki. 
Speaking to the press at the Elliniko refugee camp in Athens -- where the registration in the capital takes place -- on June 13, director of Greece's Asylum Service Maria Stavropoulou explained that the goal is to register 1,400 asylum seekers each day, in two sites, over two months.
"Each asylum claim is examined on an individual basis," Katerina Kitidi, of UNHCR Greece, said. "If someone is in need of protection, they can be granted asylum, even if they don't come from a war-torn country," she explained.
Under the recent EU-Turkey deal, which aims to stem the flow of refugees entering Europe, people currently stranded in Greece are required to apply for asylum to be relocated to other countries in the EU or reunited with their families. They also have the option of requesting asylum in Greece, which may or may not be approved, depending on individual circumstances. The number of claims filed by stranded refugees and migrants have overwhelmed Greek authorities, slowing down the process.
The pre-registration operation that Greece just launched is intended to accelerate matters by identifying the nationalities of asylum seekers and discerning the most vulnerable cases before them -- such as unaccompanied minors, people with urgent medical conditions or single-parent families.
As soon as asylum seekers complete their pre-registration for asylum, they will receive an asylum seeker's card that allows them to stay in Greece legally, as well as access basic services, until the country has made a decision on the asylum request, according to UNHCR.
Before the new process was instituted, asylum seekers had no legal status while they waited for their asylum applications to be examined.
"It's important to give everyone the right to enter the asylum process here, even if some people will not eventually get it," Kitidi pointed out.
While the project kicked off in cities including Athens and Thessaloniki, its implementation has been delayed on the Greek island Chios until June 17, causing anger among the more than 2,000 refugees in the camps there, Al Jazeera reported.
In the capital, the process is conducted at the Elliniko camp, located just a few meters away from the buildings which shelter almost 3,500 people.
Elliniko, the site of Athens' former airport and later served as a venue for the 2004 Olympic Games, is a dilapidated complex decried for its squalid conditions by many human rights organizations. Overcrowding in the camp has worsened conditions, leading to mounting tension and breakouts of violence among its inhabitants. The migration minister has said that the evacuation of Elliniko is among the government's top priorities.
Stavropoulou thinks the new procedures will help reduce levels of frustration and hopefully ease tensions.
"People will get a sense that something is coming in the future, so they will feel like they have options," she said.  
The Greek Asylum Service has promised to send a text message by the end of July to people who have pre-registered, informing them of the date and location of their next appointment.  
Danae Leivada reported from Athens. Sara Elkamel reported from New York.
REAL LIFE. REAL NEWS. REAL VOICES.
Help us tell more of the stories that matter from voices that too often remain unheard.