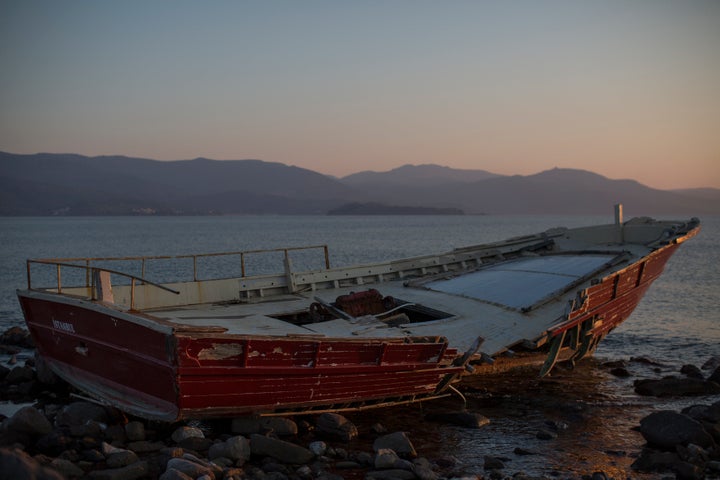 Over the past months, the arrival of hundreds of migrants and refugees has become routine in the Greek islands. Two hundred people crossed the Aegean Sea from Turkey one day, 300 another day, 2,000 another. It took the picture of little Alan Kurdi lying dead on a Turkish beach, a small boy who drowned when his family tried to cross from war-torn Syria, to wake up Europe. But then the crisis slipped out of the headlines again. 
Yet the tragedies didn't stop. On Wednesday, a ship with hundreds aboard capsized off the coast of the island of Lesbos. Rescue workers were able to pull 272 people out of the water, but 29 lost their lives, many of them children. On Friday, Greek authorities said another 31 people had drowned, again most of them children. Reuters reports that the Greek coast guard has saved around 600 people in just the past 24 hours. 
Kyriakos Papadopoulos, a sub-lieutenant in the Greek coast guard who participated in the massive search and rescue operation off Lesbos, told HuffPost Greece that he had never seen such a shipwreck, despite having conducted rescue operations for over 16 years. 
"The only thing you could see was people at sea, no vessels anywhere, only some remains here and there," Papadopoulos said. "We collected 35 people from the water, seven of whom were children who had lost their senses. Their parents were holding them in their arms in the water, unconscious. On the boat we tried to resuscitate them and fortunately, they regained consciousness. Luckily for us, the port was near."
According to Papadopoulos, the situation could have been much worse. The weather conditions were bad, but the coast guard was quickly informed of the tragedy and the wreckage was located close to the port. 
Apostolis Paraskevopoulos works in the village of Skala Sykamas on Lesbos. He saw rescue workers pulling people out of the water on Wednesday, one of them a little girl who was cold and could hardly breathe. 
"We see these things every day. Not just yesterday," Paraskevopoulos said. "We've been living with this situation since April, before everyone started learning about it."
"I have seen people with amputated legs from the bombings travel on boats, a child who recently had surgery traveling by boat," he said. "The problem is going to become bigger now that the weather conditions are getting worse. We are definitely going to have psychological issues here some day. It's hard to live with death every day."
Greek Prime Minister Alexis Tsipras slammed European leaders on Friday for their "ineptness" in handling the flood of refugees reaching the continent. 
"I want to express ... my endless grief at the dozens of deaths and the human tragedy playing out in our seas," he told Parliament, according to the Associated Press. "The waves of the Aegean are not just washing up dead refugees, dead children, but the very civilization of Europe."
This story originally appeared on HuffPost Greece. It was translated into English and edited for a global audience. 
PHOTO GALLERY
Crisis In Kos
REAL LIFE. REAL NEWS. REAL VOICES.
Help us tell more of the stories that matter from voices that too often remain unheard.