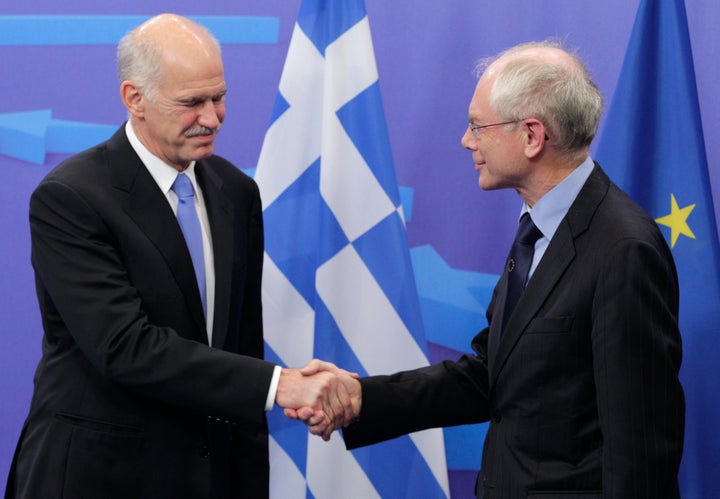 Greece won the consent of international lenders on Thursday for a five-year austerity plan intended to avoid looming bankruptcy and its prime minister pledged to push radical economic reforms through parliament.
After a day of wrangling in Athens, new Finance Minister Evangelos Venizelos clinched a deal with EU and IMF inspectors on extra tax rises and spending cuts to plug a 3.8 billion euro funding gap due to a revenue shortfall.
Greek government spokesman Elias Mossialos, accompanying Prime Minister George Papandreou at an EU summit in Brussels, confirmed the talks had been completed and the legislation would be put to parliament next week.
The euro rebounded against the dollar and U.S. stocks pared losses on news of the agreement.
"It helps that Greece is sticking to its austerity plan," said Perry Piazza, director of investment strategies with Contango Capital Advisors in San Francisco. "In general this is good news and it will help."
European Union leaders insisted that the Greek parliament must enact deep spending cuts, more tax hikes and a major sell-off of state assets to secure desperately needed aid and avoid a potential default in mid-July.
In a draft statement, the leaders said that approval of the austerity package would pave the way for disbursement of a desperately needed 12 billion euros in aid in early July and provide the basis for a second rescue package backed by the EU and the International Monetary Fund.
Papandreou said on arriving at a summit: "Greece is committed, strongly committed, to continue a very important program for major changes, radical changes, to make our economy viable.
The EU leaders also exhorted conservative Greek opposition leader Antonis Samaras to rally behind the austerity program, but he maintained his refusal to vote for the plan.
"Given the length, magnitude and nature of required reforms in Greece, national unity is a prerequisite for success," the draft summit statement said.
Euro zone governments are meanwhile talking to banks and insurance companies to try to convince them voluntarily to maintain their exposure to Greek debt when their bonds mature, as part of a possible second rescue for Athens.
EU leaders stressed they stood ready to provide more money to keep Greece afloat for the next three years if it could deliver on reforms after falling behind on its deficit reduction targets.
"All conditions must be met," Luxembourg Prime Minister Jean-Claude Juncker told reporters. "If Greece does what it has to do, we will do what we have to do. This is not a threat. It's just a confirmation that we're continuing our efforts."
German Chancellor Angela Merkel, who has taken perhaps the toughest line on Greece, urged the Greek opposition to do what was necessary and get behind the package. "In such a situation, everyone must stand together in a country," she said.
PAPANDREOU'S PRIVATE DOUBTS
While Papandreou has expressed confidence over the June 28 vote in public, Slovak Prime Minister Iveta Radicova said he had voiced uncertainty in a private telephone call on Wednesday.
"Papandreou has serious doubts about whether the necessary steps will pass in parliament," Radicova told the Slovak parliament's European affairs committee.
The Greek crisis dominated debate at the summit, the fourth the EU's 27 leaders have held this year as they grope for a solution to debt woes that have forced Greece, Portugal and Ireland to seek bailouts and roiled global financial markets.
Investors remain skeptical. Five-year credit default swaps on Greek government debt rose 138 basis points to 2,025 bps, according to data monitor Markit, implying a more than 80 percent probability of default over that period.
A Greek default would force European banks and governments to take big losses, spread contagion to other stressed euro zone sovereigns and potentially plunge the economy of the world's biggest trading bloc, already slowing, into recession.
Even if Greece persuades the EU and IMF that it is fully committed to making the budget adjustments demanded, it will only buy the government a few months' respite and most economists expect Athens will have to default eventually.
Greece accepted a package of 110 billion euros of EU/IMF loans in May 2010 and now needs a second bailout of a similar size to meet its financial obligations until the end of 2014, when it hopes to return to capital markets for funding.
Euro zone member states, led by Germany, insist any second aid package must involve the private sector. But credit rating agencies have said they would treat even a voluntary debt rollover as a selective default, a decision that could spread turmoil through markets.
"We are working on a solution which is based on a voluntary rollover and I expect it will not create a credit event," Rehn said, explaining that part of the aim was to keep discussions at national level to avoid any suspicion of Europe-wide coercion.
At meetings on Wednesday, banks and insurers in Germany, France, Spain and Belgium were asked by national financial authorities to roll over their holdings of Greek debt voluntarily when the bonds mature.
A financial source said Franco-Belgian banking group Dexia is prepared to roll over its exposure to Greek debt, the biggest among Belgian banks, adding to the list of banks prepared in principle to take part.
(Additional reporting by Martin Santa in Bratislava, Ben Deighton and Robert-Jan Bartunek in Brussels, Renee Maltezou, George Georgiopoulos, Dan Flynn and Lefteris Papadimas in Athens; Writing by Paul Taylor, Luke Baker and Noah Barkin, editing by Philippa Fletcher)
Popular in the Community