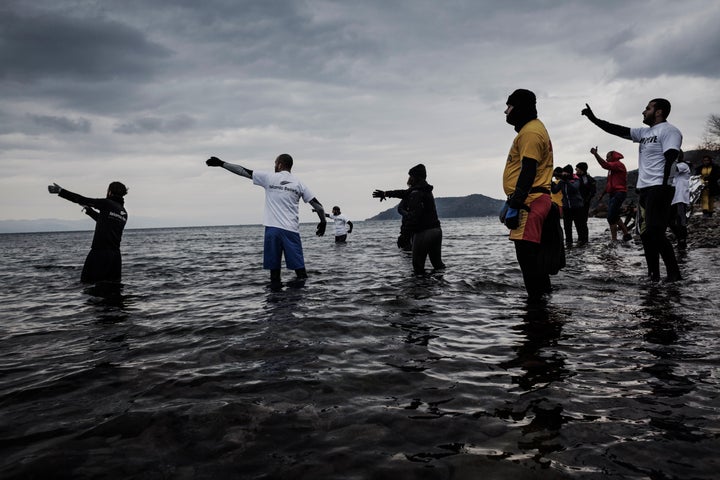 ATHENS, Greece -- On the morning of Jan. 11, the Greek Coast Guard arrested five volunteers on a boat off the Greek island of Lesbos on charges of human trafficking for facilitating the "illegal entry" of migrants and refugees into Greece.
The volunteers, two Danes and three Spaniards working for the nongovernmental organizations Team Humanity and PROEM-AID, are five of hundreds of people at work on the Greek islands to help rescue and shelter migrants and refugees crossing the Aegean Sea from Turkey to Greece. They say the Coast Guard arrested them as they were trying to tow a rubber dinghy, filled with people, nearing Lesbos' coast.
"We got arrested for something we didn't do," Salam Aldeen, one of the two Danish volunteers wrote on his Facebook page. "We were out patrolling and looking for the sinking boat, which we got informed of, so we could save these drowning people, and not to smuggle people! We want people to be and feel safe and give them a better life. So why this unfair treatment?"
The arrests came just as the Greek government introduced a pilot program to register NGOs operating on Lesbos in an effort to monitor their work, enforce standards for operations and foster cooperation among the different organizations. Several of them argue, however, that while they're in favor of cooperation, the government's demands that they apply for accreditation -- as well as the crackdown on individual volunteers -- are remarkable given the near-absence of the state when it comes to relief efforts on the islands.
Hundreds of thousands of migrants and refugees have arrived in Greece in the past year on their way to Europe from war-torn and economically deprived countries in Africa, Asia and the Middle East. While colder weather and rough seas have made the journey more treacherous in recent months, the numbers of refugee arrivals has hardly curbed. On the island of Lesbos alone, an average of 1,115 people arrived daily in January. Most of those migrants and refugees aspire to travel on from Greece to more prosperous countries in northern Europe.
The Greek government has struggled to adequately accommodate and register those arriving on its shores, as it continues to face a crippling economic crisis that brought about record unemployment rates and harsh austerity measures. And Greece has received limited support from its European counterparts to deal with the migrant crisis. The Greek Coast Guard is overwhelmed by the record number of boats making the crossing each day, and local volunteers and fishermen have helped with rescue operations. Volunteers and international organizations have also been essential in providing the migrants and refugees with shelter and transport, as well as services like medical treatment, legal aid or food supplies.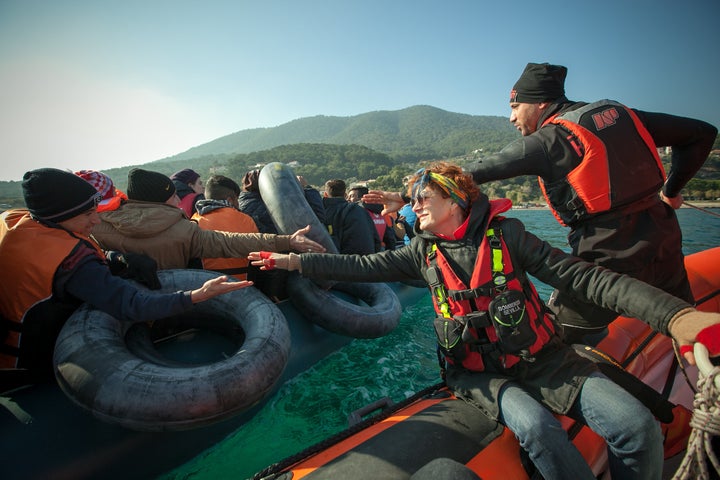 Among the Greek islands, Lesbos in particular, has become a hub for a vast network of the NGOs and solidarity groups involved in the effort. More than 80 NGOs are currently operating on the island, ranging from major international organizations like the UN's refugee agency, the International Rescue Committee and Doctors Without Borders to groups of local residents and foreigners moved by the refugees' plight. Just last week, Greek academics and members of the Hellenic Olympic Committee lauded three of those individuals involved in the relief effort: fisherman Stratis Valamios from Lesbos, 85-year-old Emilia Kamvisi and Hollywood actress Susan Sarandon.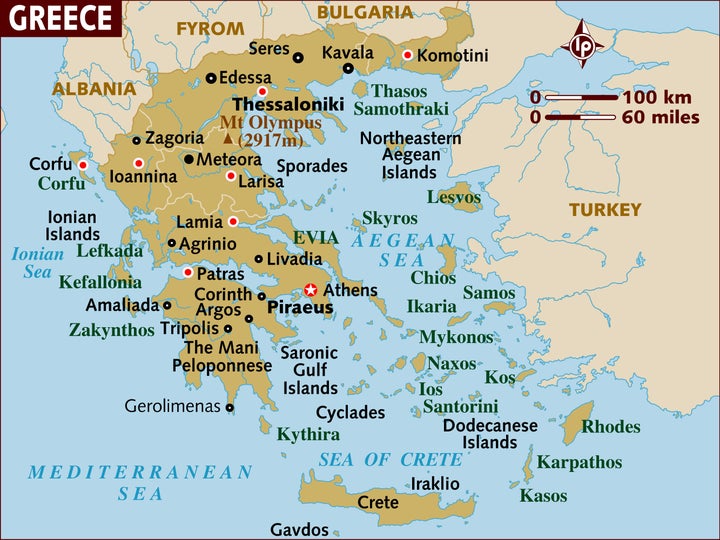 The relationship between the Greek government and outside organizations is complex to say the least.
As the influx continues, Greece is under massive pressure from its European partners to improve not only the way it treats migrants and refugees, but also its border controls and refugee registration infrastructures. Some European interior ministers have even threatened to call for Greece's expulsion from the passport-free Schengen zone if Athens fails to step up its game, although European Commission spokesperson Natasha Bertaud later tried to temper those warnings.
At the same time, complaints have surfaced about the practices of several NGOs -- most of the complaints came from doctors protesting the unwillingness of certain groups to be accredited with the local medical association. The avalanche of media coverage of the controversy helped authorities to make the case that more regulation was needed.
Though the Municipality of Lesbos first started drawing up a list of organizations last February, when the influx of migrants and refugees started increasing significantly, less than half of the NGOs operating on the island have registered with local authorities.
The Greek Ministry of Migration now aims to expand its records and develop them into a comprehensive register documenting the background, resources and credentials of organizations. The Secretariat General for Aegean and Island Policy is expected to manage accreditation requests by both organizations and individual volunteers.
"The goal is to designate the framework of NGO operations and be able to oversee their activity so that all involved in refugee aid can be included in a coordinated plan of action," Minister of Migration Giannis Mouzalas told The WorldPost. He added that the registration and accreditation process was by no means intended to question "people's selfless offer."
The government says it wants to use the registration as an opportunity to obtain some control over the aid provided on the islands, but in practice the NGOs will most likely continue to play a central, if not leading, role in the relief effort.
For several months now, UNHCR has spearheaded weekly meetings where different NGOs account for their staff and divide specific duties. Representatives of the migration ministry have been present in the meetings, as well as Lesbos police.
"These meetings are improving the response capacity of all involved," Boris Cheshirkov, UNHCR's spokesperson on Lesbos, told The WorldPost. "It's extraordinary to see the goodwill of volunteers offering to help but an accreditation process is necessary so that the organizations can operate as one, in a structured way."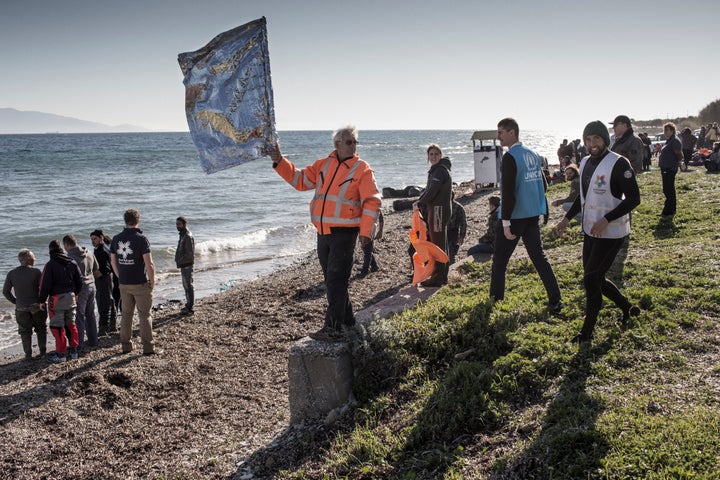 But the need to register with authorities isn't welcomed by all who have put in time and effort to help migrants and refugees. Some organizations and solidarity networks, which started as spontaneous initiatives, are suspicious of the process.
Platanos, a grassroots solidarity group of Greek and international volunteers operating in Skala Sykamnias, a major arrival point in Lesbos' north, is one of them.
The group takes part in rescuing, receiving and supporting refugees from a makeshift camp on the beach. Platanos' operations on Lesbos were set up by the volunteers and they fund them themselves and accept donations.
Iasonas Apostolopoulos, 31, a Platanos member who uses his own boat to help during rescue missions, says that NGOs operating on the ground already frequently cooperate and that the government's accreditation procedure is more about cracking down on unaffiliated volunteers than it is about improving the relief effort.
"It is quite ironic that, while until now the Greek state was nowhere to be seen and all the work was carried out by volunteers, now, under the auspices of the EU, it forces people to be accredited so that they are allowed to work," Apostolopoulos says.
He pointed at the "crackdown" on independent volunteers' activities by the Greek authorities and EU border security agency, including the arrest of the Spanish and Danish volunteers, as a major point of concern, given the large number of people rescued at sea by these groups.
"Accreditation might as well be a pretext for cracking down on solidarity as expressed spontaneously by people in this huge refugee crisis," Nasim Lomani, a member of the Network of Social Support to Immigrants and Refugees, based in Athens and affiliated with solidarity groups in Lesbos, told The WorldPost.
He fears that the compulsory accreditation of volunteers will discourage many of them at a time when everyone is needed.
"A lot of the big NGOs take a business approach to voluntarism: they get a ton of money and work closely with the authorities. But there are some people, many of them residents of Lesbos, who don't want to become 'professional' volunteers," he points out, stressing the importance of the independence of aid organizations, both in economic and political terms. "Maybe that's why the authorities don't like this kind of solidarity: it is against vested interests and places strong demands."
An uncertain future awaits the arrested members of Team Humanity and PROEM-AID. They were released on bails ranging between $5,500 to $11,000 on Jan. 16 and will go to trial. A trial date hasn't yet been set.
In the meantime, Salam Aldeen is not allowed to leave Greece. If he is found guilty he could face five to ten years in prison.
Refugees Arrive on The Shores Of Lesbos, Greece
Related
Popular in the Community