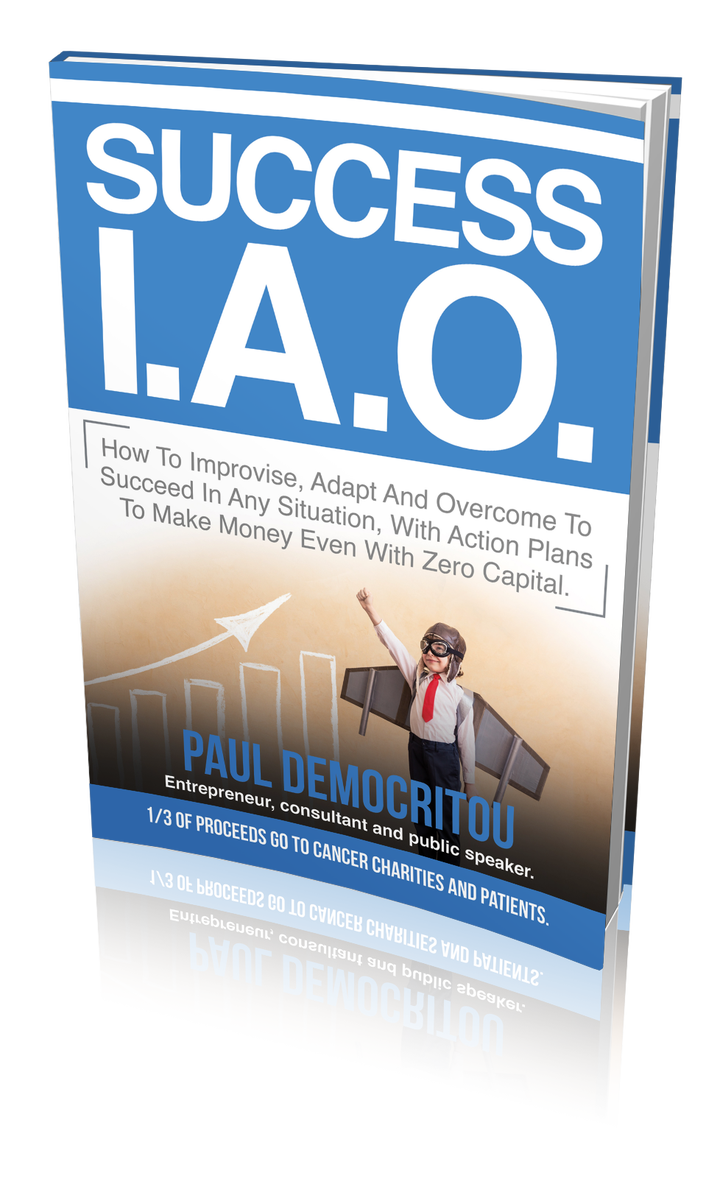 I set out to work with Paul Democritou as a brand positioning strategist (only for Huffington Post) to break away from the routine and deploy my skills in a creative environment. After two interviews, I felt I had no necessity to position him as a successful person but only to present him fairly. His accomplishments are quite commendable in the field of motivation. In Greece, he is identified as a business consultant, entrepreneur and motivational speaker. As an entertainer, he has traveled across Europe. Far away from Greece, he is relatively unknown and this is an attempt on my part to shed some light on him and his upcoming book.
He owns a construction company and a recruiting agency in Bulgaria as well owns a video production company in Greece. Early in his career, he found passion in training marketing and sales personnel of companies in the timeshare industry and then heavily started investing his energy, resources and time in motivating people across industries.
Through his words, I saw how much he loves standing on the podiums and pumping energy into the people. As a motivational speaker and coach, I feel it is important to be engulfed in positive vibes with no place for doubts. He has a splendid profile and rich experience as producer, director and entertainer in Greece.
I am born in a country where people come out of college, pursue MBA and write books on life. The system in my country not once or twice but always fails to recognize idiocy. After all, this country of mine is a former British colony and my people share a lot in common with the people who voted for Brexit. I personally believe one needs more experience before penning down thoughts. I think Paul Democritou has rich experience of traversing adversity throughout his life and this what makes me think he would make a good coach.
Through the interviews, I found him not only intense, strong and compelling but also highly spiritual. Maybe, we all need to have faith in something to make profound impact on lives of people and the world around us. He spoke like a brother to me tweaking my goals a bit and I really felt honored to be on the receiving end. His energy is infectious and the words are sharp and incisive. He neither sounds political nor religious, but one could sense he derives a lot of energy from observing the world.
He feels the mindset is quite vital in achieving success in addition to technical skills. Personally, I feel this is true. You need to be focused and engaged, more importantly motivated to carry out any task. In his coaching assignments, he aims on to sustain energy levels of the people in organizational settings through his motivational speeches.
To him, an ideal person who is willing to succeed in life is the one who is willing to make changes, one who is willing to listen and importantly one is willing to learn and adapt from experiences. He is open and honest; he says he worked for millionaires, trained sales and marketing professionals who discovered their fortunes under his guidance. He feels the world would be a prosperous place with a sound mind.
His upcoming book Success I.A.O focuses on action plans to achieve success even with zero capital under harsh conditions. I expect this book to be a compelling read for one reason i.e. this book is written by a professional who is undergoing chemotherapy. It is a tiresome task to write a book amidst huge emotional and energy drain resulting from cancer treatment.
A significant portion of the profit generated from book sales is donated to causes related to cancer treatments and healthy living.
To know more about Paul and his offerings, visit his website.
Note: This piece of writing is promotional in nature, but written purely out of Love and Respect after carrying out series of interviews and not for money.
Popular in the Community