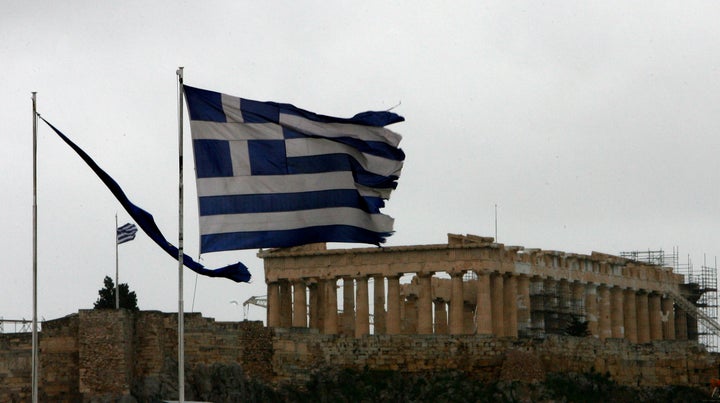 The influential British philosopher Bertrand Russell wrote in his book Power that fear is the basis of both leaders and followers, of feelings such as anger, jealousy thirst for power, social positioning, and as the basis of the need to follow leaders and belong to some group. Yesterday, this fear prompted Greeks to attempt to change the foundation and structure of the post-1974 political system, with voters punishing the two mainstream parties not only for the intense austerity measures adopted over the past four years, but also, it seems, for the totality of their policies over the past 38 years.
Depending on one's point of view, a variety of conclusions can be drawn from Sunday's results. First and foremost, voters -- and especially the young -- punished the political system at large by diminishing the power of New Democracy (ND) and Pasok to a combined all-time low of 32 percent of the vote. They also brought the leftist Syriza into a clear second position, with almost 17 percent of the vote (and first place in most large metropolitan areas). And most importantly, yet not surprisingly, they put the far-right Chrysi Avgi (Golden Dawn) party into parliament, boosting its percentage from a mere 0.5 percent in 2009 elections to a staggering 7 percent today.
Yet despite the results of the vote and the surge of Syriza, Anexartitoi Hellenes and Chrysi Avgi, ND and Pasok party officials seem to have missed the essence of the voters' message. Their predictable response to the surprising results was that people reacted to the austerity measures -- but that is only part of the story. The vote went the way it did because the parties helped create a politically sick environment, a corrupted society, and were eventually withdrawn from reality.
Greeks must now live with the demons their bipolar political system helped produce all these years, when people were getting government jobs and preferential treatment based purely on political affiliations, devoid of merit, and wanting voters to believe that anyone could get a government job. The people actually believed what they were told, and the rotten system became part of the Greek DNA.
At the same time the parties are now, after many years, engaging in robust ideological debates, which is on one hand a welcome addition to the political landscape, but will also make it more difficult to achieve political consensus, and will likely make governing all the more difficult:
ND won the most votes, with almost 19 percent, and 108 MPs -- the lowest percentage since its formation in 1974.
Syriza -- the leftist party with great appeal among youth -- took second place with nearly 17 percent (and 52 MPs).
Social democratic party Pasok took third place with just 13 percent and 41 MPs -- also its poorest performance since the mid-1970s.
Anexartitoi Hellenes of Panos Kamenos took fourth place, with almost 11 percent (and 33 MPs).
Communist KKE got nearly 9 percent of the vote and 26 MPs.
The far-right, anti-immigration ultra-nationalist Chrysi Avgi got 7 percent of the vote and 21 MPs.
The Democratic Left (Demokratiki Aristera) of the moderate Fotis Kouvelis gained 19 seats with 6 percent of the vote.
What will now happen is that Antonis Samaras -- leader of ND -- will be instructed by the president to create a coalition government. Should he fail to do so, the same will be instructed of Syriza and, respectively with Pasok. If this round fails, the president will ask the leaders to discuss a government formed with a tolerance vote - a relative majority of 120 MPs in the parliament. The next phase would be to call new elections in June.
The most likely scenarios point to a turbulent period. If a government is now formed by three or more parties, it will be a very fragile government, coming amidst the most crucial period for the Greek economy. It is also very likely that this government would exist under a Prime Minister rather than the leader of any of the first three parties, with the current PM Lucas Papademos as the mostly likely choice. If new elections are called, there will be more changes.
Some parties were left out of parliament, such as the right-wing (yet realist) Laos party of George Karatzaferis, which received a marginal 3 percent, as did the Green party, with the same percentage. The Dimokratiki Symmaxia (DISY) party of former MFA Dora Bakoyannis had 2.6 percent and the liberal party of Drasi (of former ND finance minister Stefanos Manos) got 1.8 percent. If these parties joined forces, they could make it into the parliament and provide support for pro-EU parties, which may help achieve a more stable coalition with ND and Pasok. Although it is still early, this is a possible scenario should new elections are called. Also, the all time low voter turnout of just 65 percent indicates that political apathy is at an all time. Many people simply did not vote out of disgust and anger towards the establishment.
Beyond percentages and numbers however, the world's attention must now be drawn to the true message of these elections -- that Greece has reached a turning point. It has rejected the intense austerity that has accompanied its, and Europe's, ongoing economic crisis. Nearly a third of young and educated Greeks are unemployed and forced to live with their parents well into their 30's. Yesterday's vote is a message that young Greeks are tired of a future without promise, and for older Greeks, a message that the medicine they are being given hasn't worked to turn their situation around.
What Greece lacks today is growth -- the most important ingredient that will enable the country to turn itself around. More budget cuts and austerity won't turn the country's situation around. What will do so is a program that opens the door to growth. A similar message was delivered yesterday in France, and soon, elsewhere in Europe. If the parties in Athens can cobble together a coalition government that focuses on these key messages, there is still hope that Greece's situation can be reversed in the medium-term. But given the past 40 years of history, it remains doubtful this will occur, which implies many more years of pain for Greece and Europe.
On that basis, we should expect that Greece will continue to exert influence on the European and global economies for some time to come. However, with France having turned abruptly left, and more of the same to come in upcoming elections throughout Europe, Greece's message is that European countries in distress are less likely to swallow painful IMF austerity prescriptions going forward, so while the IMF has enhanced its war chest in expectation of lending many more hundreds of billions of dollars to European countries in the near term, this may not turn out to be the case.
What should the markets make of this? It may not be a bad thing. Given that the current modus operandi has greatly enhanced the debt of countries like Greece while failing to generate meaningful growth, a rejection of this approach may be what is needed to help turn things around. Throwing more money into a black hole simply delays the day of reckoning. Well, that day is now here. It is time for Europe to man up, reject policies that have not worked, and get moving on creating its own solutions to its own problems.
Co-written with Alexis Giannoulis*Daniel Wagner is CEO of Country Risk Solutions, a cross-border risk consulting firm based in Connecticut (USA), and author of the new book Managing Country Risk (www.managingcountryrisk.com). Alexis Giannoulis is a CRS research analyst and a freelance diligence and political risk analyst.
Related
Popular in the Community