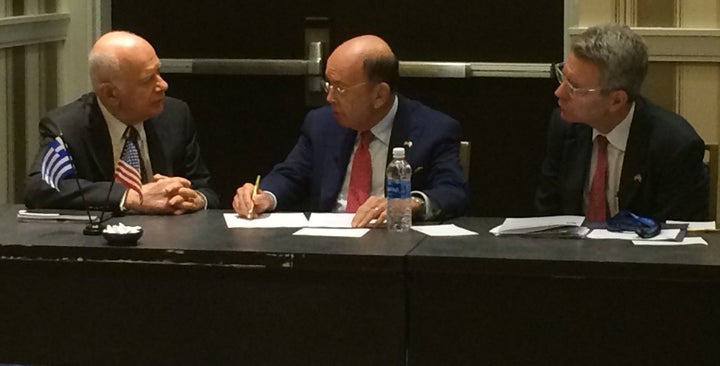 By Barry D. Nussbaum and Katherine K. Wallman
The beleaguered Greek economy is poised to receive debt relief and bailout loans from European institutions in the amount of about seven billion Euros. This success is largely attributable to the revision of Greek economic data in accordance with procedures required by the European Commission. The correct numbers are due mainly to Andreas Georgiou—a PhD economist now residing in Maryland who served for two decades with the International Monetary Fund. Dr. Georgiou was hired to lead the Hellenic Statistical Authority (ELSTAT) from 2010 to 2015. So is Greece rewarding Dr. Georgiou's accomplishment? Not in this Greek tragedy. In fact the Greek authorities are prosecuting him… and several times at that.
Georgiou was charged with violation of duty. In December 2016, he was acquitted. Good news? Not quite. On May 29 the second (i.e., double jeopardy) trial for this charge was scheduled. The judge suspended the trial until July 18 without allowing expert witnesses who had travelled from as far as Iceland and Ireland to testify on Georgiou's behalf, another blatant denial of justice.
On a positive note in this saga, Georgiou was acquitted May 26 for a second time on a separate charge of complicity against the state for producing widely-accepted official statistics. The Supreme Court overturned the first ruling, an option possible for the second ruling.
In March, Georgiou was convicted of yet another charge, slander. This was not because what he said was untrue but because it was deemed he should not have said it. Not saying what is true and the corollary, not producing accurate statistical data, are at the heart of Georgiou's and Greece's saga.
Why this animosity toward Dr. Georgiou? Simply put, the new, corrected numbers showed a greater Greek debt than previously reported. This resulted in greater austerity measures affecting Greek citizens. Their response was to follow a "shoot the messenger" scenario.
There is no doubt the severe austerity measures are causing immense hardship on the Greek people, and we empathize. However, placing the blame on Dr. Georgiou does not pave the long-term path to Greece's solvency. Such scapegoating fails to recognize the faulty economic figures produced prior to his service that masked economic reality.
What business does the U.S. have in this internal Greek affair? As U.S. Ambassador to Greece Geoffrey Pyatt said in recent remarks, the U.S. "interest is in seeing Greece, a NATO ally, a member of the Eurozone, get out of this seven year cycle of economic crisis and get on to a path of sustainable economic growth… an interest that reflects our stake in the success of Greece as the vanguard of European democracy." In June Ambassador Pyatt hosted Greek Economy Minister Dimitris Papadimitriou and a delegation of the American Hellenic Chamber of Commerce and the Athens Stock Exchange in Boston, New York, and Washington, including with Commerce Secretary Wilbur Ross, to share opportunities for expanded U.S. trade and investment ties in Greece.
Going forward, Secretary Ross, Secretary Tillerson, Congress, and other U.S. officials need to communicate to Greek officials and business leaders that economic stability and foreign investment require confidence in economic statistical data, which is precluded by Greece's prosecution of Georgiou. By punishing their dedicated work to bring Greece's statistical house in order, Greek authorities send a chilling message to those currently producing those numbers thereby risking further economic hardship for this country.
For the record, Georgiou's economic figures have withstood scrutiny and have been validated by many, including repeatedly by the European Commission. We are not aware of any credible reports contradicting his numbers. What seems more likely is the difficulty of facing rigorous scientific findings because of the consequences this would have for the Greek economy. Some even went so far as to say Georgiou was not following the Greek way and named him a traitor.
The United States should speak out against the Greek attacks against science, for the good of Greece, the United States, and the good of the world community. For the government statistics community to which we belong, there is a deep ethical and scientific commitment to produce the most accurate statistical data possible. At great personal cost, Georgiou is fulfilling his commitment. It is time for Greece to also fulfill this commitment.
Katherine K. Wallman is the 1992 president of the American Statistical Association and former Chief Statistician of the United States, a position in the White House Office of Management and Budget. Barry D. Nussbaum is the 2017 president of the American Statistical Association and former Chief Statistician at the Environmental Protection Agency.
Support HuffPost
The Stakes Have Never Been Higher
Related
Popular in the Community